On the afternoon of Monday, February 17, during a quiet first day of study break, nine students could be spotted lugging dozens upon dozens of milk cartons onto the Studley Quad.

Their creation — a colourful wall of ice — took only about three hours to build but was a popular sight for faculty, staff and students on campus throughout the week.
Art for the community

The project was the brainchild of Hadrian Laing, a Dal student double-majoring in Philosophy and Environment, Sustainability and Society.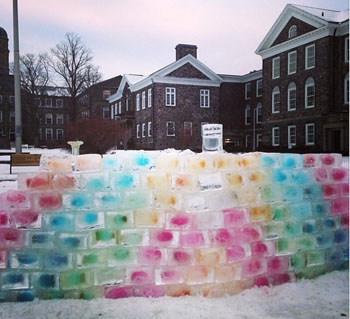 "It started out as just a simple experiment I was going to do in my backyard," he says, adding that he got the general idea from a similar project he saw on the website Reddit. "It fell in line with a new year's resolution of mine, which was to create one art project every month."

He was inspired to expand the project as part of his work towards completing Dal's RBC Sustainability Leadership Certificate. The program, which offers students the ability to gain skills and tools needed to apply sustainable leadership on both a personal and community level, involves completing three modules. During the second module, Laing was tasked with an action project and thought his art installation might fit the bill.

"With [the instructors'] guidance, they helped make it more sustainable: using melted snow rather than tap water, and using natural dyes instead of food colouring… the goal shifted from me doing an art project for my sake to making something for the community, for Dalhousie, with the support of my friends and neighbours."
Brick by brick

The wall was built by freezing melted snow inside more than 100 milk cartons, many of them donated by community members who Laing solicited by going door-to-door. ("It's the 'reuse' side of the recycling equation," he exlains.) After five days, Laing and a group of friends brought them to campus where, with hot water donated by the Killam Second Cup, they fused the sculpture together.

Though much of the colour has washed away since Monday, the construction is still standing, and Laing hopes it brought a bit of fun to campus to combat the winter blahs.

"In February, people are really sick of the weather. I've grown up in Halifax my whole life, so I know it's a tough month and known for being grey. So I wanted to make something colourful for the community out of the materials that winter has given us… I wanted something fun and colourful and different."