Black History Month isn't just about the past; it's about building and strengthening a community of common heritage.

Earlier this month, the Dalhousie Black Students' Advising Centre hosted an event to celebrate young African Nova Scotians with extraordinary stories, titled "The Road to Success: Narratives of Black Youth."

Habiba Cooper-Diallo

Habiba Cooper-Diallo is not your typical grade 12 student.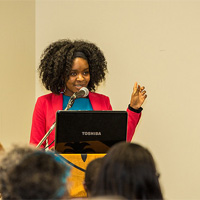 In 2008, when she was just 12 years old, Habiba read the story of a young woman who decided to be a doctor after suffering from Obstetric Fistula, a disease suffered by a disproportionate number of women in Africa due to a lack of access to obstetric care. The disease, described by the WHO as "the most devastating affliction known to humanity," leaves women with extensive tearing of the bladder and anus following childbirth, often leading ostricization from their community if left untreated. Habiba then began extensive research, giving presentations and tirelessly raising awareness for her cause.  

"When I was 13, I got into contact with the Fistula Foundation in California," she told the crowd. "They gave me some guidance, and I decided to start an organization to help these women." Habiba made that dream come true in 2012 when she founded Women's Health Organization International, which hosted its first fundraiser in 2012.

Habiba hopes to become an obstetric gynecologist and continue to make helping women her life's work.
Shalyn Williams

Shalyn Williams is the first African Nova Scotian woman to graduate with a degree in electrical engineering, and only the second to graduate as an engineer. Now she works full-time with Lockheed Martin Canada as an electrical hardware engineer and also works part-time as a signal operator with the CF Army Reserves. Shalyn has taken it upon herself to be "a point of reference against stereotypes."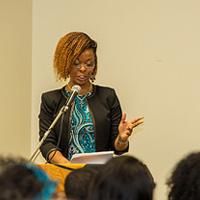 "There's nothing particularly special about me," Shalyn told the audience. "I'm not a genius; I just keep at it. First and foremost you have to tell yourself you can do it."

When Shalyn graduated in 2009, there were only seven women in her class, and only two other black students, neither of who were female or Canadian. Along the way, she heard many voices telling her she couldn't become an engineer, but as Shalyn says, "stereotypes were made to be broken."
A sense of community


Both speakers stressed the importance of finding positive influences in their communities. For Habiba, it was in looking for a sense of cultural heritage that she found her cause, and in that pursuit she found mentors in her family and the community.  

For Shalyn, her family, her church and many African Nova Scotian specific programs — like Camp Kujichagulia and the Black Student Advising Centre — were essential.

"Math Camp was the last time I was ever in a class with people that looked like me," Shalyn recalled. "The BSAC was huge for me in university in terms of a sense of belonging."

This sentiment was echoed in a spoken-word presentation given by Dominique Oliver-Dares. In the piece, titled "The New 300 Year Plan," he called for community leadership, self-confidence, and determination from African Nova Scotian youth, asking "…preacher teach all the sheep to be unique to reach the top…."
Honours and recognition

At the event, BSAC Advisor Oluronke Taiwo presented two scholarships on behalf of the centre. The first recipient, Kyiaisha Benton, plays basketball for King's College and devotes her spare time to volunteering with her church and BSAC. The second recipient, Dr. Philip Bobbie-Ansah, is pursuing his Master's in Clinical Vision Science at Dalhousie, after completing four years of post-graduate studies in Ghana and volunteering with World Vision.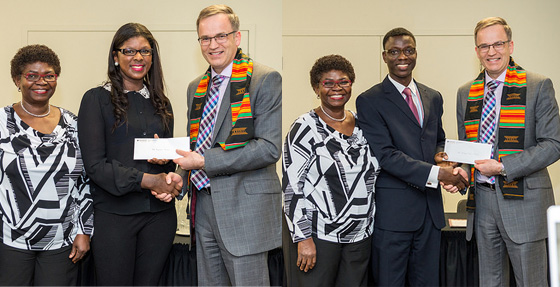 Dal President Richard Florizone was present, and was presented with a traditional hand-woven scarf from Ghana — a highly valued cultural distinction.

If you would like to get in contact with the BSAC, visit its website.