Kristy McGregor-Bales is a third-year Recreation Management student at Dal and plays centre-back for the women's Tigers soccer team. She's currently volunteering at the Sochi Winter Games in Russia and offered to write about her experience.

My bucket list included going to the Olympic Games, and my Grandma left me some money for an adventure of a lifetime, so I decided to take a light winter semester courseload online, hit the road and volunteer with the Canadian Olympic Team at the Winter Games.

My journey to Sochi involved a quick pit stop in Barcelona to paddleboard on the Mediterranean Sea and watch a FC Barcelona match, after which I arrived in Sochi on January 30. I immediately sprung into action, helping out with the preparations before the arrival of the athletes. The Canadian Team is the largest ever at a Winter Games, and there was high hopes of Canada finishing first in medals.

I have volunteered each day at Canada Olympic House (COH), located inside the Olympic Park. It is a place reserved for family and friends of Olympians. Athletes perform better when they are not worried about their family being looked after, so that's what we do at COH — provide a home away from home.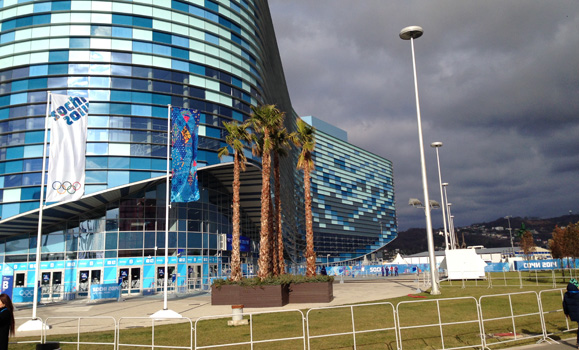 Some tasks I have been a part of at COH include providing tips on Sochi to athletes' families and friends, working on special events that COH puts on and selling Canadian merchandise.  I have also been bartending, which has given me the opportunity to talk with lots of athletes and their family members. I have served a number of Olympic medalists and even some NHLers (don't worry — not on game day).  

I have assisted with outfitting as well — helping our athletes get the clothing sizes they need so they could look great marching in on opening ceremonies. From where I was watching, Team Canada looked spectacular.

It has been a great experience so far. I have scanned my passport in the Molson beer fridge, taken freestyle silver medalist Mikeal Kingsbury out for lunch, watched short track speedskater Charles Hamelin win gold in the 1,500 metres, and shuttled Chloe and Justine Dufour-Lapointe's parents back to their hotel after their daughters won gold and silver. We have had some inspiring performances, and some heartbreaking moments.

The weather has been great, though it seems more like a Summer Games, with palm trees everywhere! The venues are spectacular, and the Russians have been warm and friendly.

I am incredible proud to be a Canadian and so lucky to be able to contribute is a small way to the success of the team. Looking forward to a strong finish at the Games!