The chips were flying and saws were singing on Saturday, February 8 at the 29th Annual Rick Russell Woodsmen Competition.

This well-attended event has been a tradition for nearly three decades at the Dalhousie Agricultural Campus in Truro, featuring teams from across central and eastern Canada and northeastern US, including four teams from the Agricultural Campus.

The history behind this competition is a testament to campus spirit. Rick Russell coached the woodsmen team for 24 years. When he passed away from cancer in 2004, the event was re-named to commemorate his commitment and passion to the sport and its players.

Teams compete in the Canadian Intercollegiate Lumberjacking Association (CILA) and travel to four competitions throughout the academic year. Singles events at the competitions include super swede saw, single buck saw, axe throw, water boil, pole climb and chainsaw. Doubles events feature vertical and horizontal chops as well as quarter split. Team members work together for pulp throw, log decking, cross cut saw and team swede saw.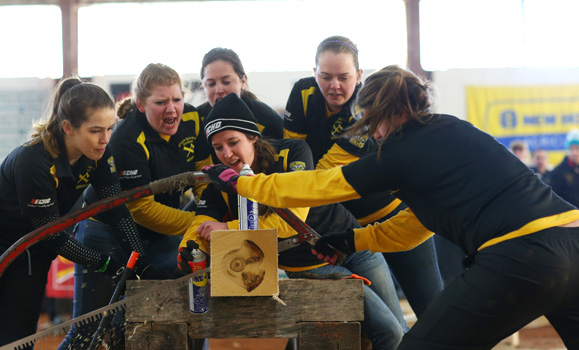 Each year, the Rick Russell competition is organized largely by students who serve as co-chairs. This year, Emily Peters and Breagh Ross, both of the women's A team, worked hard to pull this competition together. From finding sponsors to inviting visiting teams, these girls strived to make this 29th installment a huge success.

This was the fourth year of woodsmen competition for both Ross and Peters, who had a busy but successful day Saturday.  

"We're all coming together to work as a team," said Peters, while Ross noted that the event ran smoothly and that the audience and competitors were enjoying themselves.

Woodsmen coach Scott Read is also instrumental in pulling off the event. "We had a great day competing," said Read. "There were 13 men's teams and 10 women's teams from seven different schools competing for the overall CILA trophy."


The event kicked off with an opening saw by Dean of Agriculture David Gray and the MacMillan Show Centre quickly filled up. The event requires judges and timers, most of whom are volunteers. Charlie Elliott, former woodsman and AC alum, returned for the day to help out. "It just makes me so proud to see the next batch of woodsmen coming up and carrying on our traditions," he said.

His sentiment was echoed by alumna Lindsay Birch from Prince Edward Island. "Tradition brings alumni back," she said. "It's a great way to catch up and see how the sport keeps going on even as the agricultural industry changes."
 
Competitors were also feeling the supportive energy. Jescynda Hotham played woodsmen for her first time this season and said, "Everybody's feeling great, my adrenaline is through the roof!" Kamryn Findlay, captain of the women's B team, emphasized her pride: "My ladies have improved so much since September. It's amazing to see how well they're doing today."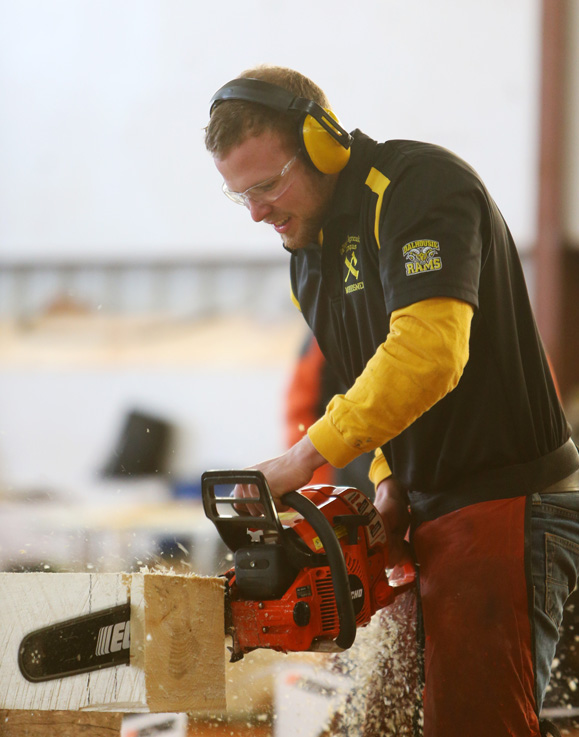 What makes the competition so special for maritime competitors is the opportunity for family, friends and fellow classmates to take in the woodsmen activities and cheer on competitors. The February competition is the only one of the four to be held indoors, attracting even more spectators. Alumni teams always participate as well, demonstrating the long-standing impact competing in woodsmen has on athletes.  

The audience includes students, faculty and staff as well as family members old and young. It is not uncommon to look into the stands and see many grandfathers of competitors making the trip to watch their grandchildren practice the ways of the woods from years past. It is especially moving to see the pride in their eyes as athletes bring together months of sweat, tears and hard work to succeed in their event.

Audience member Maria Caraza, a graduate student from Peru, took in her first woodsmen competition. "We don't do this in Peru," she said, "and it's a totally different experience!"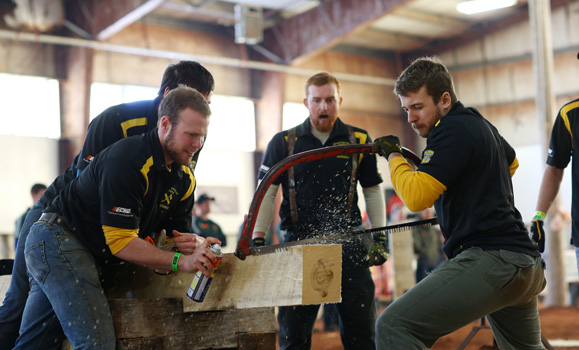 The Maritimes didn't fail to represent either. First place for the men's division went to UNB A team, followed by Dal-AC A in second and Sir Sanford Fleming College (SSFC) A in third. SSFC women's A team took home first place in the women's competition, followed by Maritime College of Forest Technology A and Macdonald College A respectively.

For the overall CILA championship, UNB men's A came first, Dal-AC A was second and SSFC A was third. SSFC women's A received first place, followed by Dal-AC women's A in second and Macdonald College A in third. All teams demonstrated a strong performance and made the competition enjoyable to watch.     

This competition is made possible through generous sponsorship from Echo Power Equipment Canada, CIBC Commercial and Retail banks, CIBC Wood Gundy, Stella Jones, Blueline New Holland, Classic Rentals, Atlantic Puroxi Inc. and Dalhousie Faculty of Agriculture. Many other sponsors also contribute to this event and are greatly appreciated.
Final results
Rick Russell Competition Placings
DAL AC Men 1 – 2nd
DAL AC Men 2 – 8th
DAL AC Women 1 – 5th
DAL AC Women 2 –  6th
 
CILA Overall (best 3 of 4 competitions for the 2013-14 season)
DAL AC Men 1 – 2nd
DAL AC Men 2 – 5th
DAL AC Women 1 – 2nd
DAL AC Women 2 – 6th

CILA MVP
Emily Peters – DAL AC won the women's MVP. Peters won her axe throw and placed first in her standing block chop this past weekend and won the CILA all-Canadian MVP for the 2013-2014 season. (Andrew MacEwan from DAL AC finished runner-up for the men's MVP.)
 
ECHO Challenge
Kayla Graham – DAL AC was 3rd
Andrew MacEwen – DAL AC was 3rd