The DSU has done it again — gone to the dogs, that is.

Last Thursday, the DSU invited brother-sister duo Sarah and Corey Knowles along with seven furry friends to the quad as a Frost Fest surprise for students. The dogs — including five huskies, a husky mix and a golden retriever — treated students to sled rides, howl-offs and some good, old-fashioned canine affection.

"It was perfect timing, with midterms coming up," said second-year student Delaney Hoyle. "I love dogs, so it was a nice break in between classes."

The sled dogs attracted crowds of students, with cellphones in full force snapping photos while Sarah and Corey spoke about the dogs and their group, HRM Urban Mushing.

"The majority of our dogs are rescue because we really believe in giving dogs a second chance," said Sarah, a first-year student in the Bachelor of Social Work program at Dal.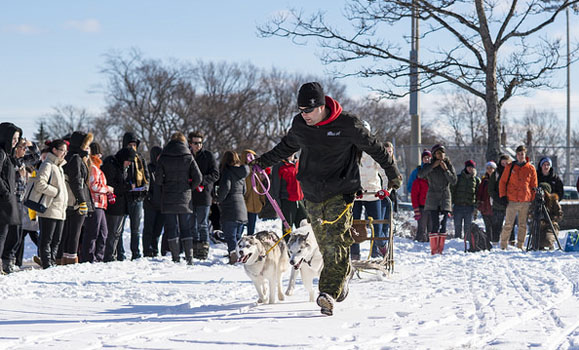 The organization is non-competitive and focuses simply on enjoying the sport of urban mushing. They have earned permission to use several trails throughout HRM to give the dogs at least an hour of exercise a day, either off-leash running or mushing. On top of recreation benefits, members also use mushing as a form of rehabilitation for rescue dogs.
Feeling mush-y


"When I got my guy, Koda, he was known as 'psycho' because he gets very excited," explained Sarah. "We started him mushing after about six months that I had him and it really helped because it got rid of that pent up energy."

That energy was evident as Koda eagerly carted a student around the quad in a sled.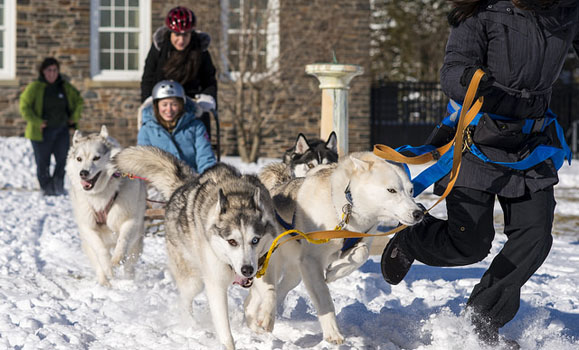 HRM Urban Mushing currently has about 40 to 60 regular members, with hundreds of dogs coming through for basic harness training and activity clinics. As the group rapidly grows, both of the Knowles siblings agree that the main priorities are dog safety, people safety and mushing for the love of the sport and the love of their dogs.

"We've had people ask if we can teach them how to do it so they can mush their dogs, and we say no, because that's not what we're about — we're about having fun, getting out and keeping the dogs happy," said Sarah, interrupted by the dogs howling in celebration. "They know they've done well and they're looking very proud of themselves. That's what it's about."