Last month, over 150 Dalhousie students packed into the SUB's McInnes Room to discuss and explore ways in which they might improve the Dalhousie community.

The event was called "LINK 2.0: Weekend of Student Action." As the name implies, LINK 2.0 was built off of last year's popular LINK event, where students gathered to brainstorm and network.

The day kicked off with keynote speaker, Robert Huish, an assistant professor in the international development studies department at Dalhousie and who teaches Dal's "Development and Activism" course. Dr. Huish illustrated the importance of student activism as a means of engineering social change by recounting various examples throughout history, including the suffragette movement and the end of racial segregation.
Ideas for Dalhousie

Following Dr. Huish's keynote presentation, groups of participants were asked a series of three questions. The first question asked students to brainstorm changes they would like to see on campus. Many suggestions were cosmetic, such as more green spaces, renovation of the Life Sciences Building and more natural light in some of Dalhousie's darker buildings. Other suggestions reached a little further, such as one's student desire to see encouragement aimed at keeping students in Nova Scotia after they've graduated.

The second question asked students to imagine Dalhousie ten years into the future. Visions were both optimistic and critical. Many students predicted a greener and more diverse campus and others raising concerns with growing tuition and a harsh post-grad job market.

The third question asked participants how they can be the agents of change, both in accomplishing what they'd like to see happen and what they'd like to prevent. One ambitious participant proposed contacting leaders of Dalhousie and NSCAD, with the aim of embellishing the campus with local students' art. Another group pitched the idea of establishing a faculty/student mentorship program as an effort to establish better connections between students and their professors.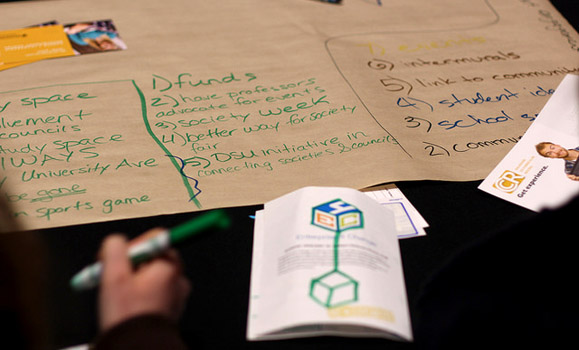 Hundreds of innovative ideas like these were generated at LINK 2.0. Some of the best were selected and featured on a LINK page in the Co-Curricular Record tab on myCareer. All students have the ability to access these ideas to vote for the best, comment and post their own.

After the brainstorming, participants were given the opportunity to attend concurrent sessions hosted by Res Life, the DSU, Student Life and the Career and Leadership Development Centre. These sessions explored topics such as resume writing, mental health and defining success. Participants shared personal stories from their own experiences and offered advice to others.
Turning ideas into action

"When a lot of people talk about ideas that they want to get off the ground, it doesn't always happen because they don't know about the resources that they have available to them," says Layne Wilson, part of the organization committee for LINK 2.0

"When we were talking about this event, we really wanted to make it easier and more tangible for people to actually follow through. We've been talking about having another follow-up event after reading week for this purpose. I think it's really important that we follow through, just to show people that they have good ideas and we want them to explore the option of pursuing them, instead of just talking about them."
 
The next day of LINK worked towards this goal with a smaller group of students gathering again in the SUB to attend a workshop called Enterprise 4 Change (E4C). The aim of this workshop was to turn students' ideas for social change into developed business plans, with the eventual goal for students to launch their own entrepreneurial venture.

Students left the weekend equipped with bright ideas and the tools and resources to turn them into action. The coming months may see more discussion around everything from a pedestrianized campus to a new fall break.