Is it possible to be too good?

DalTheatre's latest production, The Good Soul of Szechuan, hopes to answer this question through comedy, drama and music.

The play was written by Bertolt Brecht, in collaboration with Margarete Steffin and Ruth Berlau, over a period of five years and completed in 1943. It was first performed that same year at the Zürich Schauspielhaus in Switzerland. Now, DalTheatre's production is already a sell-out hit.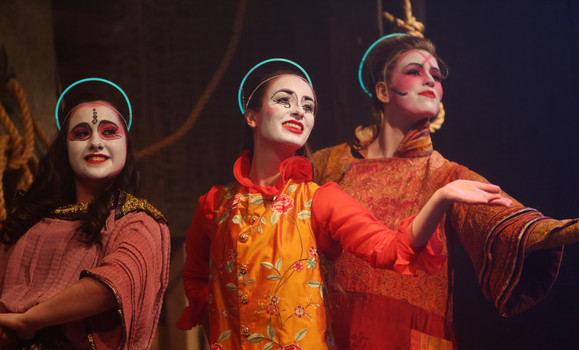 The three Gods played by (from left to right) Katerina Bakolias, Linden Campbell, and Sinclair Gwilliams.
The story follows Shen Teh, a prostitute, whom three visiting gods deem to be a good person. As a reward for her goodness, they leave her with some money and she opens a tobacco shop. She is soon taken advantage of and creates a persona, whom she calls her cousin, that is the opposite — a "shrewd bushinessman who can say no," explains director Ann Marie Kerr.

"Brecht hoped the audience would bring their critical minds," she continues. "He didn't want the audience entrained to a point where they didn't think or care about the content of the show. So what he's done is written it as kind of a fairy tale, a parable, where have some distance from it, you know that you're looking at something that is kind of far away from you."

As the director, Kerr explains that it's important to keep the heart and soul of the characters intact, but at the same time encourage the student actors to bring what she calls their "pissed-off-ness about the world, as well as their big hearts and big minds and souls to this."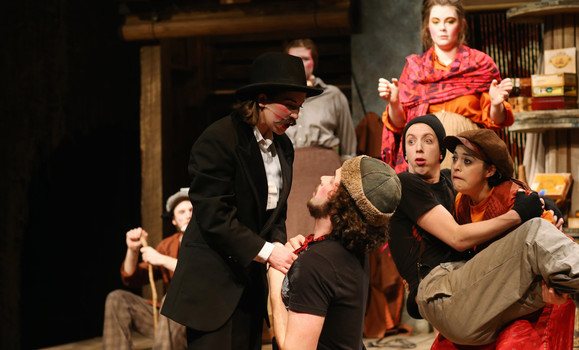 Shui Ta (Marina Gwynne) confronts the Husband (Henri Gielis).
Despite Brecht's reputation as a serious playwright, the play itself is quite humourous. Chalk full of stock characters — husbands, wives, pilots, good people, children, barbers and more — the play is, as Ms. Kerr puts it, "quite simple. If people are feeling antsy about sitting through a Brecht play, then I think the ride is going to be a lot more fun than they are expecting."

DalTheatre's production of The Good Soul of Szechuan runs through February 8 at the Dalhousie Arts Centre's David MacK Murray Theatre. All shows are currently sold out; more information can be found at the Dalhousie Arts Centre website.