Mental illness is not something that happens to "someone else."

In fact, 20 per cent of Canadians will personally experience a mental illness in their lifetime, and all of us are affected by mental illness at various points in our lives, whether through family members, friends or colleagues. Each day, 500,000 Canadians are absent from work for mental health reasons.

Two initiatives this coming week involving the Dal community — Bell's Let's Talk event and Dal HR's fun new "Not Myself Today" campaign — hope to bring more attention to how mental health issues affect our daily lives.
Time to talk

Last year, Bell started its "Let's Talk" campaign, which returns this year on Tuesday, January 28. The company is donating 5 cents to mental health initiatives for texts, calls, tweets and Facebook shares.

This Saturday at 5:30 p.m., in advance of Let's Talk day, Bell is hosting a #ShineALight rally in Halifax's Grand Parade. The event, hosted by Seamus O'Regan, will feature special guests, a 3D light show and free BeaverTails and hot chocolate. For more details, visit LetsTalkHalifax.ca or the Facebook event (weather date is January 26).


Dal's Nicole Herschenhous, assistant professor in the Department of Psychiatry, will be one of the speakers at the event. She's the attending psychiatrist at Capital Health's Mental Health Short Stay unit, a five-bed unit that's sort of an extension of the emergency room, seeing patients who require hospitalization but usually only for a few days.
 
"The majority of the patients we see are admitted because of either suicidal thoughts or a suicide attempt," she explains. "Very often it's because current circumstances in their life have overwhelmed their ability to cope."
 
The interdisciplinary clinic includes staff with expertise in nursing, social work and other fields. They try and stabilize patients in their moment of crisis, helping them cope with their immediate situation and connect them with appropriate outpatient services.
 
Dr. Herschenhous says the vast majority of patients the clinic sees have a history of trauma — often physical, sexual or emotional abuse — and that more patients than not also meet the criteria for post-traumatic stress disorder.
 
"A lot of people with psychiatric illness have this belief that it's somehow their fault, and that there's something inherently wrong with them and that they should be able to be doing better than they are," she explains. "I think shame is very, very prevalent emotion in how these people feel about what they're going through and it's so false: their current emotions, behaviours, thoughts are all just a result of the conditions they've been in in their life: the genetics they were they born with, the circumstances of their life, and the patterns of thought, emotion, and behavior that naturally developed out of these constantly changing conditions…
 
"The other misconception is that they're powerless against it. People do have some choice and agency within their conditions, especially if they're given the proper resources. What we do is try to connect people with what they need to feel better. They're often asking for help, and we try to help them."
A hot-button issue

Also on Tuesday, Dalhousie Human Resources will be rolling out a new workplace campaign developed by Partners for Mental Health. It's called "Not Myself Today," featuring a series of cute-but-provocative "mood buttons" designed to encourage thought and discussion about creating a culture of empathy in the workplace.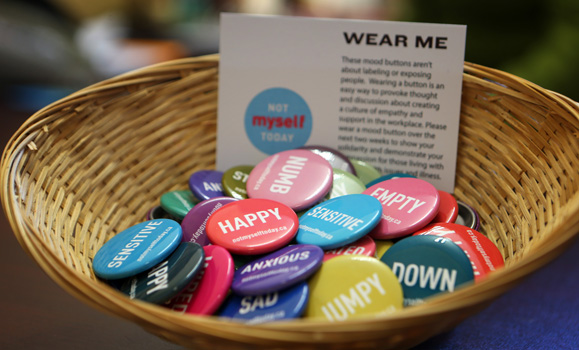 "Each of the buttons has a different emotion on it: happy, grumpy, stressed, edgy and many others," explains Janice MacInnis, Dal's coordinator of organizational health. "It's about appreciating that everyone brings different attitudes and perspectives to work each day, and that we need to treat everyone with empathy and understanding."

Dalhousie is one of more than 70 companies and organizations taking part in "Not Myself Today" across Canada this year, and one of only three post-secondary institutions.


The Dal community is encouraged to wear the buttons (which will be available on Tuesday) for a week, sharing the idea that all of us have days when we don't feel like ourselves, and to promote Dalhousie as a workplace where people can ask for help and be supported when they need it.

You can pick up your own "Not Myself Today" buttons on Tuesday, January 28 between 10 and 11 or between 12 and 1 at the following locations:
Killam Atrium
Life Sciences Centre near Tim Horton's

Law Library
Tupper Link
Sexton Campus Alumni Lounge
Agricultural Campus MacRae Library