How much listening can fit inside of 100 days?

If you're Dal President Richard Florizone, apparently quite a bit: his first 100 working days at Dal included 554 separate meetings with students, faculty, alumni, community leaders and others; 48 in-person consultation sessions; reviewing 766 individual online submissions; and making 140 blog posts on Tumblr.

And now, the result of that listening is available for all to read.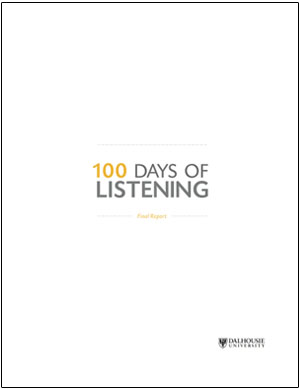 Released just before the holiday break, the 100 Days of Listening final report sums up a deliberate program of meetings, consultations and data gathering, which ran from July through mid-November. The campaign's goal: to introduce the new president to the Dal community and deepen a collective understanding of the university and the opportunities and concerns it faces, both now and in the future.

"When I took office, my first two priorities were to get to know the people of Dalhousie and to listen, in a focused way, to what they had to say," says Dr. Florizone. "I really think we achieved that, and I'm thankful to everyone who took the time to contribute to the 100 Days process."

At 197 pages, the final report isn't exactly light bedtime reading. But it's broken into easy-to-follow chapters ranging from "Teaching and Learning," to "Research," to "Infrastructure," allowing readers to quickly dive into particular topics of interest. Combined, the chapters offer a detailed look at the state of the university, both in terms of facts and figures as well as the opinions and attitudes of the people who work and study here.  
Read more: 100 Days of Listening final report

"During the consultations, I said that writing the definitive thesis on Dalhousie might take five years; this is a 100 days version of that thesis," says Dr. Florizone. "It was about generating as much information and opinion as we could, quickly, to offer a foundation for further discussion."
Identifying emerging priorities

The executive summary offers a high-level overview of what the report calls "emerging priorities" — areas of emphasis coming out of the 100 Days process that represent starting points for further discussion and planning.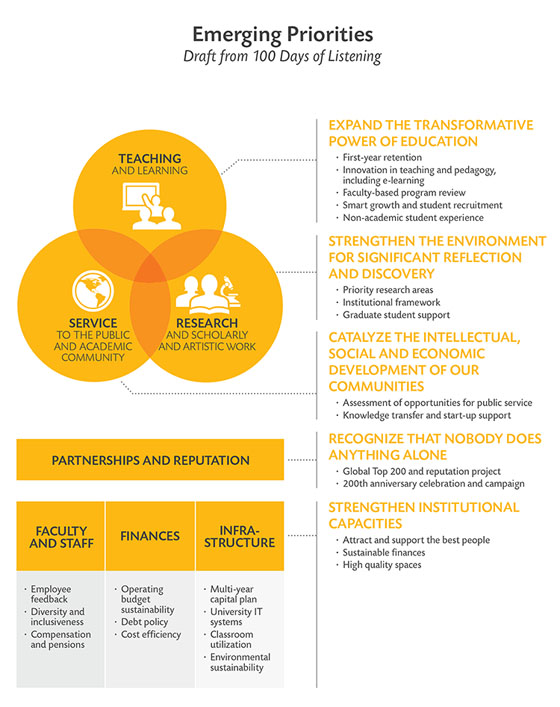 For example, under "Teaching and Learning," a number of areas were identified as emerging priorities, from a coordinated system of program review within Faculties to encouraging innovation in teaching and pedagogy. One of the most notable of these priorities is first-year retention: data show that Dalhousie's retention of undergraduates from first to second year is seven to eight percentage points below the average of U15 research universities and is particularly weak among international students.

"It's clear that we need to better understand the academic and non-academic reasons students leave Dal and focus on strategies and programs to reverse that trend," says Dr. Florizone.

The "Research" chapter points out some challenges in research — Dal is ranked last among the U15 universities in provincial research funding — but also some notable strengths: a competitive "funding intensity" (tri-council funding per full-time-equivalent faculty) and industry-collaboration research, where the university punches well above its weight (ranked sixth in the U15). The chapter then looks at suggestions and strategies for improving research support on campus.

Other topics of note include everything from budget planning and tuition, to community service and employee pensions. Throughout the report, comments from students, faculty, staff and community members are used to illustrate key themes that emerged from the consultations. In areas where there was a diversity of opinion — such as in infrastructure, where participants were divided over the degree to which Dal should be prioritizing investment in facilities — the report frames the topic through that discussion, adding data to help illuminate some of the possible paths ahead for Dalhousie.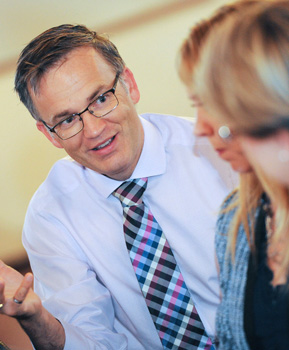 "Good strategy starts with the hopes, dreams and aspirations of our community and our stakeholders," says Dr. Florizone. "I hope the report gives a good sense of those perspectives, while also bringing to bear data and other insight that, combined, frames some of the choices we face as a university."
Planning for the future

Just because the 100 Days of Listening campaign is wrapped up, though, doesn't mean the listening is.

"We want to hear what people think about the emerging priorities, but also what we might have missed: areas that may deserve more attention," says Dr. Florizone. "This was a quick, intense process and we want to make sure that we have the right picture of the university and the right priorities."   
The president and the university's executive team will be gathering feedback broadly across the university: from Senate, administrators and staff, students and faculty, and the Board. Feedback on the report can be submitted at the 100 Days website.   

By June, the hope is to have refined the draft priorities into a strategic direction that would go to Dal's Senate and Board of Governors for approval. The second half of 2014 would then be spent defining goals and timelines for each priority, leading to an integrated university plan by year's end.

100 Days of Listening final report