On a chilly Saturday in November, sometimes you just want to keep the car going.

Don't worry, though: the "Pulling for the Kids" car wasn't idling. Instead, it was people-powered, with 100 Dalhousie students keeping the car in motion for 10 hours straight to raise money for the Halifax Region Children's Aid Foundation (HRCAF).

Pulling for the Kids is the Dalhousie Undergraduate Engineering Society's major fundraiser. Participants took turns pulling a car around the northern end of the Barrington Street Superstore parking lot, attracting onlookers with every lap. Teams of five comprised of engineering students from all disciplines participated in the 20 minute shifts.

Each year, the society chooses a different charity to support with the event.

"The HRCAF was chosen as it represents children by offering aid and opportunities," explains student Jillian Withers, one of the organizers. "Hearing the stories of how the HRCAF has helped children in the past, cemented [our] commitment to raising funds."

The students raised more than $3,000 in two months — almost double the total from last year's pull.

The HRCAF works to strengthen the Halifax community by enhancing the well-being of vulnerable children and youth through education, prevention, enrichment, and development. All proceeds from Pulling for the Kids will support the Foundation's Good Beginnings program and Education Awards.

Withers says the HRCAF was extremely supportive throughout the planning process, and also thanked the Atlantic Superstore for providing the parking lot for the event.

"Not only does this event offer a chance to help children in need, but the students enjoyed taking part and contributing to the HRCAF," she says. "We were happy to help through our event."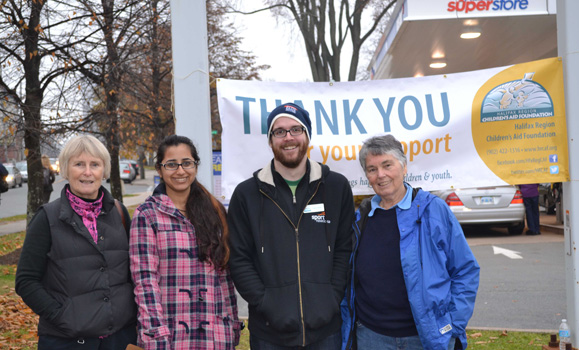 Left to right: Liz MacDonald (HRCAF Board president), Swati Anand (team and student coordinator), Kevin Forbes (HRCAF fund development committee member), Gail MacDougall (HRCAF Board vice-president).