Some 'staches were big, others were small, but the dollar figure raised dwarfed them all.

On Thursday, Movember — the global charity focused on men's health — announced the winners of its Big Moustache on Campus (BMoC) competition, which challenged university teams to raise money for the cause during the month of November.  

While the University of Toronto finished as the top fundraising school globally, Dalhousie was the leading Canadian school in per-capita fundraising. In total, 645 Dal students and faculty raised $93,566 — an impressive average of more than $145 per person.

The prize for both universities: a campus visit from renowned Canadian astronaut (and moustache icon) Commander Chris Hadfield sometime in 2014.
Shining a light

"It feels awesome," says fourth-year Commerce student Mike Wilkes, who helped lead the university's most successful team, the Rowe Mo' Bros & Sistas.  

"When I started taking part in Movember at Dal, it had its place on campus but now it's really become a big event at the university," he says. "So many of my personal goals for my Movember fundraising have come to fruition, and to play a part in bringing Chris Hadfield — the talk of Canada — to campus is pretty exciting. The whole Movember effort across the university shines a great light on Dal."

The 87 members of the Rowe Mo' Bros & Sistas raised a total of $33,620, making them the 32nd-ranked overall team in all of Canada (97th in the world) and finishing second among all Canadian university teams. (Canada's universities combined were the top fundraiser for Movember globally, bringing in over $2.7 million.)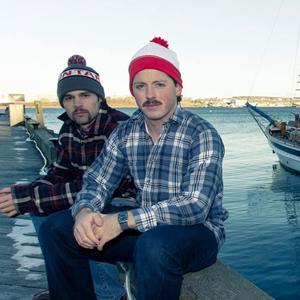 What's more, Mike won the Big Moustache on Campus Momo Award for the highest individual university student fundraiser in Canada, raising a total of $7,595. His co-leader of the Rowe team, Warren Mosley, finished sixth among all students with $4,781 raised. (Both pictured left.)

"It's about striking a connection with the person whose money you're asking for," says Mike, when asked about the secret to his fundraising success. "I don't think its fair for you to copy-and-paste an email from the Movember organization asking someone to donate. If they're going to give you their hard-earned money, it's about making it personal, using humour, and then translating that into the motivation for your campaign — why it means something to you."
A fun way to make a difference

Mike first got involved in Movember four years ago when he was a student in residence. With cancer having impacted his family, he saw Movember as a fun way to raise money and awareness for a great cause. Since then, the Movember effort grown considerably, particularly in terms of the number of women who participate.

"It was a male-dominated movement [at first], but since women really started getting involved as 'Mo Sistas' it's made the cause a lot better. Women underestimate the role they play in men's health, and they've been really supportive, especially on our team this year. Five of our top 10 fundraisers were female."

Seven members of the Rowe team raised more than $1,000, and 45 of the team's 87 members raised $100 or more. The team's marquee events included a launch party (with face shaving), a halfway mid-campaign party and two capstone events on November 29: an outdoor charity hockey game in the afternoon, followed by a black-tie event at the University Club that evening.

"It's people buying in that makes the difference," says Mike. "Commerce is a pretty tight-knit community, so we had first, second, third and fourth years on the team. Closer to the end of the campaign, when we started to get more attention, our faculty took note and many of them got behind us as well… It was really just trying to be the best ambassadors we could be for our donors money, and we were grateful for their support."

As for the prize, the date and details of Commander Chris Hadfield's visit to Dalhousie — which will include a one-on-one meeting with the winning team and a talk to the broader campus — will be sorted out in the new year.
Success across campus

Congrats to everyone at Dal who helped make the university's Movember success possible. Here are just a few of the many Dal teams who raised impressive totals:

Dal Facilities Management (pictured): $3,023, 16 members
Dalhousie Men's Rugby: $2,790, 21 members
Dalhousie Tigers: $2,679, 25 members
Dal Law "Schu-Like My Stache?": $2,502, 38 members
Dalhousie Medicine: $2,030, 27 members
Dal MBA (Mo)Bots: $1,662, 25 members
Dalhousie Pharmacy: $1,560, 9 members
Dalhousie Dentistry DDS1: $1,180, 14 members
Dalhousie Pharmacologists: $1,095, 8 members
Dalhousie MPA: $1,016, 8 members