This week, audiences in the Sir James Dunn Theatre are being transported back to the Jacobean era for DalTheatre's production of Shakespeare's Pericles. The play is centred around the journey of Pericles, a knight of Tyre, and marks the second instalment of the 2013/2014 DalTheatre season.

Written in the 17th century, Pericles is known to be one of Shakespeare's most spectacular and wildest plays. (That may be because many scholars believe not all the words are his — he may have worked with a collaborator.) The quest of young Pericles takes the audience on an epic pilgrimage through Ancient Greece and to palaces that border the Mediterranean Sea. On his course, the knight experiences a series of unfortunate events which shipwreck him, test his patience and ultimately separate him from his loved ones.
    
The play was directed by Blair Williams, a graduate of the National Theatre School who has worked across Canada. This was the North Bay native's first presentation at Dalhousie, and he was extremely pleased with the sharp production of the final product. He credits not just the acting class but students from all departments who worked backstage or on costume and set design.
    
"I really enjoy working with students; it's very much a discovery," says Williams. "When the light goes on, that's extremely rewarding."
Endearing characters

For the first half of the play, we follow Pericles through the cities of Antioch, Tarsus, Pentapolis and finally Mytilene as he searches for physical being and attempts to cope with his losses. In the second act, the play shifts its focus to his spirited and intelligent daughter Marina, played by Meagan Marshall, as she struggles to remain true to herself when she is captured and sold into prostitution.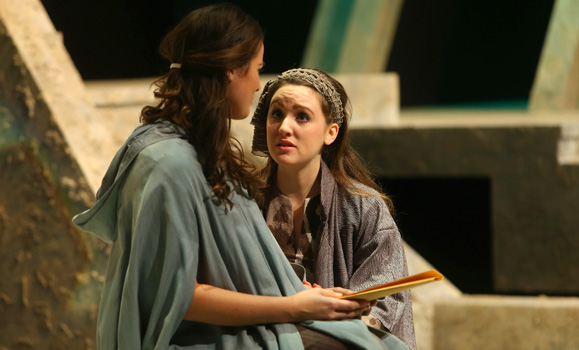 Thaisa (Hilary Adams) is comforted by Cerimon (Paige Smith) after being washed up on the shores of Ephesus.   

Challenged with the portrayal of a play that is set in many different cities, the simple stage, which includes stairs and different levels, is very appealing to the eye and fully utilized by the cast to demonstrate hierarchies within the play. All main and supporting characters are clothed in costumes of rich colour with intricate golden jewelleries and props to match.  
    
As the play progresses, it's easy for the audience to fall in love with its endearing characters. Jackson Fowlow is fantastic as the charming and good-hearted Pericles, while narrator Gower, played by Kamila Swiatek, helps to guide the audience on the whirlwind adventure. Taylor Olson, who first appears in Pentapolis as Simonides (the father of Pericles' wife Thaisa), and later as Pander (the gentleman who runs the brothel that Marina is sold into), offers comic relief throughout the play. 
Growing into the throne

Despite the many ups and downs, the message within the DalTheatre's adaptation of Pericles was clear: a tale of a young man who finds himself and is saved by the unbreakable bond of family.
    
"It has a lot to do with what makes a good king, but I think, speaking archetypally, it's what makes a good man or a good person," says Williams. "How do we grow into ourselves and how can we become our sovereign selves? How do we become a mature ruler of our own kingdom?"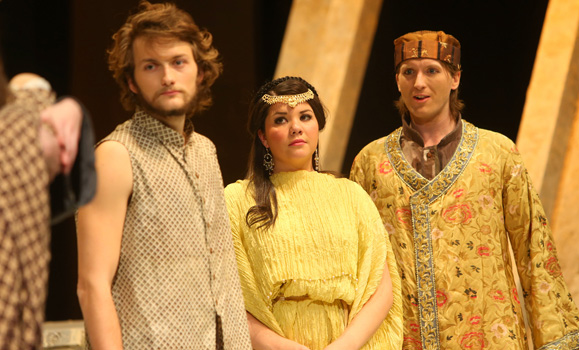 Pericles (Fowlow) brings baby Marina to Dionyza (Chelsea Arsenault) and Cleon (Colin Oulton) to raise her.   

Filled with romance, pirates, shipwrecks, Gods, tyrants, and suspense, Pericles has something for everyone. The intimate setting coupled with the captivating and engaging performances of the actors are sure to deliver a treat for anyone who steps onto the roller coaster.

Pericles runs through Saturday in the Sir James Dunn Theatre at the Dalhousie Arts Centre each evening at 8 p.m., with a 2 p.m. matinee on Saturday. Tickets are available from the Dalhousie Arts Centre box office.