It's a glowing tribute to generosity.

At the university's annual donor celebration in Halifax last Thursday, Dalhousie unveiled its new donor recognition wall. The display, hosted in the sculpture court of the Dalhousie Arts Centre, commemorates the thousands of individuals and organizations who have given to Dalhousie over the years.

With three major campaigns and nearly 60 years of raising money through Annual Fund initiatives, philanthropy has become an important part of Dalhousie history and culture. Many donors give consistently to the university, and this lifetime giving has a substantial impact on students, programs and the university as a whole.

"Our giving program has matured, particularly in the past few years," says Dalhousie's Vice President, External Floyd Dykeman. "The tremendous impact of this philanthropy is such that we felt it was time to celebrate the commitment and generosity of our alumni and friends in a very public way."
The perfect location

With a university covering 1,121 acres, spanning multiple campuses and housing 12 faculties, where do you build a wall that represents the whole university and is visible to those who don't visit on a regular basis?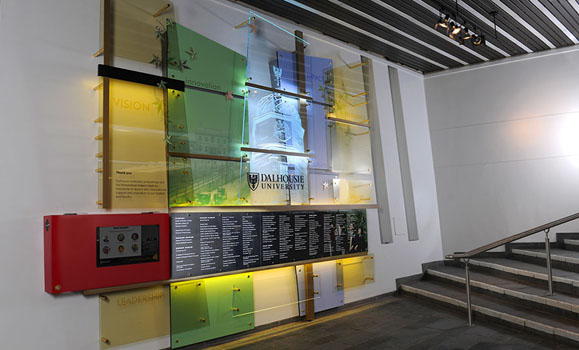 Throughout planning for the wall, one venue that came up time and again in terms of meeting the criteria was the Dalhousie Arts Centre. Centrally located in Halifax, the Arts Centre is the hub of cultural and community events in Nova Scotia. Inside, the Rebecca Cohn Auditorium hosts many concerts, shows and grassroots events, drawing thousands of community members each year, many of them Dalhousie donors. The majority of Dalhousie convocation ceremonies are held at the Cohn, meaning some 6,000 students and family members gather at the Arts Centre in celebration. It's also used by internal faculty, staff and students for formal events and casual get-togethers, expanding its reach even more.

Lastly — and this is not noted with tongue in cheek — it had solid walls.

"Many of the newer buildings incorporate a great deal of glass into their design or embrace an open concept," says Nancy Farmer, Dalhousie's donor relations manager. "It was important to choose a location with a vacant wall, large and substantial enough to accommodate a significant piece of infrastructure."

The wall's designers wanted to produce something that would aptly reflect the characteristics of Dal's visionary donors. The wall would showcase giving over one's lifetime or "cumulative giving," so it had to reflect Dal's past and present. Given that it was to take up permanent residence in the Arts Centre's Sculpture Court, it also had to be aesthetically pleasing, almost a piece of art unto itself.

Working with Brook Recognition Systems, a company that specializes in recognition pieces, a structure evolved from a simple idea to preliminary drawings to a full-fledged design.

"We learned as much as we could about the university, its vision for the display and the motivation of its donors," explains Brook's Daniel Beer of a design process that spanned several months. "Once we gained a fitting depth of understanding, we set out to design a piece that would bring a fairly large concrete wall to life, appropriately and eloquently."

The final piece shows historical Dal, as well as the always-recognizable clock tower etched in glass. It is draped in the symbolic ivy vine and anchored with words that characterize donors and the impact of their gifts.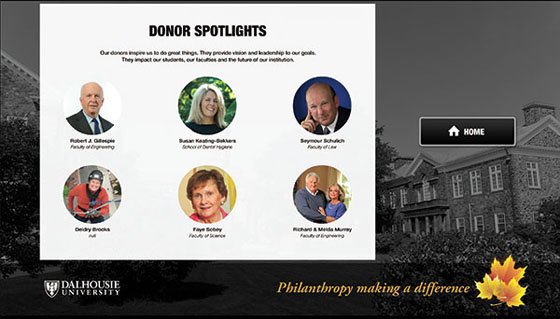 In all, 3,335 names — with cumulative giving totals ranging between $5,000 and $15 million+ — are showcased in the digital portion of the wall. Here, visitors can look up names and read short inspirational stories about students and donors. Just over 200 individuals, government bodies, corporations and foundations, whose cumulative giving totals $250,000 or more, have their names inscribed on the wall's exterior. The names are updated annually.

The big reveal

As President Richard Florizone officially unveiled the wall in the Sculpture Court of the Arts Centre, the response was tremendous.

"When I joined Dalhousie six months ago, it became quickly obvious that this was a place that was special and held significant meaning in the hearts of many. We're so pleased to permanently commemorate the generosity of thousands of people who have given to Dalhousie," he said, to enthusiastic applause.

Donor Richard Murray, who attended the event, agrees. "It really captures the essence of Dalhousie and the mark we hope to make with our gifts. I am proud to have my name stand alongside some of the most dedicated supporters of Dalhousie."

Maggie-Jane Parker, a second-year science student from Prince Edward Island, spoke at the donor celebration about how scholarships funded by donors have made her education possible.

"Your donations can make a small town girl with big dreams feel like all the hard work has paid off, and that she can attend the university of her dreams," she told the crowd. "I want you to know that these scholarships and donations change lives."
Celebrating donors

Last Thursday's event also welcomed new members to two exclusive donor ranks.

Lorne and Audrey Mitton were welcomed into Dal's Heritage Society, which pays tribute to donors who have included Dalhousie in their estate plans. Earlier this year, they established a bursary in their name to provide financial support to deserving students in medicine.

Karen Woolhouse was inducted into the President's Circle, which recognizes individuals whose cumulative lifetime giving to Dalhousie has reached $100,000 or more. Karen, along with her sister Judith, has established two scholarships in music: one in memory of their parents and one in memory of Judith's late husband.