Five years or so ago, Dal's School of Health Administration embarked on an ambitious renewal plan with the goal, as Director Joseph Byrne puts it, "to transform a good school into an excellent school."

Today, the school can boast a new competency-based curriculum, several innovative leadership skills and mentoring programs and the highly regarded "Excellence in Health" public education forum. It has also earned an unprecedented seven-year accreditation for its Master of Health Administration (MHA) program.

On Thursday, the school celebrated another milestone, together with its alumni association: the launch of an "Executive in Residence" program and its first appointment, Robert Zed, president and CEO of Triangle Strategies Ltd. Within health administration programs, it's only the second of its kind in Canada.

"This wonderful and innovative initiative will provide ongoing support and guidance to the school, its faculty, its alumni, and especially its students, who are the health leaders of tomorrow," said Will Webster, dean of the Faculty of Health Professions, speaking at the ceremony held at the Lord Nelson Hotel.

Zed, who manages a group of health-care companies and has worked throughout the sector in various capacities, sees his role as, "bridging relationships from the classroom to the boardroom."

An alumnus of the MHA program's inaugural class, Zed said he's always sought out opportunities to support his alma mater and the health community more generally.

"I'm a proud Dalhousian, and I come from a long line of Zed alumni who are now honoured to serve back at Dalhousie," he said. "I believe in building stronger and better communities, and it's not just in health care: whether it's education or social services or fundraisers, I think it's really important that we all work together to build better communities. It's part of my DNA."
A broad perspective

Zed is the lead and owner of Triangle Strategies Inc., Zed Healthcare Inc. and Nursing Practice Solutions Inc. — three health-care companies that offer strategic consulting, supervise P3 projects and conduct other such work in the sector. He's also been a hospital vice-president, a board member on countless public and private health organizations, and is a certified health executive with the Canadian College of Health Leaders (with several awards from the organization as well).

"He brings so many things to this new role," said Anne McGuire, president and CEO of the IWK Health Centre and chair of the School of Health Administration's professional advisory council.

"He understands health care from a very broad perspective. He knows the public and private part of this business. He knows the provincial, national and international scene. He knows philanthropy because he, himself, is an exemplar in that role. He is a champion of disruptive and transformational change and has helped many of us in leadership positions across the country to be disruptive. He is visionary but pragmatic at the same time."

Reece Bearnes, president of the School of Health Administration Alumni Association, explained that the position came about as a result of a group of determined graduates discussing how they could help create something new for the program and asking students, faculty and alumni for ideas.

"We received a tremendous amount of feedback, and what we heard was clear: that a focus on three areas was key — networking, professional development and, most importantly, mentorship," he said.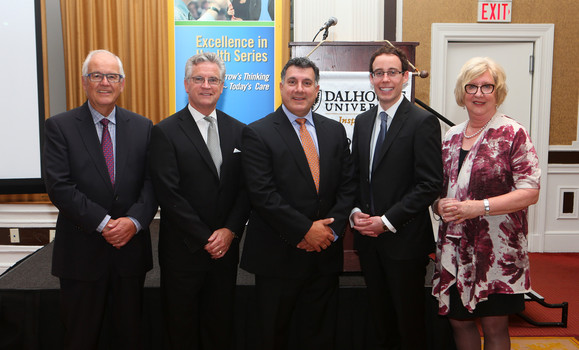 Robert Zed (centre) with (left to right) Dean Will Webster, Director Joseph Byrne, Health Administration Alumni Association President Reece Bearnes, and the IWK Health Centre's Anne McGuire. (Nick Pearce photo)

As Executive in Residence for the next three years, Zed will assist in all these areas, but his exact activities are being determined in collaboration with the faculty and students. At the event, Zed described sitting down with students to discuss how he could contribute and coming away with six full pages of notes.

"It was really just sitting around the table, throwing around ideas and figuring out where we can take it," says student Leah Wofsy.

"It's going to give us many opportunities for people we could possibly work with," adds fellow student Madeline Timlin. "We'll be exposed to many different areas in health care."
New opportunities

Zed says out of those discussions with students came four key areas where he'll be supporting the school: networking, residency placements, a prestigious case competition taking place at the University of Alabama, and community and corporate engagement. It's about "expanding the Dalhousie footprint," he says.

He's never been one to shy away from sharing his pride for Dalhousie with his (reportedly gigantic) network of health-care contacts. Now he has the opportunity to do so in direct support of the program that helped start his own career.

"All of my siblings have been to Dalhousie. My father is an honorary degree recipient. We have 40 or so [cumulative] years of Dalhousie experience in my family alone, and many, many degrees. It's thrilling that the alumni association and the Faculty of Health Admin have come together to create this Executive in Residence [and] to be selected to be the inaugural EIR is quite the honour."