On Wednesday, September 24 students, faculty and staff gathered across all of Dal's campuses for the university's fourth annual Pink Day events.
At the barbecue on the Studley Quad, people decked out in all shades of pink munched on hotdogs, veggie dogs, hamburgers and cotton candy. Dal's harassment prevention/conflict management advisor and event organizer, Gaye Wishart, spoke on the subject of respect.
"It's not just a one-day event — we want this idea of community respect carried throughout people's time at Dalhousie."

"Bullying is definitely an issue that needs to be addressed," says fourth-year English major and Risley Hall RA, Marcus Bhola. "Wearing bright colours shows that as a community we not only support anti-bullying, we're not afraid to show it."
What has come to be an international anti-bullying campaign started after a Nova Scotian high school student was bullied for wearing a pink shirt and a group of students took it upon themselves to purchase a bulk of pink shirts and wear them to show their support.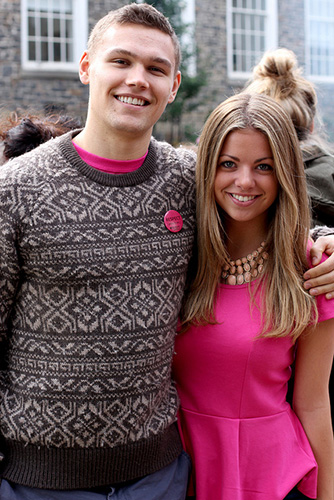 Dalhousie has made the decision of having a broader campaign around the theme of "respect and inclusion." Previous themes include cyber-bullying and the critical importance of being a bystander.
Erik Naylor just wanted to come out and show his support. "It's about promoting respect and anti-bullying — about keeping an open mind and being nice to everyone."
While respect should be omnipresent, DSU president Sagar Jha says that having a specific day dedicated to anti-oppression campaigns is a key component of awareness. "It's a visual reminder that regardless of all the negative oppression there's still hope," he says.
Facilities Management employee Leigh Smith says she too came to the event to show her general respect for everyone on campus and what they do.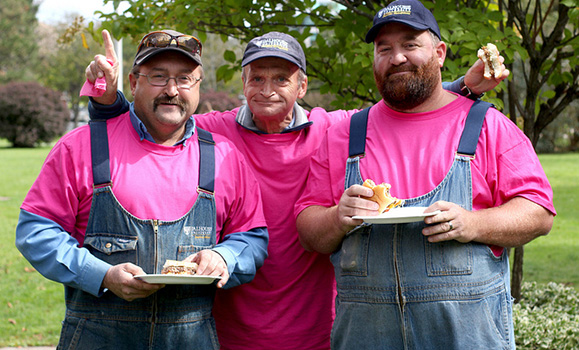 "We have people in Facilities Management, we have custodians, we have trades people, we have administrative staff, we have ITE's like me — just making sure that everybody is acknowledged equally for what they do."
The Dalhousie Medicine New Brunswick campus also held a barbecue. The crisp, damp fall weather in Saint John didn't damper anyone's bright spirits. Those who didn't have any pink clothes (or shoes!) in their closets were given pink feather boas, sparkly hats, RESPECT buttons, and more. Several staff members really got on board with the pink theme by baking pink cookies and 'anti-bullying' cupcakes.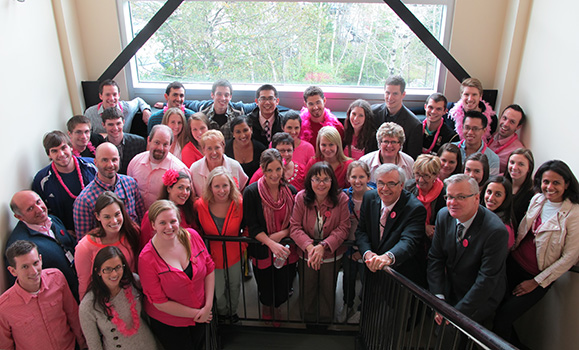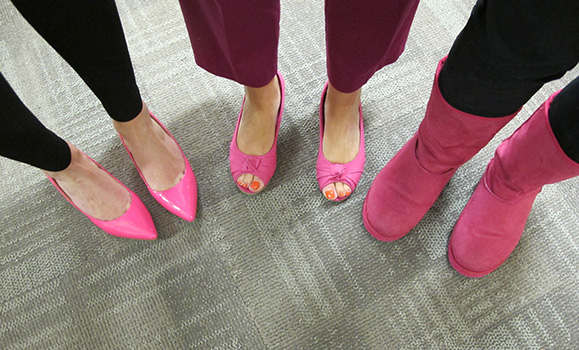 Up in Truro on the Agricultural Campus, students, staff and faculty put on their best pink finery and dug into crisp local apples and a large cake covered in bright pink icing.
Volunteers handed out pink pins displaying the words "respect, pass it on." The idea was to have people promote the idea of respect wherever they go, even if they aren't consciously thinking about it.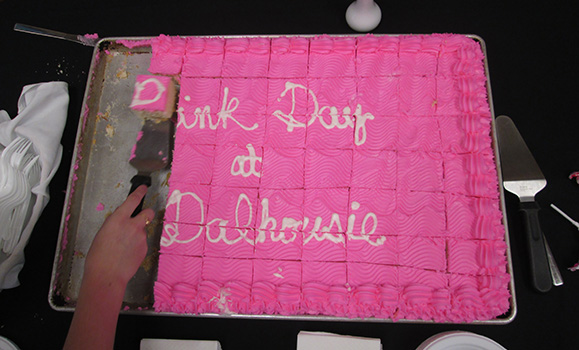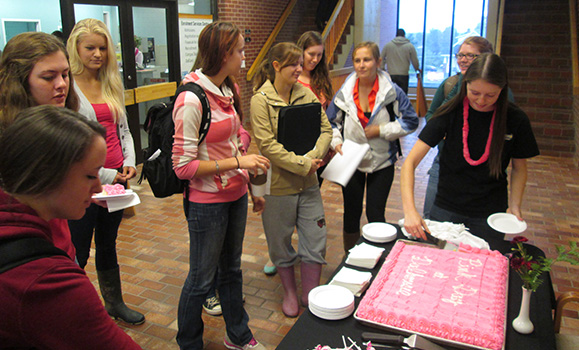 Pink Day gatherings were also held on Carleton and Studley campuses, featuring cake, apples and ice cream.

"Faculty, staff and students all share a responsibility to make our campus community a welcoming and safe environment for everyone," says Wishart. "And in doing so, we are all enriched by that experience."