It's a celebration the likes of which Dalhousie hasn't seen in nearly two decades —with an international twist.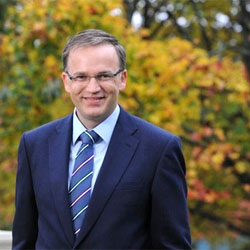 On the afternoon of Friday, October 4, alongside Homecoming festivities, the Dal community will gather for Richard Florizone's official installation as the university's 11th president and vice-chancellor. All are invited to attend.

Full details: Installation website

Installation is a longstanding tradition at universities, dating back to the earliest years of the modern institute. Think of it sort of like the official inauguration of an American president — the major difference being, of course, that President Florizone has already been serving in his role administratively since July.

But installation is important for two reasons. One is tradition and ceremony: for example, Dr. Florizone is not allowed to wear his presidential robes or preside over convocation (fall ceremonies take place October 7-9) until he has been formally installed in the role. The other is that it includes Dr. Florizone's first major address as Dal's president, where he will share some insights into his broad vision for the university and his perspective on its values. 
Welcoming presidents from around the world

With only 11 presidents in Dal's nearly 200-year history, it's a rare event to say the least. But making it even more special is that Dr. Florizone will be joined by eight university presidents and leaders from around the world, each of whom will receive honorary doctorates from Dalhousie as part of the installation ceremony. From Botswana to Brazil, China to Israel, France to Qatar, Germany to Dr. Florizone's alma mater, M.I.T., it's a show of support from global academic leaders the likes of which Dalhousie has never seen on campus.

"As our international partnerships grow, Dalhousie's role on the world stage grows alongside," says Martha Crago, vice-president research at Dal. "This is not just an exciting moment for Dal, but an extraordinary opportunity for our community to take part in a discussion about universities on a global level."

The eight guests will sit down for an interactive panel discussion on the morning of the ceremony, focused on the topic: "The future of universities." As with the installation itself, all in the Dal community are invited to attend.

The guests include:
Sheikha Abdulla Al-Misnad, Qatar University, Qatar
Rivka Carmi, Ben-Gurion University of the Negev, Israel
Joaquim Clotet Marti, Pontifical Catholic University of Rio Grande do Sul, Brazil
Gerhard Fouquet, Christian-Albrechts-University at Kiel, Germany
W. Eric L. Grimson, Massachusetts Institute of Technology, United States of America
Marie-Christine Lemardeley, University of the Sorbonne Nouvelle (Paris 3), France
Bojosi Otlhogile, University of Botswana
Xu Zhihong, Peking University, China

We'll be sharing more on the visiting academic leaders all next week on Dal News. And look for special international menus at Dalhousie's dining halls on October 3 and 4, featuring select dishes from the visiting presidents' home countries.
Installation details

Installation ceremony: Friday, October 4, 2:30 p.m., Rebecca Cohn Auditorium, Dalhousie Arts Centre
Presidential panel discussion: Friday, October 4, 9:00 a.m., Rebecca Cohn Auditorium, Dalhousie Arts Centre

Seating will be available on a first-come, first-served basis. Events will be broadcast live in Alumni Theatre for those at the Agricultural Campus in Truro. Both events will be webcast to the entire Dalhousie community on the Installation website.

RSVP: Register for both events online