Agriculture, by its very nature, requires healthy amounts of water. So, in a sense, the steady rain that marked the Dal Agricultural Campus' Community Open House last Thursday was akin to just another day on the farm.

But while the skies may have been dampened, spirits remained high at the annual event, a highlight of the Colchester County summer calendar for decades. At Open House, the Agricultural Campus throws open its doors to visitors of all ages, offering a firsthand look at research, study and daily life in the Faculty of Agriculture.

Every which way you turned, you found smiling volunteers clad in navy blue Faculty of Agriculture T-shirts — students, faculty and staff alike. They were all giving up their day to chat with attendees about their work and some of the unique features of Dal's newest campus. (Attendees included a sizable cohort from the Halifax campuses, travelling to Truro on the Dal bus.)
See also: Photo essay - Open House 2013

One of the most popular destinations was the Ruminant Animal Centre barns, where visitors could meet the campus' two newest calves — Annabelle, born July 8, and Amethyst, born June 16 — and witness the shearing of several sheep from the resident flock.

"It's not awkward or uncomfortable [for the sheep]," explained Holly Hines, the sheep unit technician on hand to supervise 24 shearings over the course of the day. "For many, they get itchy with the wool coat, so it's quite enjoyable to have it removed. You'll even see some of them start to kick their leg like a dog getting its tummy scratched."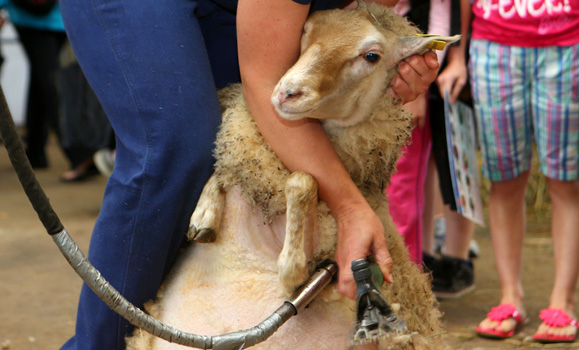 Time for a summer haircut.

As for the wool, Hines explained that the bulk of it goes to Woolies, a local company in Upper Brookside that manufactures 100 per cent natural wool comforters and other gifts.
Hands-on with Ag research

While schoolchildren eagerly awaited the next sheep shearing, visitors looking for a quiet reprieve could find one in the Collins Building greenhouse, which contains tropical plants from around the world.

"It's a perfect spot on a cold February day too," said Sherry Chaisson, instructor and horticultural technician. She noted that some of the greenhouse's interior features — including a small patio setup and a koi pond — were built by students, and that the plants are used in plant identification and horticulture therapy classes, among others. (Many of the campus' international students are also excited to find plants they recognize from home.)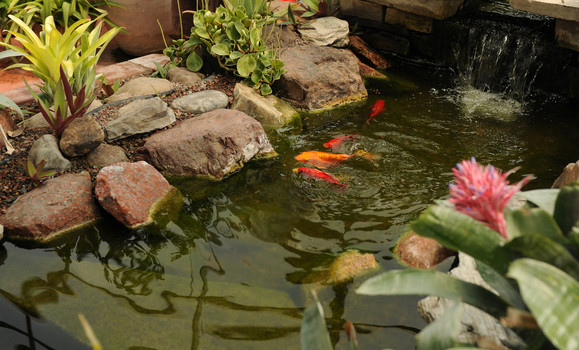 Fish swimming inside the greenhouse. (Danny Abriel photo)
Elsewhere, faculty and students were sharing their research in instant and accessible ways. Over at the Haley Institute, volunteers were explaining liver biochemistry using Lego blocks. And in the Cox Building's Marine Bioproducts Research Lab, Prithiviraj Balakrishnan (associate professor, Department of Environmental Sciences), discussed how seaweed is used in all sorts of common household products.

"Every day we come into contact with seaweed, from toothpaste to frozen dinners," he explained, noting that even beer contains seaweed powder. ("Irish moss" it's called, and it's used to clear up any cloudiness in the beer.)
Also in the Cox Institute, Ramesh Eerpina, a second-year master's student focused on organic agriculture, discussed Springtails, small hexapod creatures that visitors could view under a microscope.

"There will often be thousands of these within a single square foot of soil, but they're so small that they're hard to notice with the naked eye," said Eerpina, who's researching their diet and their ability to improve soil health.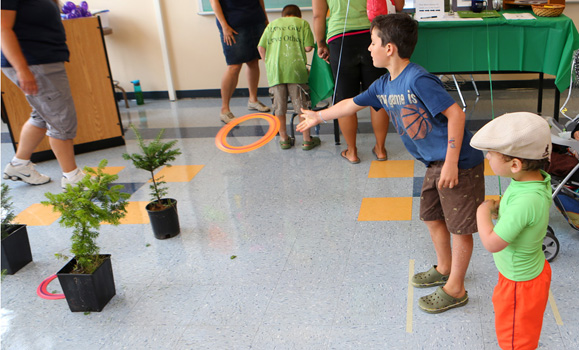 In Plant Sciences, learned about Christmas trees — and had a bit of ring toss fun while they were at it.
Offering another angle on soil health, Cory Roberts, waste management technician in the Faculty's Department of Engineering, shared his team's research into bio-solids.

"Our whole idea [here] is to take various types of waste and repurpose it for agricultural use," he explained. He explained how currently they're working on long-term trials for barley, using refined bio-solids from nearby water treatment facilities. They're trying to measure the bio-solids' success as a fertilizer as well as the potential risks from trace elements (such as pharmaceuticals) that may make their way through the waste products.
Making the most of the day

Despite the weather, plenty of visitors braved the outdoors to grab some Tiger Tail ice cream, make some felted soap to take home, and grab some barbequed chicken and hot dogs for lunch. Some attendees could be seen chatting with both Dal President Richard Florizone and incoming Dean of Agriculture David Gray, both of whom attended with their families.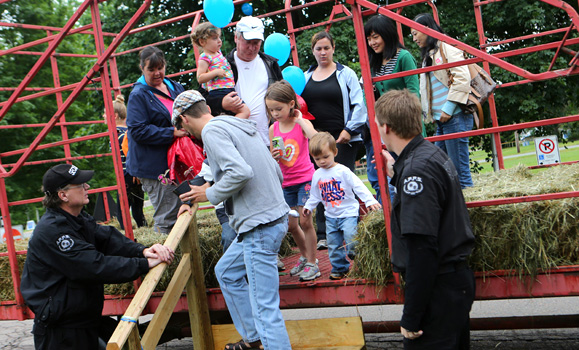 The best way to get around campus was a complementary tractor ride.

For his part, Kenny Archibald, who works as a custodian with Facilities Management on the Agricultural Campus, wouldn't have missed it. He's been at Open House every year since 1986, and has actually kept all of his volunteer T-shirts from over the years. Though he's away from work at the moment, and could only drop by for a brief visit, he says the event is a crucial part of the Ag community — especially for families.
"To me, it's like planting seeds," he says. "You get these kids in there, and they get excited about what they see and the facilities we have, and the all-around good of the community here, and it sort of plants the seed that maybe science or farming is something they'll consider when it comes time for them to think about post-secondary education."

See also: Photo essay - Open House 2013