For Jonathan Franklin, a PhD candidate in the Department of Physics and Atmospheric Science, making the transition to Halifax and Dalhousie from his home just south of Boston, Massachusetts "was easy," he says.

Perhaps a bit easier than the transition at the end of May from rainy springtime in Halifax to snowy Igloolik, Nunavut. But Franklin, who works with James Drummond on climate change and pollution research, jumped at the chance to participate in a week-long education outreach program organized through CANDAC (the Canadian Network for the Detection of Atmospheric Change).

Back in May 2010, Franklin took part in his first outreach experience in Pond Inlet, Nunavut. This year's trip to Igloolik "was more student-centred," says Franklin. "We spent a lot of the time interacting with them in small groups, rather than just presenting information to them."

The May trip was follow-up to one in March, when another group of graduate students visited Igloolik to show school children how to build simple measurement tools. That outreach team left basic thermometers, pyranometers and anemometers for the children to use to gather basic data about the temperature, solar radiation and wind.


Franklin — along with two other university students, Anthony Pugliese (at the University of Toronto) and Melanie Wright (a master's student at Western University), and with the CANDAC outreach co-ordinator, Ashley Kilgour — helped the kids interpret the data they'd been gathering since March. Franklin and his colleagues also helped the kids decide how to share their data with other classes and with people in their community.

"Some wanted to make a story, some wanted to draw pictures of a specific day they took measurements, and one group even made a video," Franklin says. "They filmed the process of setting up the pyranometer to measure solar radiation and did the editing after."

"The kids really enjoyed doing something different," he continues. "They were enthusiastic and invested in it, because they'd spent the time going out in the cold to take these measurements. They were very enthusiastic; it was very effective."
Helping budding atmospheric scientists

These interactive opportunities have been part of the Arctic outreach program's mandate since its inception in 2004. Kaley Walker, associate professor in the Department of Physics at the University of Toronto, was part of the team that started the program — almost more by accident than intention.

"The CANDAC outreach program grew out of an outreach program that started when the first ACE Arctic Validation Campaign team got stuck in Resolute Bay [Nunauvut] because of a snowstorm," explains Dr. Walker. "Two of the team stayed up talking with the principal from Qarmartalik School."

"By the time I got up the next morning, we were going to spend the day at the school and I was to give a talk about what we were doing in Eureka," she says. That led to several subsequent visits, "with the goal of not just talking 'at' the students. We developed workshops and activities for the classes to complement their science curriculum materials."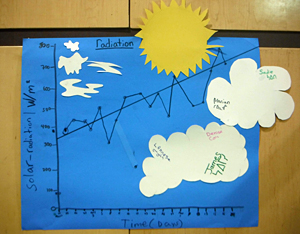 This year in Igloolik, the school children learned how to make simple recording tools, went outdoors in frigid temperatures to take measurements, and recorded their data for future use.

They were also encouraged to think about whether or not their data was accurate. "Sometimes the data is 'noisy,'" Franklin explains, noting one group that took anomalous readings. So he asked them what they think happened and whether the measurement is believable. "With just a bit of prodding, they start thinking, 'Wait a minute, what's going on here?' With older kids, anyway, we could have discussions about data quality and problems with the instruments. 'Maybe a wire was loose?'"
 
On the last day, a big assembly was organized in the school gym. "They put up all their various graphs, stories, videos documenting their data collection. All the classes came, and some of the kids' families and parents," Franklin says. "And in the corners, they had demo stations to show their parents what they'd been doing."
Observing, quantifying – and sharing

Franklin's own objectives for doing outreach aren't much different from those of the program: "I want students to pay more attention to the world around them, to see what's going on, but also to be able to quantify it in some way — to note the first time the snow buntings arrive, for example."

"Up there, children are a bit more in tune with the cycles, in the way they live. Those observations already exist," Franklin says. "I asked a 10-year-old when the ice was going to break, and he didn't blink: 'By the end of June.' So they have a sense of the cycles already. But it's also important to be able to share your observations."

"And maybe they'll learn that people can make a living sitting there and staring at the weather," he says with a grin.

"The changing climate does directly connect to their way of life," he says. "Many families still hunt, so they see the changing seasons over their lifetimes. And any changes will affect them much more than children down here. So it's important to make sure they're paying attention to what's happening around them."

Visit CANDAC Education/Outreach website to learn more about the program's goals and to find educational resources.

Read Jonathan's and the other graduate students' blog posts about the trip to Igloolik.