Dal faculty and staff set aside their keyboards, smartphones and microscopes and put their thumbs to work in another way at the annual Boots n' Blooms event last week.

Boots n' Blooms is a morning of "sweat equity" that engages the Agricultural Campus community in supporting the campus' Grounds Maintenance team. This year, the effort focused on getting the Alumni Gardens ready for its close-ups during prom and wedding season.

Boots n' Blooms was open to all Dalhousie staff and faculty who had a few hours to lend a hand and tend to the gardens. Volunteers were also encouraged to don their funkiest pair of rubber boots in the spirit of friendly competition. At the end of the day Claude Caldwell, acting dean, judged the boots, with winner Stephanie Rogers taking home a hanging flower basket.
Gardening with the experts

As the sun beat down on the Alumni Garden, participants pruned, edged, mulched and planted their way to a restored and refreshed garden retreat tucked away near the MacRae Library.

"It's a staff engagement day… We're showing we're an 'ag' school. We're out and we're actually doing the work," explained Jeff Morton, grounds co-manager at the Agricultural Campus.

Morton and his team of employees were out in full force to help out, but they weren't just dishing out directions to all the volunteers. They were providing helpful advice to people with all levels of gardening experience.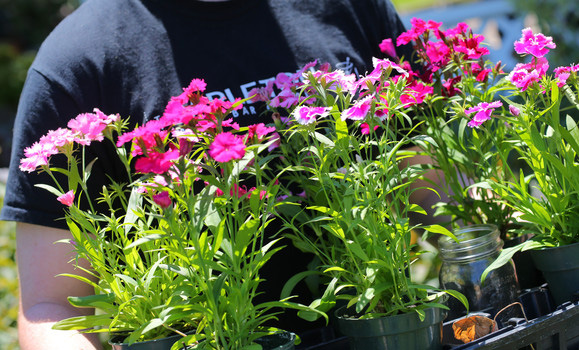 Lugene Young, the on-site nurse at the Agricultural Campus, has been gardening for many years but was still excited to learn a new thing or two and connect with her colleagues on a different level.

"It's nice to have professionals around to show us how to do it properly. I can't wait to go home, purchase some new tools, and re-do my cottage and my house," she said. "It's great to be around faculty and staff in a different light, communicating in a different way because we're all doing the same thing: working and digging in the dirt!"

People of all ages came to help out. Even the kids from the on-campus daycare lent their tiny and eager hands to get the gardens in tip-top shape.

Boots n' Blooms volunteers were rewarded for their hard work with a BBQ and flowers to add to their own gardens at home.