Following what felt like countless rainy days this June, the skies cleared last Thursday just in time for one final farewell for Dal's president.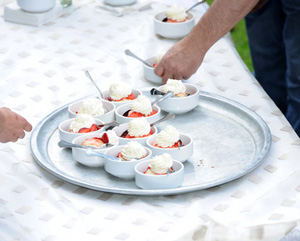 "This has been a very long goodbye," said Jim Spatz, chair of Dal's Board of Governors, reflecting on the number of events at which he's introduced Dr. Traves in recent months. "It's appropriate, given how long Tom has been here and the impact he's had."

Faculty and staff were invited to enjoy the sunshine for a couple of hours in the Studley Quad, with live music and strawberry shortcake available for all. Colleagues mingled, sharing laughs and good cheer while offering their best wishes to Dal's tenth president.

Spatz called Dr. Traves one of the most important leaders in Dal's long history. "He has truly loved serving the university and the community, because significant achievement of the scale that we've seen on Tom's watch only happens when driven by great passion," he said.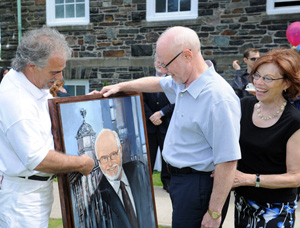 Before taking to the podium to speak, Dr. Traves was presented with a surprise gift: a portrait pained by Zeqirja "Zack" Rexhepi, a painter with Facilities Management and an acclaimed artist. Rexhepi produced the portrait on his own as a tribute to Dr. Traves.

All smiles, President Traves said it was fantastic to see people from so many different corners of the university.

"For me, that's very special," he said. "A university is a community of partners who work together and collaborate in so many ways. Each one of us, in our own fashion, contributes our skill and our talent and our passion to making this a great institution."

"Seeing you all here today gives life to all of that experience," he added. "I thank you from the bottom of my heart and wish everybody all the best in the future."

Speaking to that future, as he makes plans to enjoy his retirement, he has nothing but high hopes for what comes next for Dal.

"Yes, we achieved a lot, and built a great foundation, but this is only the beginning."