On June 9, the streets around Dalhousie were home to cyclists both big and small who came out to participate a unique cycle track demonstration. Presented by Dalhousie University, Capital Health, the IWK Health Centre and the Heart and Stroke Foundation, the cycle track allowed families to cycle in a safe, partitioned lane along University Avenue throughout the day.

The track was set up in conjunction with HRM Bike Week and was positioned at the end of the SWITCH Open Streets route. The event organizers put up pylons to separate the cyclists from vehicular traffic. The goal of the event was to promote the idea of installing a segregated bike lane on University Avenue, as well as to support more generally the addition of biking corridors throughout HRM.
A bike lane on University Avenue with a physical barrier between cyclists and cars has been proposed in the past as a part of HRM's broader Active Transportation Strategy, and is also highlighted in Dalhousie's Transportation Demand Management Plan. The temporary cycle track was intended to show citizens what such a corridor would look like and to get people excited by the possibility of having a more permanent one installed.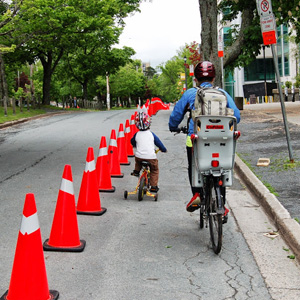 The event also provided an opportunity for families to cycle together in a safe environment. While it is legal for children to cycle on the sidewalks, it is not legal for adults to do so. The segregated lane meant everyone could bike together.  

Event organizer Caroline King, transportation and communication officer with the Office of Sustainability, says that segregated bike lanes may encourage more people to start biking. "Through our annual commuter surveys we have learned that the number one reason people do not cycle as a mode of transportation is because of their fear of sharing the road," she says. "The best way to address this fear is to provide cyclists with their own space, decreasing the potential for vehicle and bicycle collision."

During the event, the Office of Sustainability had volunteers walk up and down the street surveying participants about bike lanes. An extremely high proportion of respondents were in favour of the University Avenue bike lane, and indicated they would cycle more often if there were more segregated lanes throughout HRM.

The area in front of the Killam Library was busy throughout the day with Dalhousie Bike Centre volunteers doing bike tune-ups and providing snacks and water to the cyclists. The centre was also lending bikes to those who wanted to try the track. The Office of Sustainability estimates that more than 200 people attend the event.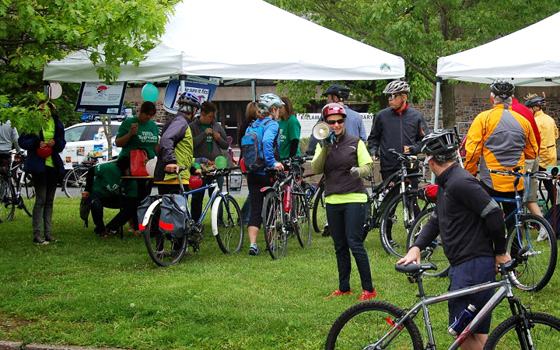 Attendees taking advantage of the free bike tune-ups.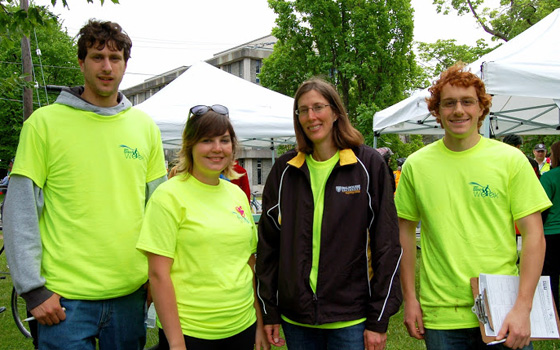 The Office of Sustainability team.