In 1988, there was still a Cold War and a Soviet Union. The first well-known computer virus, the Morris Worm, was making the rounds. Calgary hosted the Winter Olympics. Brian Mulroney and the Progressive Conservatives were elected to a second majority government. The year's top-grossing movie was Rain Man, and the biggest-selling album was George Michael's Faith.

A lot can change in 25 years — but some things carry on.

Last Friday, President Tom Traves hosted a reception for those faculty and staff who have reached the 25-year mark in their Dalhousie career. The attendees gathered in the Lord Dalhousie Room in the Henry Hicks Building to enjoy snacks while reminiscing and reflecting on their contributions to the university.

President Traves discussed the idea of "commitment": how it often starts just by entering a new situation and hoping it works out, but grows significantly over time. He emphasized the impact the assembled faculty and staff have had on generations of Dal students.

"You've taught with them, or supported them all, in some fashion," he said. "When you look back, you should have a sense of your accomplishment and a great sense of pride."
Making a difference


When asked, the attendees readily offered up stories about how Dal has changed since they started working at the university.

"It's sort of the things you'd expect: we're a larger university, and certainly the technology we use has changed dramatically," says Roger Brush with Audio/Visual Services.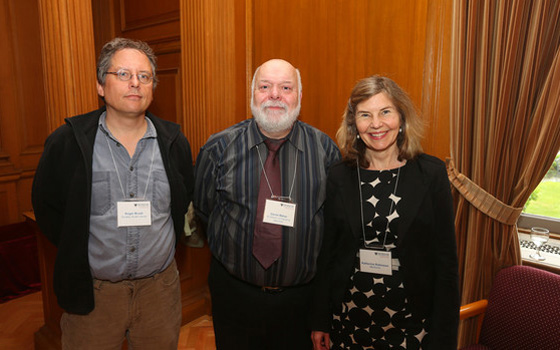 Roger Brush (Audio Visual), Daniel Mahar (Academic Computing Services), and Katherine Robinson (Medicine).
"When I started, there were maybe 12-13,000 students here," says Bill Pohajdak, professor in the Department of Biology. "It's a noticeable change now, but not a bad one — it's exciting. The students themselves, I'd say, haven't changed so much, though they're perhaps a bit bolder, more direct. But the experience here is still great; Dal is a great place to work."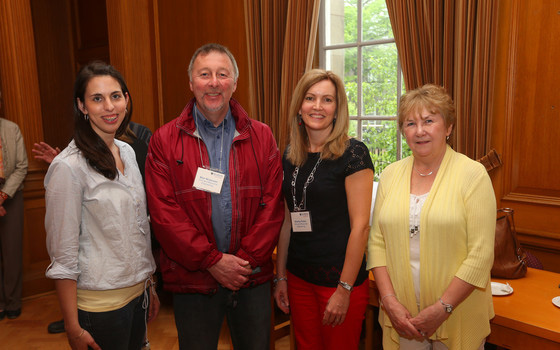 Allyson Bremner, Blair Nickerson, Shelley Parker, and June Ferguson, all from Civil and Resource Engineering.
For some in the room, the biggest change they experienced was becoming part of Dalhousie in the first place, in the university's two prominent mergers over the past quarter-century.

"Coming from TUNS to Dal, what's stayed the same is the support and encouragement I've gotten," said Lori Lamrock, manager of employee development and administration in Facilities Management. "I've really had the opportunity to learn and grow through a number of different roles."

"I came to NSAC when it was at its prime growth stage, so I always say I grew with the institution," said Samuel Asiedu, professor and chair in the Department of Plant and Animal Sciences in the Faculty of Agriculture. "Over time, we became an intensive research university and now we're happy to be part of Dalhousie. I think we're blending in nicely."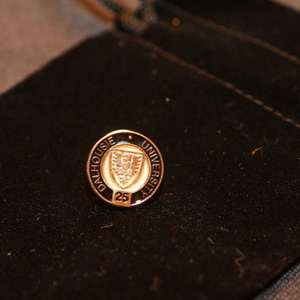 Before presenting each honouree with a special 25-year pin, President Traves offered thanks to all in the room.

"On behalf of all those thousands of students who have come and gone; on behalf of all your colleagues that you've worked with; on behalf of the community you've contributed so much to, inside the university and beyond; I just want to say a huge thank you — thank you and congratulations."
25 years
Faculty and staff who reached 25 years working at the university between June 1, 2012 and May 31, 2013:

Kenneth Archibald - Facilities Management, Agricultural Campus                                 Samuel Asiedu - Plant and Animal Science                                                               Jonathan Barzilai - Industrial Engineering
Bernard Boudreau - Oceanography    
Stephen Bourke - Academic Computing Services        
Paul Briggs - Biochemistry & Molecular Biology
Roger Brush - Studley Audio Visual
Louise Clark - Financial Services    
John Cordy - Facilities Management
J Cyrus - Industrial Engineering
Judith Davidson - Bookstore
Leonard Diepeveen - English
John Dornan - Saint John Regional Hospital    
Sandra Drew - School of Health Administration        
Robert Finbow - Political Science
Alan Fine - Physiology & Biophysics
Bruce Friis - Dental Lab
Anne Gaetz - Sexton Design & Tech Library
Jerzy Gajewski - Urology    
Jonathan Grant - Oceanography        
Gillian Graves - Obstetrics & Gynaecology
John Hanly - Medicine    
Nancy Hayter - Research Services    
John Hill - Civil & Resource Engineering
Kenney Hunt - Facilities Management        
Barbara Isner - Faculty of Engineering
Twila Johnson - Continuing Tech Education - Sexton
B Lynn Johnston - Medicine
Daniel Kelley - Oceanography
Vladimir Kozousek - Ophthalmology and Visual Sciences
Daniel Labrie - Physics and Atmospheric Science        
Lori Lamrock - Facilities Management
Melani Lane - Residence Operations, Agricultural Campus
Virginia Long - Dalplex        
Bertrum MacDonald - Information Management        
Charlene MacKinnon - Central University
Kathleen MacPherson - Community Health & Epidemiology    
Daniel Mahar - Academic Computing Services    
Roisin McDevitt - Biochemistry & Molecular Biology
Denise Mitchell - Faculty of Medicine
Suzanne Morgan - Dalplex    
Blair Nickerson - Civil & Resource Engineering
Stephen Parcell - Architecture    
Shelley Parker - Civil & Resource Engineering    
Allan Paulson - Process Engineering & Applied Science
Amanda Pelham - Communications & Marketing    
Heather Philp - Administrative Computing Services    
Bill Pohajdak - Biology
V Elizabeth Publicover - Human Resources    
Katherine Robinson - Medicine    
Dawn Russell - Schulich School of Law
Mysore Satish - Civil & Resource Engineering
Cheryl Schnare - Financial Services
J Norman Scrimger - Computer Science
Joanne Shewchuck - Carleton Animal Care Facility    
Barry Siddle - Facilities Management    
Gita Sinha - Medical Neuroscience
Thomas Slauenwhite - Facilities Management    
Kim Stewart - College of Continuing Education
Alan Surovell - Transition Year Program
Margie Tate - Environmental Sciences    
Wanda Thomas Bernard - Social Work    
Carmichael Wallace - Biochemistry & Molecular Biology
Eugena Walsh - Continuing Tech Education, Sexton
Robert Warner - Mechanical Engineering
Donald Westin - Dean's Office, Architecture & Planning
Bonnie Van Buskirk, President's Office
This list was compiled by the President's Office and Human Resources in consultation with faculties and departments. If you believe anyone was left off this list in error, they are more than welcome to attend the event next year. Contact the President's Office at 494-3804.