Earth Day is the annual marking of humankind's dedication and commitment to improving our quality of life and the protection of our planet.

On Monday, members of the Dalhousie and Halifax communities spent the bright and sunny Earth Day afternoon gathered in the Mona Campbell Building (Dal's greenest building) to celebrate a new partnership between the RBC Foundation and Dalhousie's College of Sustainability.

"I am pleased to announce that the RBC Foundation is making a $1.5 million donation to the College of Sustainability," announced Kim Mason, the RBC Regional President for the Atlantic Region, at the event.

RBC's donation is the bank's largest ever in Atlantic Canada. The funding will support the college's innovative new Sustainability Leadership Certificate (SLC) program for the next 10 years, ensuring it continues to be offered to students at a minimal cost.

"We wanted to make sure that the cost of [the SLC program] to students was quite nominal so that it is about students' commitment, not their ability to pay," said Steve Mannell, director of the College of Sustainability.

The SLC program is open to all undergraduate students who have taken SUST 1000 or SUST 1001. Students attend three weekend seminars and take part in engaged learning projects with community partners, giving them hands-on experiences in turning sustainability ideas into real, practical gains.

Read also: Training the next generation of sustainability leaders (Dal News, Apr. 4)
Bringing together perspectives


Mason said RBC was drawn to supporting the college, and specifically its SLC program, because of the multidisciplinary aspects of its learning modules and curriculum.

"One of the reasons why the College of Sustainability is so important to us is that it is so broad reaching," she explained. "It really touches on all facets of the university [and] it brings together faculty and students from almost every discipline on the campus."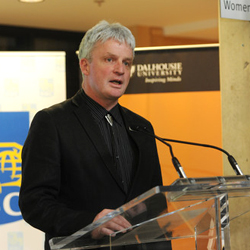 Prof. Mannell said he was surprised at first to learn that one of Canada's largest banks was interested in supporting the College of Sustainability's SLC program. It made sense though, once he learned more about RBC's commitment to sustainability.  

"The bank is interested in doing good just as everybody else is: through their business and also through their foundations and their giving programs. They're interested in not just serving the world that might be the one they're accustomed to, but also imagining what the future might be," said Prof. Mannell.

This year, RBC was listed as one of Canada's Greenest Employers for the fifth consecutive year and in January was named one of the Global 100: Most Sustainable Corporations in the World for the ninth year in a row.

"The Dalhousie College of Sustainability is an opportunity for us to walk the talk, basically, to put our money where our mouth is," said Mason.
Addressing sustainability challenges


Many students from the program came by the Mona Campbell building to take part in the announcement. Lucy Dykhuis, a soon-to-be Dal Sustainability grad and a participant of the SLC pilot this year, said she was inspired by working with other like-minded yet individually motivated students.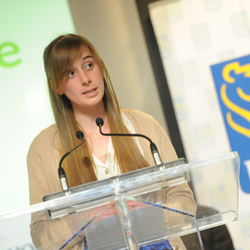 "I remember thinking, 'Wow, look how much change can happen with just the people in this one program in this one university in this one city of the world,'" she said.

Prof. Mannell is similarly confident in the college's graduates, whom he believes are the true leaders of the sustainability movement.

"Young people of today are all too aware of the scale and scope of the challenges that will face their generation and the generation to come...our job as elders and mentors is really to give them whatever tools and insights that we have and then get out of their way," he said.

Dal President Tom Traves, speaking at the event, expressed his ongoing support not just for the college and the SLC program, but his belief that they represent a new direction in modern education. He also paid tribute to RBC's commitment to the college.

"This is a remarkable gift for a wonderful program," he said. "Thank you. Thank you for your commitment to Dalhousie, thank you for your faith in our students and thank you for your corporate vision that incorporates sustainability as an important component of economic development."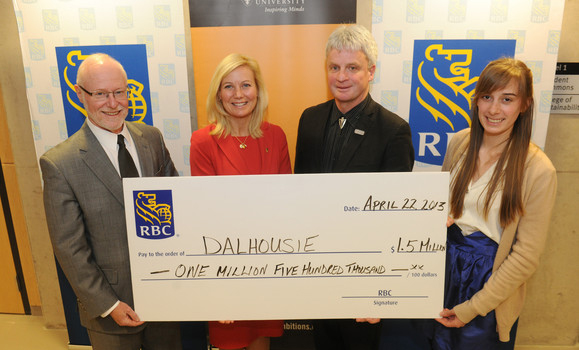 This article is part of the Dalhousie Difference series, exploring what the power of philantrophy means to the university and introducing and showcasing some of the 50 innovative projects in development. Learn more at boldambitions.dal.ca.