April is National Poetry Month - an opportunity to consider the power that creative writing can have.
Jessica Chisholm, one of Dal News' student writers, is this year's editor of Fathom, Dalhousie's undergraduate poetry and prose journal, which just released its 30th edition. She recently spoke with local poet and Dal creative writing instructor Sue Goyette, who just released her new collection Ocean earlier this month. They discussed the importance of poetry, the Creative Writing program here at Dalhousie and ways you can commemorate National Poetry Month.

Jessica: Why is poetry an important part of student life, do you think?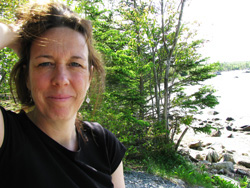 Sue: I think writing poetry instigates an imaginative approach to thinking. It's a way of honing a kind of metaphorical, lateral approach to our dailiness that enlivens our experience. It also revitalizes our language, inspires us to spice up the way we see things, the way we make connections. All of these things contribute to waking up our curiosity, which would serve any student well. We become intrigued by things when we're on the lookout for poetry. We develop an appetite to learn as well as hone a sense of presence and energy that changes how we attend to the things we're learning.

Jessica: I think the most transformative thing that I've learned about myself and my writing is to not be afraid to fail. Writing is like music: it takes a lot of practice. Some people it comes naturally to, but the rest of us need to work extra hard to become better. I love writing and I'm so grateful for all of the mentors that I've had here at Dal. I've learned to be bold with my choices, to take risks in order to try and make opportunities for myself. Writing isn't just a hobby for me and I'm lucky that I am able to surround myself with people who take it as seriously and have the same drive. It keeps me going.

Sue: The Creative Writing program is important because it teaches students the craft of writing and helps them develop a solid writing practice. With those two things in place, students are then able to continue writing. Writing is part of the sustainable community of the university. We study writers. We read them. And some of us contribute to the vast and varied libraries by becoming writers.

What was it that got you into creative writing?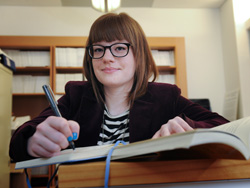 Jessica: When I was in first year I was convinced I was going to take English and History. I was taking Dr. [Majorie] Stone's Introduction to Literature class and just loved everything we were reading. I remember wanting to enter the Claire Fooshee contest the English department hold every year, so I brought maybe six poems into Dr. Stone's office and she looked them over and encouraged me to submit my writing. She also told me that we had a creative writing program that her husband had helped to establish a few years before. I was hesitant — I'd never shared my writing before — but I decided to take the Creative Process class and I started writing more often and looking at my surroundings in new ways. Observation is definitely something that I've learned from both my English and Creative Writing classes.

How do you see people connecting with poetry in this day and age?

Sue: I'm all for putting poems in unexpected places. I like the idea of poetry in empty storefront windows, in buses, in bus shelters. I like random poetry readings on the ferry, maybe, in coffee shops. I like the idea of a poetry delivery service. A subscription series so a new poem arrives in the mail every month. I think it's great to remember that great poems are made up with the same words we use to order our coffee or lunch, but that someone has gone to the trouble to create unexpected collisions with those words and with ideas or observations so we see them and the experience of being human renewed.

Jessica: Do you have any special traditions for poetry month? Did you plan to have your new collection come out this month?

Sue: It's poetry month every month in my house. Poems are how I reference the world so there are lots of books lying around. I have a chalkboard up on my porch with a poem on it. That my collection came out this month was just a happy surprise.

Jessica: What would you be doing if you weren't a poet?

Sue: I can't imagine. What's that saying about a radish seed? How it just knows how to grow into a radish? I feel like I've always been growing and am continuing to grow into a poet.

What was it like editing Fathom this year, Jessica?

Jessica: It was a really great experience. We were hugely fortunate this year that so many people wanted to be a part of the team and really wanted to make a great publication. It is the 30th issue after all, so it's special in many ways. Editing was the easy part, actually. It was just hard trying to decide who would go into the journal this year, as we had a lot of submissions!

So before we wrap up, I want to ask about what you're reading at the moment. On my end, I just just finished reading Anne Carson's Autobiography of Red, which Carson has deemed as a "novel written in verse." I got it out from the library at first, but I had to buy it because I knew it was something I had carry around with me.

Sue: A poem I've been keeping company with, titled "Look" by Laura Kasischke. [Ed. Note: You can read "Look" at the NPR Books website.]
This year Fathom, Dalhousie's Creative Writing Undergraduate journal celebrated its 30th issue. Sue Goyette has been the faculty advisor for the last five years. The launch of Fathom took place at the Khyber Center for the Arts earlier this month followed by the launch of Goyette's new collection Ocean, published by Gasperau Press.