Late last month, Dal opened the doors of its new Social Media Lab in the Rowe Management Building. The lab is the home of the School of Information Management's Anatoliy Gruzd and his team and is the first of its kind in Canada.  

The lab itself was established in 2010, but now it has a state-of-the-art space for its researchers and students to conduct their work, complete with high-powered computer servers, touch-screen computers and the highlight: a "Magic Wall," a 96-inch multi-touch video wall.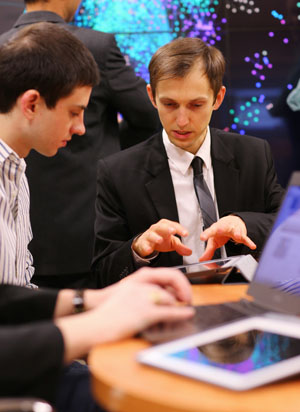 Considering that the lab's work involves visualizing social networks to show how social media changes the way people communicate and connect online — not to mention how it shifts social, economic and political norms and structures — the new systems are essential.

"My students and I will now be able to analyze and visualize the social processes and relationships that form on social media as well as create new software tools and apps that reduce the information overload and help people make sense of our networked world," says Dr. Gruzd (pictured left).  

At the core of the lab's efforts are the apps it has developed to collect and synthesize social media data. These include:
Netlytic.org, a cloud-based text and social networks analyzer. The app can summarize large volumes of text and discover social media networks from text-based conversations such as tweets, blogs and emails. 

AcademiaMap.com, a Twitter dashboard designed for scholars. AcademiaMap helps scholars filter the "noise" from their Twitter streams using various "influence" metrics.
Peggy Cunningham, dean of the Faculty of Management, calls the lab a world-class facility. "Work done here will help businesses, government and not-for-profit organizations understand the context of our social interactions online and how these interactions might help shape and influence our society," she says.

At the lab's opening on March 22, guests were able to try out the apps on iPads or the Magic Wall. Attendees commented on how easy the apps were to use and how useful they are when it comes to sorting through information and presenting it.

The lab is made possible with the support of a Leaders Opportunity Fund Grant awarded to Dr. Gruzd from the Canada Foundation for Innovation (CFI) and the Nova Scotia Research and Innovation Trust (NSRIT) and the Dalhousie Faculty of Management.

If you weren't able to check out the lab opening yourself, make sure you visit www.socialmedialab.ca for more information.