They're leaders in business, in government, in their community, in research, in philantrophy and in countless other areas. And now each of them will be adding an honorary degree from Dalhousie to their impressive list of accomplishments.
This year's Dalhousie spring convocation involves 15 ceremonies across eight days, kicking off with the first spring convocation for Dal's Faculty of Agriculture on Friday, May 3. Convocation ceremonies for programs at Dal's Halifax campuses run from May 21 to 29. (For the full schedule of ceremonies and more information, visit the convocation website.)
Nine individuals will be receiving honorary degrees across the various ceremonies this year.
"We're fortunate to be able to grant honorary degrees to such an outstanding group of individuals," says Dalhousie President Tom Traves. "Each year I am struck by the quality of people with whom we get to share our convocation. This year is no exception. In what will be my final convocation as president it's particularly satisfying to be able to recognize these exceptional individuals and the contribution each has made to society."
The nine individuals are as follows. (Morning ceremonies start at 9:30 a.m., afternoon ceremonies at 2:30 p.m. – excepting the May 3 Faculty of Agriculture ceremony which is at 2:00 p.m. All ceremonies are webcast live on the convocation website.)
Friday May 3, afternoon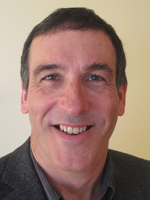 Mr. Hans Christian Jost
Mr. Hans Christian Jost is a leader in the establishment of Nova Scotia's wine industry and an avid supporter of rural economic development. Mr. Jost's father, Hans Wilhelm, one of a long line of German winemakers, brought his family to Nova Scotia in 1970 with an eye to farming. The focus eventually shifted back to winemaking and the founding of Jost Vineyards and Winery in Malagash – the oldest continuously running winery in the province – came to be. With the passing of Hans Wilhelm in 1988, the family business continued with Mr. Jost as manager and winemaker for Jost Vineyards. He and his wife, Karen, went on to establish Gaspereau Vineyards and opened its accompanying winery in 2004. Last spring the Josts sold their business. While plans for the future are unfolding, Mr. Jost's interest in the industry and rural economic development remain unchanged. A founding member of the Grape Growers Association of Nova Scotia and the Winery Association of Nova Scotia, Mr. Jost has shared his gifts with the Tourism Industry Association of Nova Scotia and the National Wine Standards Committee. He has also demonstrated his commitment to community development through board service and leadership in helping three local schools meet technological demands. Mr. Jost is an honorary member of the Nova Scotia Institute of Agrologists.

Tuesday May 21, afternoon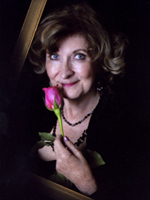 Ms. Nancy A. White
From political satire to songs about the realities of parenthood, Ms. Nancy White, an award-winning singer-songwriter, has made listeners laugh out loud while giving them something to mull over at the same time. Ms. White earned her Bachelor of Arts in English degree at Dalhousie. As a student, she shared her talents with the university community – performing in musical productions and contributing to the student newspaper. Ms. White, who was born in Prince Edward Island, would continue her involvement in both journalism and performance. She was part of Toronto's Young People's Theatre and later became a much-loved feature of the CBC radio show Sunday Morning. For many years Ms. White shared her sharp wit and timely insights with CBC listeners. Her work in radio has been recognized with awards from ACTRA, the Alliance of Canadian Cinema, Television and Radio Artists. Her songs, whether they be satiric numbers, ballads or Spanish music have led to a body of work that has provoked thought, entertained and touched the hearts of fans. Ms. White is a co-writer of the musical Anne & Gilbert, which has delighted audiences in Canada and beyond.
Wednesday May 22, morning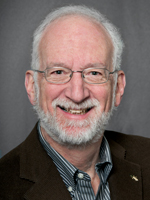 Dr. Frank Tompa
For nearly 40 years, Dr. Tompa has brought his curiosity and gifts to the University of Waterloo. His influence is felt within the David R. Cheriton School of Computer Science and well beyond. The research that Dr. Tompa and Dr. Gaston Gonnet carried out for a searchable Oxford English Dictionary became the foundation for a business called OpenText. Dr. Tompa was a founder of the company, which today has some 5,000 employees and offices around the globe. In addition to the contributions he made to OpenText, Dr. Tompa has had the opportunity to engage in research with Microsoft Research and other organizations. Dr. Tompa is co-author of the 2011 book Communicating with XML and papers in journals including Machine Learning and Information Sciences. His service has included membership on Canada's Association of I.T. Professionals' Computer Science Accreditation Council and the board of the Computing Research Association. He is a lead investigator with the Natural Sciences and Engineering Research Council of Canada Business Intelligence Network. Dr. Tompa, whom the Natural Sciences and Engineering Research Council of Canada called a "leader in Canadian science," is a fellow of the Association for Computing Machinery and a recipient of the University of Waterloo's Award of Excellence in Graduate Supervision.
Thursday May 23, morning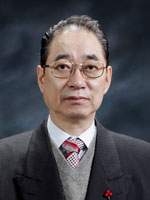 Mr. Kang Soo Choo
Mr. Kang Soo Choo is the president and CEO of Korea Gas Corporation, the world's biggest importer of liquefied natural gas. Through the company's involvement in natural gas exploration, development, production, and LNG terminal management, Mr. Choo has fostered working relationships in many countries. These include Australia, Thailand, China, Canada, Mozambique, Mexico and Indonesia. Mr. Choo, who graduated from Dalhousie with his Master of Science degree in geology, enlarged his Canadian experience as geologist in charge with Campbell Chibougamau Mines. His path then led him home to South Korea where he brought his knowledge and talents to Hyundai Corporation. During his 20 years with the organization, he served in a number of senior roles including vice-president and CEO of Hyundai Resources Development and Hyundai Corporation vice-president. In addition to leading the Korea Gas Corporation, Mr. Choo is the president of the Korea Gas Union. He also serves on the International Gas Union's executive committee as the regional coordinator for Asia-Pacific. Mr. Choo is a recipient of the Tin Tower Order of Industrial Service Merit – a South Korea presidential honour.
Friday May 24, morning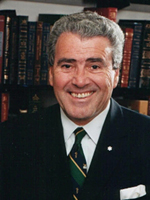 Dr. Thomas John (Jock) Murray
Dr. Thomas John (Jock) Murray, an officer of the Order of Canada and member of the Order of Nova Scotia, earned his medical degree at Dalhousie. He returned to become a much-loved professor, dedicated neurologist, highly respected dean and champion for the medical humanities. Dr. Murray founded and then directed the Dalhousie Multiple Sclerosis Research Unit for more than 20 years. He was a founder and president of the Consortium of Multiple Sclerosis Centers and is the author of the award-winning book Multiple Sclerosis: The History of a Disease. Other lasting contributions are his service as Dalhousie Dean of Medicine from 1985-1992 and his establishment of the medical humanities program. He has served his profession tirelessly, sharing his leadership with the Royal College of Physicians and Surgeons of Canada; the Canadian Neurological Society; the American College of Physicians; the American Academy of Neurology; and the World Federation of Neurology. Dr. Murray was a member of the Working Group on Presidential Disability. Honours Dr. Murray has received include multiple honorary degrees, the Dalhousie Medical School's Archibald Gold-Headed Cane Award in Medical Humanities and the A.B. Baker Award for Lifetime Achievement in Neurologic Education from the American Academy of Neurology.
Friday May 24, afternoon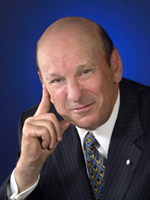 Mr. Seymour Schulich
Mr. Seymour Schulich has had many titles in his life – executive, entrepreneur, and officer of the Order of Canada – to name a few. At Dalhousie, he is best known as a philanthropist. His contributions – including his transformative $20 million donation to the university's law school in 2009 – have meant new scholarships for students in disciplines from law to computer science. Mr. Schulich has given many millions of dollars to educational institutions across the country and beyond. His vision is international. With a gift of $100 million he established a scholarship program for students in Canada and Israel entering undergraduate studies in science, technology, engineering or mathematics. Mr. Schulich was born in Montreal. He graduated from McGill University with his Bachelor of Science degree and later his MBA. A chartered financial analyst, he has navigated a remarkable career path, which has included the fields of oil, mining and investment management. Mr. Schulich has received many honours for his career achievements and his philanthropy. These include multiple honorary degrees and induction in the Canadian Mining Hall of Fame and the Canadian Business Hall of Fame.
Monday May 27, afternoon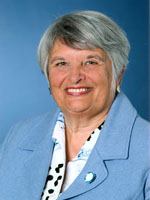 The Honourable Sharon Carstairs, P.C.
The Honourable Sharon Carstairs, P.C. has served as a dedicated teacher, a political trailblazer, a champion for palliative care and an advocate for women and children who have experienced abuse. Ms. Carstairs, a Dalhousie arts graduate, was the first woman leader of Manitoba's Liberals and, in 1988, became the first woman to head the official opposition in the legislative assembly, a first not only for Manitoba but countrywide. She also broke new ground in the Senate, where she served from 1994-2011. In 1997 she became its first woman deputy leader of the government. From 2001-2003 Ms. Carstairs was government leader in the Senate and minister with special responsibility for palliative care. Ms. Carstairs' leadership in this complex and vital issue includes her authorship of reports including Raising the Bar: A Roadmap for the Future of Palliative Care in Canada and her contribution to the Canadian Virtual Hospice. She is also a voice for women and children who have been abused. She is a founding member of the Prairieaction Foundation, which provides funding for research and education about violence and abuse.
Tuesday May 28, morning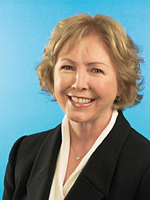 Ms. Ellen M. Costello
Ms. Costello is chief executive officer of BMO Financial Corp. (formerly Harris Financial Corp.) and U.S. country head of BMO Financial Group. Ms. Costello, who holds an MBA from Dalhousie, has shared her leadership and business acumen with BMO since 1983. Her roles have included serving as regional treasurer in Asia; executive vice-president of the Global Treasury Group; head of BMO Capital Markets, New York; and group head for Personal and Commercial Banking U.S., and president and CEO of Harris Financial Corp. in Chicago. In addition to her accomplishments in the boardroom and her mentorship of colleagues, Ms. Costello has made great contributions to her community through her involvement with such organizations as United Way of Metropolitan Chicago, Chicago Symphony Orchestra Association, After School Matters, and Chicago Council on Global Affairs. In addition to her repeat listing as one of the 25 most powerful women in banking by American Banker, honours Ms. Costello has received include an Outstanding Leader Award from the YWCA Metropolitan Chicago and a Distinguished Alumna of the Year Award from St. Francis Xavier University. Ms. Costello was recently presented with the prestigious Chicagoland Chamber of Commerce Daniel H. Burnham Award for Distinguished Leadership.
Wednesday May 29, morning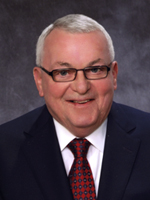 Mr. John W. Chisholm
Mr. John Chisholm, a businessman and a philanthropist, has shown great dedication to his community and its economic development. His roots are deeply planted in Antigonish. In 1963, his father established Nova Construction Co. Ltd., and Mr. Chisholm joined the business a year later. Under his direction, it expanded and evolved. Its undertakings have included extensive roadwork, mining and remediation, hydroelectric dam construction, production of granite aggregate for export, and the building of Antigonish Mall. Mr. Chisholm made a significant donation towards a new building for the Coady International Institute at St. Francis Xavier University and co-chaired the fundraising efforts. He served as vice-president, president and a director of the Nova Scotia Road Builders Association. His contributions have been recognized provincially and nationally. Mr. Chisholm is a recipient of the Mining Society of Nova Scotia Medal and the Canadian Institute of Mining, Metallurgy and Petroleum's Selwyn G. Blaylock Medal. The Nova Scotia chapter of the Association of Fundraising Professionals named him the 2007 recipient of its Outstanding Individual Philanthropist Award. He also holds an honorary degree from St. Francis Xavier University and is an honorary member of the Nova Scotia Road Builders Association.