After a busy and successful season, DalTheatre will be closing the year with The Triumph of Love, a playwritten by Pierre de Marivaux and first performed in 1732.

The story follows Léonide, a Spartan princess, as she disguises herself as a male philosophy student and enters the household of her enemy, an old philosopher named Hermocrates. Her reason: she's fallen in love with a young man from the household, who also happens to be the rightful heir to the throne, and she aims to help restore him to power.

DalTheatre's production of the play takes on a different setting, and with it new challenges.

"The production — its acting style, use of space, costumes, lighting, and set design — was inspired by 18th-century French paintings by Watteau, Fragonard, Chardin, and Boucher," explains director Gabrielle Houle. "The whole production is not afraid to proclaim its own theatricality in a way that also evokes the visual arts."
A big, lavish production


The production's greatest challenge may be following up the rest of this season's successful DalTheatre lineup, which included performances of The Ends of the Earth, The Mill on the Floss and Six Characters in Search of an Author. But ending the season with The Triumph of Love has allowed students and faculty from all corners of the Department of Theatre to showcase their work in a lavish, all-encompassing production.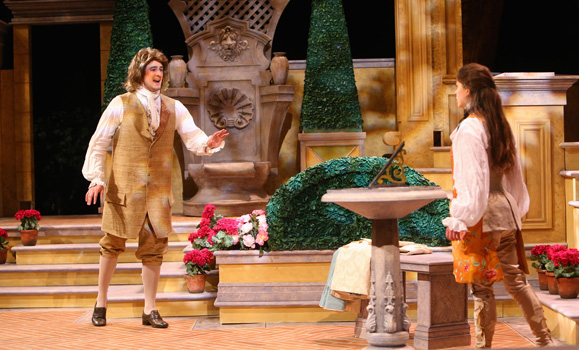 Agis (Cody Lockett) declares his love for Phocion/Léonide (Maggie Hummel).

"Dal Theatre has a history of ending its season with a period play," says Houle. "It allows the actors to explore a different acting style, it gives the students in the costume department the occasion to work on lavish and rather complex period costumes, and it teaches new skills and techniques to the students focusing on prop and set design."

As an example, for The Triumph of Love, John Dinning's scenography students learned how to do scenic painting — not the easiest skill to teach or learn.
"[The production] was a rich learning experience for students across the Department of Theatre," adds Houle.

See their great work for yourself this week. DalTheatre's production of The Triumph of Love opened on Tuesday, March 26 and runs through Saturday, March 30, with daily evening performances at 8 p.m. (with the exception of Good Friday, when there will be no performance.) There are also matinee performances at 1 p.m. on Wednesday and 2 p.m. on Saturday.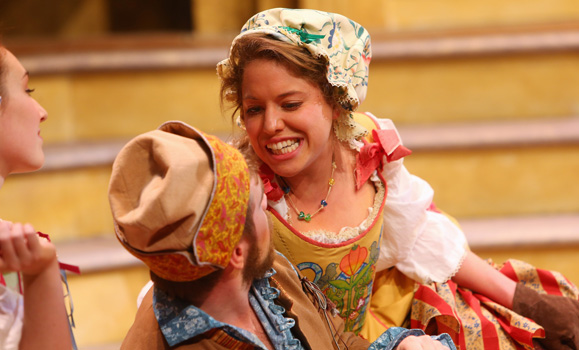 The gardeners, Dimas and Dimas (Gillian Clark and Else Bullock) with the servant Ariequin (Huge Cape).

For more information on tickets, visit the Dalhousie Arts Centre box office.