On March 14, the McInnes Room in the Student Union Building was filled with elegant dinner tables, each set with silverware, carefully folded napkins and, most importantly, sleep masks.


The masks were necessary accessories for Halifax's first Dining in the Dark event, a fundraiser where attendees share a meal blindfolded in support of the Canadian National Institute for the Blind (CNIB).

Among the blindfolded diners were five Dal pharmacy students who played a major role in getting the meal to the table. First-year students Shannon McCarey, Chelsea Steeves, Jeremy Furlong, Allison Ruppert and Michael Hanson spent the last two semesters organizing the evening as part of their curriculum-based work with the CNIB.

Working on Dining in the Dark fulfilled the students' volunteer requirement for the Community Experience program. Co-ordinated by professor Nancy Harris, the course requires first-year pharmacy students to broaden their horizons by volunteering at a health-related organization unrelated to pharmacy.

"I've never planned anything like this before," said Ruppert. "You get really attached to it. You put so much work into it."
Meal and a message


The meal was served with a powerful message, raising both funds and awareness of the experience of living with some form of blindness. For many attendees, it was their first opportunity to experience a daily activity from the perspective of someone who is visually impaired.

"People anticipate based on sight," said McCarey. "One of the biggest points of the event is to have people do a task that they take for granted."

Following soup, a choice of chicken or vegetarian entrée and an educational speaker, diners tested their tasting skills with a surprise trio of mousses for dessert.

"The CNIB was really great about giving us a lot of freedom," said McCarey as she described the details of the menu, silent auction and 50/50 draw.

The students explained they picked foods that would be easy to handle without sight.

"No baby carrots," joked Ruppert. She had tried eating those at a similar Dining in the Dark event in Truro earlier in the year and found them very difficult.

"I was shocked at how challenging it was," she said. "It was really satisfying when I finally got it. And I was really tuned in to how the others were doing around me."
Lessons learned


As the five pharmacy students greeted blind and partially sighted guests at the door, they noted that the dinner was a great opportunity to learn more about vision impairment.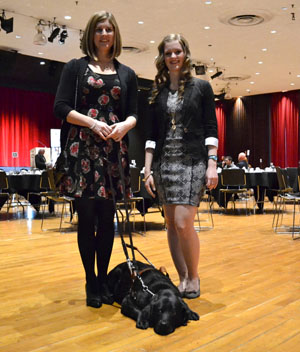 "You realize that, for them, everything takes a little bit longer, whereas, I can eat in my car and on the go," said McCarey.

(Right: Shelley Adams of CNIB with guide dog Buena and Pharmacy student Allison Ruppert.)

While the CNIB has worked with Dal students before, this was the first time that Dal students helped fully plan a CNIB fundraiser in Halifax. It was the only fundraising option among the choices for pharmacy student volunteer placements and seemed like a daunting task.

"It was something we had very little experience with," said Steeves.

Lack of experience did not hinder the students from planning a successful event, and they sold out all 210 seats: some to CNIB board members and clients, many to community members wishing to support the cause and even one to Lieutenant Governor John James Grant.

Funds raised at Dining in the Dark support CNIB programs in the province that help blind or partially sighted Nova Scotians lead full lives. These programs include services for people who are adjusting to recent vision loss, such as house calls that re-familiarize clients with household tasks like cooking.

The CNIB not only aids vision-impaired persons but also educates the general public — for example, teaching clients how to catch the bus and bus drivers how to communicate with vision-impaired commuters.

The CNIB will be hosting another Dining in the Dark event in Halifax in April.

"It's been a great experience. [The students are] a great group," said CNIB manager of fund development Cherri Cole. "They've done a great job and I hope that we can do this again."