Todd Carter gets to play with fire on a daily basis.

Well, perhaps "play" isn't the right word. Carter is the university's scientific glassblower, operating as part of the Department of Chemistry. Inside his shop, under smouldering orange light, he uses fire and heat to mould unique glassware for Dal's research community.

"Test tubes and beakers are made by machines, but a scientific glassblower takes glass tubing and rod and precisely fashions individual component pieces according to the dimensions provided by blueprints or design parameters specified by the researcher," he explains.

The glass used is typically borosilicate glass, and it's moulded by oxygen-enriched flames that can reach temperatures of 2000 degrees Celsius or hotter.
Becoming a regional resource


Carter has 28 years of glassblowing experience beginning with an apprenticeship under Master Glassblower Wolfgang Eberhart in Windsor Ontario. He then graduated with an associate degree in glassblowing from Salem College in southern New Jersey — the only program of its type in North America. He then worked for a decade at the University of Alberta, acquiring advanced techniques from two other highly experienced glassblowers.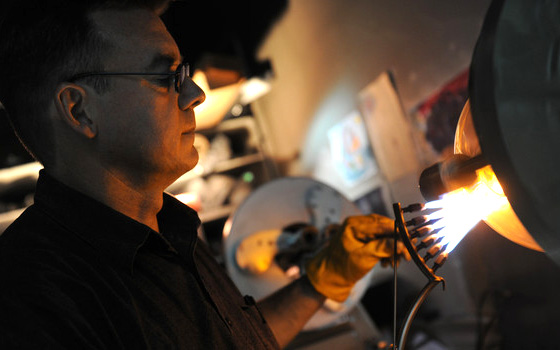 He came to Dal three years ago. Most of his work is with the Department of Chemistry but his glass blowing shop is starting to work with other Faculties, as well as other educational institutions.

"The intent is to become a regional resource centre in the Maritimes, as this specialty is somewhat rare in Canada," he says. "We're currently building a new glass shop which will expand our production capabilities… [it] should open spring or summer of this year."

In addition to custom productions, a good amount of the shop's work is in repairs, as it's far less expensive to fix something than have it replaced altogether.
Compelling work


Sometimes, the jobs can be rather interesting.

"I have been privileged to have been able to provide vacuum manifolds and rotovap glassware to Alzheimer researcher Don Weaver's group, as well as assist Gregory Welch, who's new to the department, in outfitting his new lab," he says.

"Also by working with other departments, I was able to collaborate with Keith Taylor in providing the custom quartz components used in assembling the new ultra high vacuum (UHV) carbon extraction line for John Gosse and the Dalhousie Geochronology Centre."

Undoubtedly, Dal researchers will be providing Todd Carter with similarly compelling work, hopefully for years to come.