Yesterday, in part one of our feature, we looked at capital projects on campus. Today, we turn our attention to retrofits, renovations and maintenance work.
Retrofits and renovations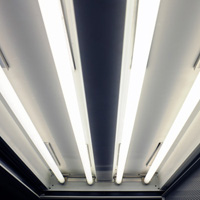 Lighting retrofit

Facilities Management and the Office of Sustainability are replacing more than 25,000 light bulbs, ballasts and fixtures in 34 buildings with more sustainable and efficient technologies. Improvements include the introduction of LED bulbs inside and outside of buildings, as well as the installation of motion sensors, T8 lamps and electronic ballasts.
The retrofit is due to be completed by March 2013 with the exception of the fieldhouse, squash courts and swimming pool area in the Dalplex, which will be addressed and completed at a later date. The retrofit will produce a savings of approximately 3,623 tonnes of CO2 emissions a year (equivalent to keeping 710 cars off the road) as well as over $380,000 annually in overall energy costs.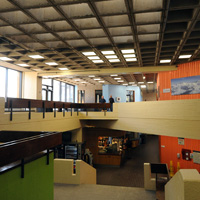 Life Science Centre retrofit

The Life Sciences Centre (LSC), home to the largest collection of academic researchers in Atlantic Canada, has undergone its first significant upgrade since the building opened over 40 years ago. Housing Biology, Psychology, Earth Sciences and Oceanography departments, the 450,000 sq. ft. building has more than 1,000 rooms and many specialized labs.   

The retrofit is reducing Dalhousie's ecological footprint by over 6,000 tonnes of CO2 emissions annually, and also involves:

Enhanced capacity in electrical, heating, ventilation and air conditioning systems to accommodate the demands of modern equipment and research.
New efficient lighting and freshly painted walls to provide a more inviting atmosphere
Increased indoor environmental quality.
Increased reliability of building systems.
Reduced dependency and cost risk associated with fossil fuel consumption.
Introduction of new thermal utility sources through heat recovery.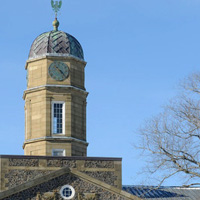 Henry Hicks Building

Built in 1952, the Hicks Building was overdue for renovations and modifications to address health and safety issues as well as the needs of its occupants. The age of the building, coupled with a recent flood on the basement level and subsequent insurance money available to cover repairs, resulted in work being scheduled and staff being temporarily relocated.
Renovations on the first floor in the Human Resources department required that some staff relocate to Morris Street on a temporary basis. When these first floor HR offices are completed, the space will serve as "swing space," housing other displaced staff until certain office renovations are completed. Currently, the swing space is being used by the President's Office as the offices hosting the president and two vice-presidents and staff undergo asbestos remediation. Everyone is expected to be back in their own offices in time for the new president's arrival in June.
Renewal of existing buildings


Facilities Management will have spent approximately $18 million on renewal of existing buildings during the 2012/13 fiscal year (ending March 2013). This work falls into a number of broad categories, notably:

Health and safety of staff and students

Like most university campuses across Canada, Dalhousie is a mix of traditional older buildings and newly constructed spaces. And like most of south end Halifax, any construction done before the early 1980s may have incorporated some type of asbestos into building materials. The university is conducting campus-wide assessments of buildings to determine if buildings contain asbestos, what type they contain and how it should be handled.

Between January and March last year, Dalhousie conducted assessments on 29 different buildings across campus and spent approximately $200,000 on consulting and repairs. The university expects to spend approximately $2.1 million on consulting work and immediate repairs by the end of March 2013. The projects underway range from office housing to residences to the president's house, which will be reviewed to ensure it is up to code for the arrival of Richard Florizone and his family.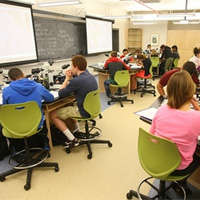 Classrooms

The most significant classroom renewal activity this fiscal year was the renewal of three first-year Biology labs by Dalhousie trades personnel: top-to-bottom changes including improved lighting, double sinks, new flooring and comfortable chairs. Old lab benches were replaced with custom made, wooden hexagonal workstations that encourage interaction between students.

Accessibility

As part of an ongoing commitment to accessibility, elevators across campus are being renovated, starting with Arts Centre and Tupper Building. The goal is to increase reliability and, in the case of the Arts Centre, reduce operating noise which in the past had affected recording performance.
Building Exteriors

Stonework renovation continues on the Dunn Building and Medjuck Building. Stonework renewal prevents water infiltration thus allowing a future focus on renewal of the interior spaces.
Facilities at the Agricultural Campus


Although the Dalhousie Agricultural Campus is physically removed from Dal's Halifax campuses, it's managed just as any other Dalhousie building or facility. Recent improvements to the farm complex and research facilities now make it one of the most modern, best equipped university campuses in the Atlantic region. And that's just the beginning.  

Previously, all facility renewal and improvement work was managed through the province's Transportation and Infrastructure Renewal department (TIR) with a limited amount of decision-making ability available to Nova Scotia Agricultural College staff.  As part of Dalhousie, the Dal Agricultural Campus now receives $1.8 million/year in facilities renewal funding, plus part of the initial $4.3 million transition funding — and a voice in identifying priorities and direction.
Where to learn more


To follow the progress of all of these projects, as well as other work that is happening on our campuses, visit the Campus Development section of the Facilities Management website.
Read also: Under construction: The stories behind Dal's current facilities projects (part one)