When it comes to his skills with an axe, Agriculture student Geoff Larkin quite literally has chops.

A four-year veteran of the Dalhousie Agricultural Campus Rams woodsmen's team, Larkin hopes to end the season with a big win as the team hosts the final Canadian Intercollegiate Lumberjacking Association (CILA) competition of the academic year this Saturday at the MacMillan Show Centre. More than 20 teams from Canada and the northeastern United States will compete for one of the most prestigious titles in Canadian university lumberjacking.

"It would be pretty special to win the competition on Saturday and remain undefeated for the second year in a row," he says, explaining that the Rick Russell Woodsmen Competition will be a special one for him and his fellow graduating male athletes, including Kyle Gallant and Sam MacDonnell.

Larkin, a native of Musquodoboit, specializes in two events: Single Buck, cutting through pine using a single-person cross-cut saw, and Standing Block Chop, where an axeman chops through a vertically supported log in as quick a time as possible.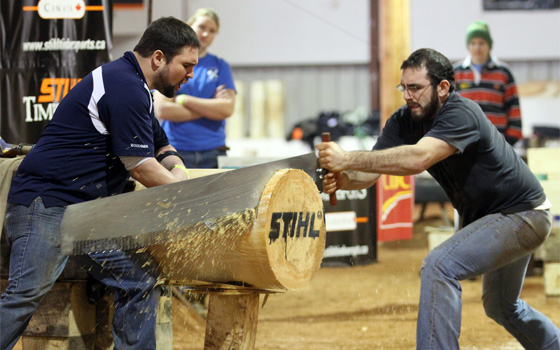 Larkin performing the Single Buck.

"You've got to be hard working and put your time in," he adds. "It has a lot to do with technique, but if you are determined you can go a long way."

He also competes in a semi-professional circuit in the summer with woodsmen coach Scott Read, including a professional competition this past summer in Sennetaire, Que.

"It was a chance for me to cut my teeth and see how I stacked up against some of the best in the sport from Canada and the USA." Larkin snagged a second-place finish in Single Buck and a fifth-place finish in Cross Cut.
An impressive season


Coach Scott Read has been a fixture of the woodsmen team for over a decade. Heavily involved with the sport while a student, Read now uses his passion for lumberjacking to train and mentor student athletes to the best of their ability. And his work is paying off.

The Dal AC Woodsmen competed in the Macdonald College CILA competition recently with excellent results. The men cleaned up with a 1-2 finish, with the Men's 1 Team in first and the Men's 2 Team in second – a rare feat in CILA competition. The Women's Team 1 also took home first place, with the Women's Team 2 finishing eighth.

The Men's Team 1 has a substantial lead in the league rankings heading into this final CILA competition of the year.

The teams, consisting of 14 girls and 14 guys, practice five nights a week for two hours on the woodsmen lot on campus. Spending that much time together has its advantages.

"We are a really close-knit group," explains Larkin. "It's really good for team building. You know each other's strengths and weaknesses and who complements the other best for team events."

Larkin plans on continuing to compete after his university careers ends. "It keeps me in shape and keeps me connected," he says. "I would highly recommend this sport to anyone. I've met so many people in the sport at other schools and venues and the networking has been invaluable."

The Rick Russell Woodsmen Competition kicks off at the Show Centre this Saturday morning at 8:00 a.m., as Faculty of Agriculture Dean Harold Cook and Rhodes Scholar Paul Manning complete the opening cut. An ECHO film crew will also capture the day's events for a program to air on Outdoor Life Network profiling intercollegiate competition.

Competition begins at 8:30 a.m. with a variety of events, including: Axe Throw, Chainsaw, Dry Land Log Burling, Log Decking, Pole Climb, Pulp Throw, Quarter Split, Single Buck, Super Swede Saw, Swede Saw, Crosscut Saw, Underhand Chop, Standing Block Chop and Water Boil.

Learn more about the event at the Agricultural Campus website.