Rewind back to Rome in 1921, when playwright Luigi Pirandello was forced to exit out the back door after the premiere of Six Characters in Search of an Author because audience members were rioting over its mocking of the theatre.  

"That fact alone is pretty enticing," said Kamila Swiatek, third-year Dalhousie Theatre student, who is playing the role of The Director in DalTheatre's production of the famous play. "We definitely want it to spark something in people."

Six Characters in Search of An Author is a play within a play within a play – a true meta-play.
"It's very self-referencing about itself," says Ken Schwartz, an acclaimed Nova Scotia theatre director making his DalTheatre debut. He's won two Merritt awards (Nova Scotia's top theatre award) for his productions of Our Town (2009) and Rockbound (2010).

The play is a journey of analyzing and questioning reality, following six characters who claim they are "born" characters bursting in on a theatre group's rehearsal in search of an author to write their story. It's a compelling portrayal of the relationships between the theatre, the actors and the stories.  

"It calls into question the true meaning of reality, and what it means to each of us," says Paige Smith, the play's Leading Lady.
Scandal and surprise


As a play about a play, the performance runs in intervals without a specific beginning as the actors arrive on scene as if they are casually arriving to a rehearsal.

"You literally are immersed in the story as if you were a fly on the wall," says Schwartz, referencing the setup of the audience on three sides of the stage.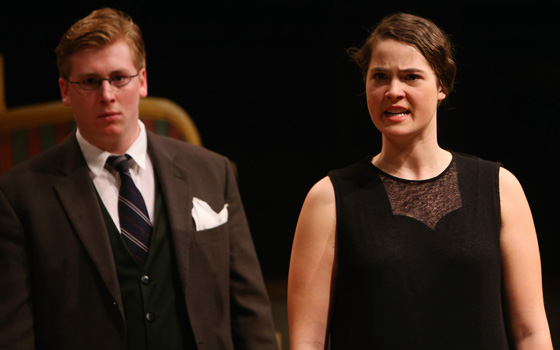 Taylor Olson (left) as The Father with Hilary Adams as The Stepdaughter.

While the main drama is rather intense, student Kate Bray assures that "it's full of scandal, surprise and moments of comedy."
Who doesn't like a little scandal and surprise?

The third-year Dalhousie Theatre students performing Pirandello's drama challenge the complexity of the play through complementing each other's performances.

"The whole ensemble really has to work together and work off each in order for it to be a success; it has to move quickly, but be very clear," says Swiatek.

Not only do they achieve success – they look downright "dapper," achieving it in their classy 1920s costumes.

DalTheatre's Six Characters in Search of an Author runs from February 6-9 in the David MacK Murray Theatre at Dalhousie Art Centre. Tickets are available at the Dalhousie Arts Centre Box Office.