Think that Kinesiology students are all bound for a career in physiotherapy or physical education? Think again.

"It's very stereotypical that you get out of Kinesiology and then go into physiotherapy or become a gym teacher," said Jacquie Westeinde, kinesiology coordinator for the Student Assosiation for Health and Human Performance (SAHHPer). "Kinnections shows that there are so many other options."

Kinnections is an annual event, hosted by Dal Kinesiology, that invites Health and Human Performance alumni to campus to share their unique career experiences with students. The guests this year came from a diverse range of backgrounds including prosthetics, sport psychology and exercise physiology. Every speaker had a unique story to tell, each with its own obstacles, decisions and successes.

Westeinde actually returned to Dal this year after graduating because she was inspired by a speaker from last year's Kinnections to take more classes to work towards a career in prosthetics.

"The idea of having people who have been out there in the field come back and talk to us is very helpful," said Westeinde.
Keeping an open mind


This year's Kinnections was co-hosted by the Division of Kinesiology and SAHHPer, and was organized by both students and faculty.

"We started it last year as a result of feedback coming from students, who wanted more information while they were here about the variety of career opportunities that exist for the Kinesiology degree" says John Kozey, head of the Division of Kinesiology.

Dal alumna and three-time Olympian Karen Furneaux was one of the five alumni invited to speak this year. Before she began her presentation she asked all the students in attendance to stand up and stretch a bit first. At one point, as each student had their hands stretched up in the air, Furneaux said to them: "Reach for something bigger!"

Her words echoed the general sentiment coming from each of the Kinnections speakers: that students should be more open minded about their career prospects because they can use their Kinesiology degrees for a lot more jobs than they might think.
Varied backgrounds, possibilities


Another guest alum, Travis McDonough, had the students' full attention as he recounted moving to Ireland on a whim to practice as a chiropractor before returning to Canada develop his own company that produces patient education software. Dr. McDonough encouraged the students to tap into their entrepreneurial side, and to use their skills as Kinesiology majors to recognize and met needs in the health market.

"Learning about what [the alumni] had to say and about their successes gives me a backup plan because if I don't get into physio, I realize that there's so many options for what I can do," says Nicole La Pierre, a Kinesiology student who attended the Kinnections event.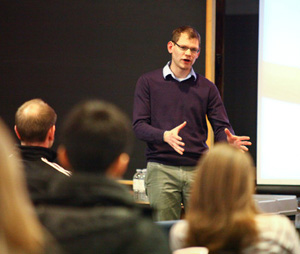 Many of the students were keen to hear from Todd Waite (left), a recent Dal graduate who works in prosthetics and volunteers with the National Canadian Standing Amputee Hockey Team.

"I wish I had [Kinnections] when I was in first year" said Waite, who offered the student attendees with his story on how he ended up in the Dalhousie Kinesiology program and what he decided to do with it afterwards.

Mitchell Logan, a third-year student, attended Kinnections because he was interested in hearing about more unique career opportunities for Kinesiology majors.

"I am not too sure what I want to do after my Kinesiology degree," he said. "I am looking towards athletic therapy, but I just want to see what else is out there, [Kinnections] is definitely an eye opener."

After each guest alum had finished presenting, the attending students were able to move around the room to meet each speaker, ask further questions and inquire about volunteer opportunities. The energy levels in the room were high, as students eagerly gathered in circles to mingle with the alumni after the presentations, asking their best questions about their post-graduation options.

Perhaps some of them will be back in a few years to share their own success stories.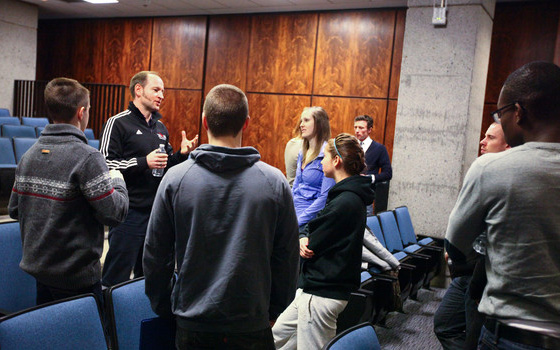 Leo Thornley chatting with students at the end of the event.