Food production: it's an issue that starts at the farm, but its implications span the globe.

And according many of the International Development students who've been able to take part in volunteer internships in Cuba and Uganda, the best way to learn about it is to go straight to the source.

Since 2011, International Development Studies (IDS) with help from the Office for International Research and Development, has been able to offer five IDS students each summer the chance to work as volunteer interns with food security-related organizations in Cuba or Uganda. The program funding itself is administered through the Association of Universities and Colleges of Canda (AUCC) from the Canadian International Development Agency (CIDA).

John Cameron, IDS department chair, says the host organisations all have prior connections to the department through professors' research and other student exchange programs. Some of these relationships, like the one with Mbarara University of Science and Technology (MUST) in Uganda, have been in place for over 10 years.

Understanding the implications


The students who have volunteered say the experiences were amazing, and they're keenly aware how these experiences affected their understanding of development and may inform their future work.

Sam Maize worked for Conservation Efforts for Community Development (CECOD) in Uganda last summer and says the experience made him an even bigger supporter for local initiatives. "[It is] local organizations and NGOs who really understand the situation and the problems that they are trying to address," he says.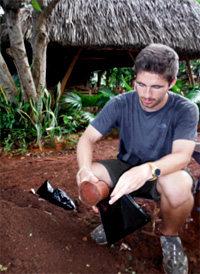 The program also offers the opportunity for graduate students — mostly junior faculty members doing their PhD — from the Cuban and Ugandan universities to advance their work through semester-long fellowships at Dal.  

Originally, the program was scheduled to run until December 2014 but, due to budget cuts within CIDA, this summer will be the last year that internships will be funded. Connections between IDS students and the recipient organisations will continue, though, as a number of them accept IDS students doing semesters abroad.

Kelly Pickerill, a fourth-year IDS student who will be going to Uganda this summer, says, "It's one thing to be able to travel and experience other cultures, but to be able to have experiences specific to the field you want to work in that aren't papers, classes, or assignments is so useful. That's what I'm looking forward to and really hoping to get out of the experience."

(Side photo by Andreau Landriault)