For centuries, experts have been studying the night sky as a window to the ever-expanding universe.

Scott Chapman, a professor in astrophysics, has spent the last 12 years working with an international team of astrophysicists studying the Milky Way's twin galaxy, Andromeda. The team's most recent discovery raises new questions about the formation of cosmic structures in the early universe — something scientists thought they had pretty much figured out.

The team observed 13 small satellite galaxies orbiting around Andromeda. These satellite galaxies, Dr. Chapman explains, are "little round balls of stars," as opposed to large and thin spiral galaxies, such as Andromeda and the Milky Way.

When Dr. Chapman's group began to look at the distances and motions of each small galaxy, they found all 13 were orbiting in a similar fashion, on a thin, pancake-like plane — kind of like how the planets in our solar system orbit around the sun. That's when they knew they made a discovery that would shake the world of physical cosmology.
Challenging the existing model


"The previous understanding was that all these satellites should be moving on random orbits around Andromeda, which is a prediction from our cosmological model of structure forms in the universe," says Dr. Chapman.

He is referring to the well-established Lambda-Cold Dark Matter (Lambda-CDM) model, which is fundamental to the study of physical cosmology. But this model struggles to explain the surprising discovery of these organized orbits.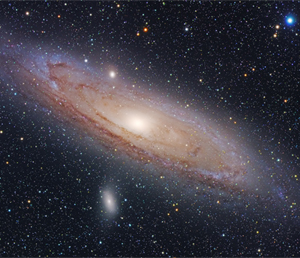 "This tells us that this hierarchical buildup that gravitational simulations predict isn't quite right — as structures like this 'Andromeda pancake' never happen in the simulations," says Dr. Chapman.

"We may not understand the assembly of structure under gravity as well as many would like to believe."

On top of challenging a significant model, the discovery also lends support to theories on how satellite galaxies are orbiting around our own Milky Way, a much harder activity to observe given the earth's position within it.

"[This kind of work] gives us an insight into how big galaxies formed in the early universe," says Dr. Chapman. "It allows us to put together a history of the formation of galaxies throughout the history of the universe."

Dr. Chapman's group is planning follow-up research to understand how this structure might have assembled.
(Andromeda photo: Philip Perkins.)