Construction moves along on the Dalhousie Ocean Sciences Building.
The new building on Oxford Street, which until recently was known as the "Oceans Excellence Centre," is scheduled to open its doors late spring 2013.
 
Last week, Doug Wallace, Dal's Canada Excellence Research Chair (CERC) in Ocean Science and Technology, took a tour of the building with members of his team to check on its progress. Dr. Wallace's group will be the building's primary occupant. The five-story building will include offices and labs for the Ocean Tracking Network and the Halifax Marine Research Institute, an expansion of the Aquatron's tank capacity, and two floors of space for future research expansion.
 
One of the building's more novel features will be several "portable" labs: 20-foot shipping containers that will allow Dr. Wallace and his team to work in the same labs at sea and on shore.

Dr. Wallace, who is also the first scientific director of the Halifax Marine Research Institute, is leading the development of new observation instruments to measure biogeochemical oceanic change. His team is producing computer models that will make great leaps in predicting how greenhouse gases will affect ocean ecosystems in the decades ahead. In total, the CERC in Ocean Science and Technology is expected to bring more than 40 research positions to Dalhousie in the coming years.
 
The Dalhousie Ocean Sciences Building will be connected to the Life Sciences Centre's west wing Oceanography via an atrium. The total budget for the 76,000 sq. ft building is set at $41.5 million.

Learn more about this and other ongoing construction projects at the Facilities Management website.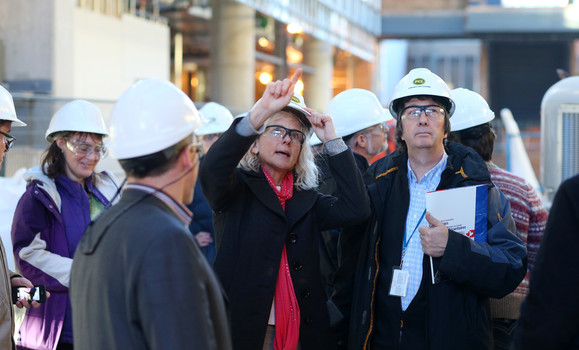 Dr. Wallace (right) tours the building with Sara Iverson, Biology professor (pointing).