Dal's annual donor appreciation event on campus is equal parts about looking forward and backward: sharing highlights from the year that's passed, while also thanking those whose financial gifts of all sizes are helping make Dalhousie's future a bit brighter.

But the past loomed a bit larger over this year's event, held last Thursday night in the Sculpture Court of the Dalhousie Arts Centre, as the university shared a lost relic of its history that has only recently returned home.

Together with Peter Dykhuis, director of the Dalhousie Art Gallery, President Tom Traves unveiled a display featuring the cornerstone from the original Dalhousie College building on Halifax's Grand Parade. The cornerstone, which has been missing since the building was demolished in the late-19th century, was recently returned to the university's possession, and will be installed in the Henry Hicks Building in the New Year.
Restoring a piece of Dal's past


Peter Waite's book The Lives of Dalhousie describes the ceremony 192 years ago, on May 22, 1820, during which the cornerstone was originally laid in the downtown Dalhousie College building located where City Hall is today. The building itself wasn't actually finished until 1824, but Lord Dalhousie, lieutenant governor and benefactor responsible for the university that bears his name, was determined to lay the cornerstone before he completed his term in office.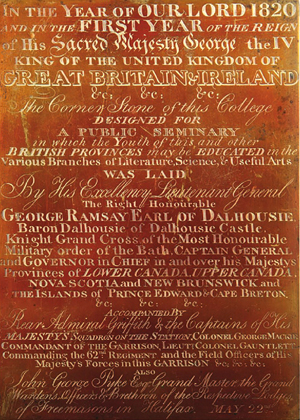 With a procession that included the admiral, chief justice and nearly all of council, the ceremony involved pouring corn, wine and oil over the newly laid stone (pictured left), after which a royal salute was fired from Fort Charlotte on George's Island. Ten days later, Lord Dalhousie left Nova Scotia for Quebec, to serve as governor general of British North America.

But when the university relocated to what is now Carleton campus in 1887, the cornerstone didn't make the trip, and was presumed lost forever.

That is, until 2010, when the Dalhousie Art Gallery hosted a travelling exhibit featuring artistic works commissioned by Lord Dalhousie during his lifetime. After the show, Dykhuis received a call from an old friend and local art collector, Hal Jones. He said he'd enjoyed the exhibit, and that he had a line on an item that would have been a perfect fit.

Turns out that another collector he knew had come into possession of the missing cornerstone (pictured above). And Jones wanted to help bring it back to Dalhousie.

"Hal become our go-between," says Dykhuis. "He knew this piece existed and told his friend that Dalhousie really should have it. When I saw it, I knew we just had to have it. It's completely one-of-a-kind and part of our history."

President Traves, whom Dykhuis reached out to, couldn't have agreed more. "When Mr. Dykhuis and I finally saw this piece, we knew exactly what we had to do," he told the crowd, and together with Jones, they arranged for the acquisition of the cornerstone from the collector.

As for where the cornerstone been all this time, Jones says that the collector acquired it from an antiques store sometime in the 1980s, after it had apparently been sitting in someone's attic for decades. But the rest of its journey remains a mystery.

The cornerstone will be installed in the Hicks Building complete with a display case featuring a recreation of the original invocation speech delivered by Lord Dalhousie.
Celebrating giving


Dr. Traves noted that this was "the last time I'll be able to share [this event] from this side of the podium," as his time as president is coming to an end next July. "But the next time I'm here, I'll be on that side," he added, pointing to the crowd of supporters in attendance.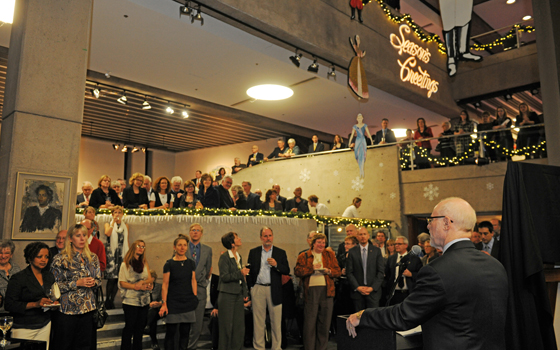 "For me, it's always a special occasion because it's an opportunity both to celebrate Dalhousie University and all the accomplishments of the recent year, but also to thank people like you who've helped us make such a success possible," he said.

At the event, Dr. Traves announced the newest members of the President's Circle, an honour given to those whose cumulative lifetime giving to Dalhousie has reached $100,000 or more.

This year's inductees were:

The Walker Wood Foundation, a great supporter of students with bursaries in Arts, Science and most recently Medicine.
Reginald Goodday, chair of the Department of Oral and Maxillofacial Sciences in the Faculty of Dentistry, who received his undergrad, his dentistry degree and his masters in Oral Maxillofacial Surgery at Dal.
Ross and Peggy Leighton, generous supporters of Dalhousie who have seen four consecutive generations of their family graduate from the Faculty of Medicine.

"I consider it paying back," said Dr. Goodday, recalling his fond memories and experiences as a Dal student thrice over. "I encourage students to come here all the time, so I'm happy to support the institution however I can."

The Leightons actually have three kids who are all recent grads or current Dal students: a daughter who just graduated from Medicine, a son going into his second year and another daughter in Nursing. "We certainly have plenty of reasons to give back," said Peggy.

Dr. Traves also recognized the newest members of Dal's Heritage Society, individuals who have remembered Dalhousie in their estate plans:

Leslie Jaeger
Bruce and Susan Moxley
Ian Lewer
Peter and Anne Ellen Fillmore
Rejendra and Kamia Gupta