"Before we take off down the road, we need to make sure we know what road we're going down."

That's how Carolyn Watters, vice-president academic and provost, introduced DALVision 2020, a forum hosted by the Dalhousie Senate focusing on undergraduate education. The event, open to students, faculty and staff, was the first step in a year-long process to develop a vision for the future of undergraduate education at Dal.

Between the daytime event in Halifax and an evening session in Truro, more than 300 people showed up to take part in World Café-style discussions about learning, teaching and undergrad programs — not to mention many more who watched the event's keynote speeches and panel discussions via the live webcast.

The discussion also flowed freely between the McInnes and Riverview Rooms and the digital world, with Twitter users taking ample advantage of the #Dal2020 hashtag to share thoughts, comments and observations from the forum. There were more than 250 tweets using the hashtag and, for most of the day, #Dal2020 was among the highest trending topics in Halifax, second only to "Halifax" itself. (See our Storify with some of the highlights below.)

Though individual discussions often veered between the macro and the micro, between big-picture principles and localized ideas or suggestions, the organizers worked to pull everyone towards a high-level discussion about the values and principles that should shape decisions around undergraduate education.

"It's about applying the positive examples around us and striving for an aspirational vision of what we want to accomplish together," explained Sophia Horwitz, Dal alum and director of the Co*Lab, who served as one of the day's facilitators.
Keynote considerations


Attendees certainly had lots of food for thought from the day's keynote speakers. Nick Mount from the University of Toronto kicked things off with a provocative, engaging talk about how the changing economic climate surrounding universities has focused the eyes of observers, commenters and politicians on the classroom.

See also: Nick Mount on why everyone's talking teaching (Dal News)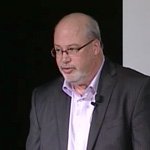 "All of this [discussion] amounts to one big question: 'Just what, exactly, is it that you folks do with the billions of dollars we give you each year?'" explained Dr. Mount (pictured left). "No one cared when the economy was fine, but now we're fighting over the last scraps of the economic pie."

His speech was a plea to university faculty, students and administrators to take charge of the conversation about undergrad education, and to do so on their own terms. The alternative, he suggested, is to let the terms be dictated by outside forces and perspectives that lack insight into what actually works and doesn't work in the classroom.

"I am tired of having to defend my discipline and my passion using other people's terms and vocabulary," he said, making his case for the importance of protecting the exploratory, transformative role that education can play in students' lives.

"What is the real value of a university education? It's the one time in your life that you think, talk and act — not necessarily because it's useful, but simply because you're curious."

One of the common themes in the presentations and discussions, with differing points of view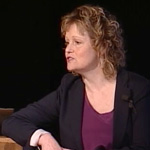 , was about measurement and undergraduate education. While Dr. Mount questioned the degree to which teaching effectiveness can be measured, the afternoon keynote by Shelagh Crooks, a philosophy professor and education expert at Saint Mary's University (pictured right), discussed ways to work to close the gap between what she called the "two solitudes" of academia.

"On the one hand, you have a research culture deeply rooted in inquiry, intellectual debate and peer review," said Dr. Crooks. "Then there's teaching where, if there is a culture, it's one of individualism and isolation."

The most unique keynote of the three may have been from the Dalhousie Student Union. A crowd expecting a typical speech from DSU President Jamie Arron was instead treated to a fun game show trivia competition, with facts about the lived experience of 21st-century students. After several student leaders offered points to ponder, the group showed a short video capturing thoughts from Dal students, faculty and staff about undergrad education and what it means — or doesn't mean — to them.


Discussions to share


The heart of the day, though, were the World Café discussion sessions, where the room was broken into small groups of no more than four people, with attendees moving around between tables to engage in different, evolving conversations.

Taking part in the discussions, I heard ideas from across the university: students keen to talk about how scholarships or course requirements could be more flexible, faculty concerned with incorporating technology into their classes effectively without sacrificing their quality of teaching, and staff asking questions about how systems and structures could be modified to create better student engagement in and out of the classroom.

Starting with a broad topic — "Describe a situation where learning has come alive for you" — the discussions became increasingly focused through the day. In my groups, we chatted about the idea of "co-learning," or environments in which students and faculty support each other's work more closely. We talked about physical space and classroom formats that could evolve depending on the lecture or seminar style. We considered better ways to support and recognize applied learning that's already taking place in Dal's programs.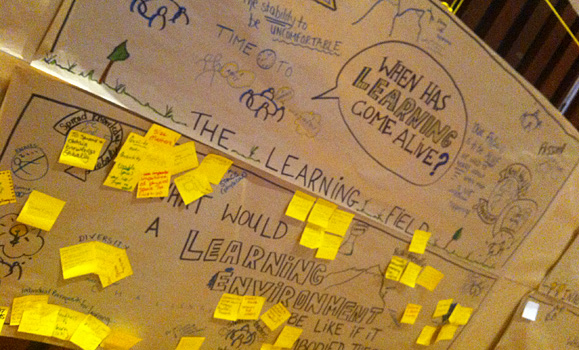 As the discussions evolved, volunteers were collecting notes, feeding them into a wall chart and capturing them for posterity. The major themes and ideas that came forth from these World Café sessions, as well as the evening forum in Truro, will be collected by Senate and shared in a report that will inform future Academic Innovation events through the next year.

"In going forward, the ideas that have come forth today are ones we want to keep talking about with you and expanding this conversation," said Lloyd Fraser, chair of Senate, in closing the day. "We'll be reflecting all the discussion to see how we can effectively work together towards these goals."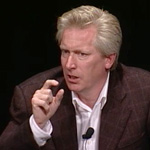 Though it wasn't the forum's actual final word, Frank Harvey, political science prof and winner of Dalhousie's top teaching award this year (and pictured left), summed things up well during the final panel discussion.

"Students in classes they don't love are missed opportunities," he said, noting that nearly every university grad can trace their love of learning back to an inspiring academic experience. "We need to increase the probably that students find the course they love."

You can learn more about Dal's Academic Innovation initiative at its website. If you want to review the forum's keynote speeches, the links are below:
• Nick Mount: The Talk about Teachers Today
• Shelagh Crooks: Teaching as Inquiry
• DSU: Where Are We at? Reflections on the Student Experience
• Panel Discussion

As well, below is just a sampling of some of the Twitter discussion from during the forum.