Today, Dalhousie's Board of Governors announced that Richard Florizone — a man who at age 44 has amassed a uniquely diverse set of experiences in academia, government and the private sector — is set to become Dalhousie's 11th president, effective July 1, 2013.

Since 2005, Dr. Florizone [pronounced "floor-i-zone"] has served as vice-president (finance & resources) at the University of Saskatchewan, leading major projects in student experience, research and teaching infrastructure, while continuing to be active as an academic. He also served as a Policy Fellow in the Johnson-Shoyama Graduate School of Public Policy. Currently, he's on secondment in Washington, D.C., as senior advisor to the World Bank Group's International Finance Corporation, conducting research and advisory work on public-private partnerships.

And that just scratches the surface of a CV that includes Bombardier Aerospace, the Boston Consulting Group, the University of Cambridge and a PhD in physics.

"I've been fortunate to have a pretty diverse career, working across the university, corporate and government sectors, in a lot of different countries, but my heart keeps bringing me back to the university," says Dr. Florizone, who spoke with Dal News as part of his visit to campus this week.

"I'm incredibly passionate about universities and our mission of teaching, research and community engagement. So for me, this is a unique opportunity to use all my skills and experiences to, I hope, help make a great contribution to society."

Dr. Florizone's selection was unanimously supported by Dal's presidential search committee, which consisted of six Board representatives, six faculty representatives and two students.

Read also: Sharing the excitement — Search Committee members and others on Richard Florizone

"We couldn't be more excited to welcome a leader with his credentials," says Jim Spatz, chair of Dal's Board of Governors and the chair (non-voting) of the search committee. "It is unusual to find someone with his accomplished academic background, extensive consulting and strategic planning experience in the business world, and his public policy contributions provincially and globally. Richard Florizone is the kind of leader that doesn't come along every day."
Relationship building across a diverse career


So how does someone with Dr. Florizone's experience end up taking on the opportunity of being Dal's next president?

It starts with his education: a B.Sc. in Engineering and M.Sc. in Physics, both from the University of Saskatchewan, followed by a Ph.D. in Physics from the Massachusetts Institute of Technology.

From there, his career took him into the private sector. He's been a consultant and project leader with the Boston Consulting Group (BCG) in Toronto, working with clients across North America and Europe. At Bombardier Aerospace in Montreal, he served as director of strategic initiatives. During leave from BCG, he returned to university life, working as a senior corporate liaison officer and fundraising consultant for the University of Cambridge's 800th anniversary campaign.

He has also served on the boards of several organizations, including the Waterloo Institute for Nanotechnology, Canadian Light Source, the Saskatchewan Opportunities Corporation and the Institute for Research on Public Policy.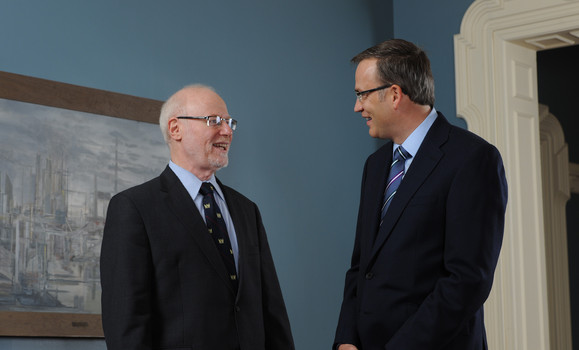 Dr. Florizone meets with Dal President Tom Traves during his campus visit.
But when asked about the professional accomplishments he's most proud of, what first jumps to mind is his work at the University of Saskatchewan: not just leading major projects to strengthen student experience, teaching and research infrastructure, and financial stability, but the relationships that made those projects possible.

"I think about my relationships with faculty, either working directly on new initiatives, or in academic work co-authoring papers. And I think about students, with whom we developed some great relationships to really advance things like student housing, student health and counselling and other great projects we accomplished."

His commitment to outreach and collaboration won him this past year's Doug Favell Staff Spirit Award, selected and presented by the University of Saskatchewan Students' Union.

"That really meant a lot to me, the fact that we had accomplished all these projects together with students in a way that was collaborative, respectful and mutually beneficial, with great outcomes."

And now, he's ready to bring that mindset with him from Saskatchewan to Nova Scotia.

"Dalhousie attracts more out-of-province students than any other major research university in Canada, and I'd say what attracted me here were the same things those students see: the two centuries of academic excellence in this great and vibrant community by the sea."
Kicking off "100 days of listening"


When asked for his take on the president's role, Dr. Florizone says it's about ensuring that Dal has the resources and structures in place to ensure students, faculty and staff all thrive.

"I very much believe that vision and strategy are both top-down and bottom-up," he says. "I think that good vision and strategy starts with the hopes, aspirations, dreams and capabilities of the broader community. The top-down piece, then, is putting together a coherent process for us to listen, to synthesize, to draw together the themes and coordinate the community to bring people together to take action."

Along those lines, he envisions starting his presidency next year with something he's calling "100 days of listening": a structured series of university-wide meetings, consultations and events to hear what the Dal community has to say, along with casual encounters and conversations, to inform where Dal might be headed as it approaches its 200th anniversary in 2018.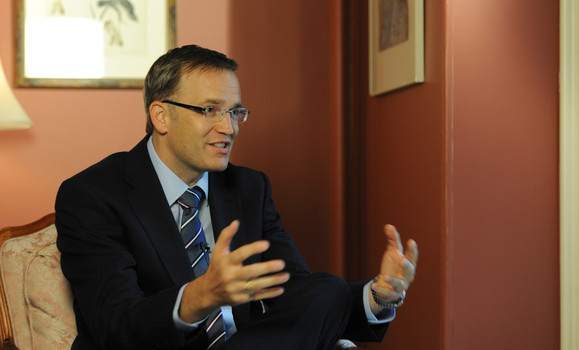 Dr. Florizone, sitting down for an interview.

"I want to meet with a broad cross-section of students, with every single academic department, as well as the local community. It's all about getting a sense of the internal and external environment, to understand how we can write Dal's next chapter together."

He's eager to celebrate and build on the growth that Dalhousie has seen under President Tom Traves' watch: enrolment crossing the 18,000 mark, more than $140 million in external research funding, and more than $1 billion in contributions to the local economy. But he's astutely aware that the next decade in Dal's history will be defined by more than just the university's own aspirations.

"We're in a period of greater financial constraint, particularly as governments around the world look to curb public spending," he acknowledges. "That said, at the same time I think there is still a very strong recognition of the need to invest in education: not just in knowledge and innovation, but in the future of our children."

He expects that while governments are likely to continue to constrain overall operating funds, there will also be tremendous opportunity for investment and growth in certain areas.

"[We have to] listen to all our stakeholders, get a very good sense of the internal community and where they need to go, and consider what is best for the university and its mission. Then it's about marrying that to the funding realities in the outside world in a way that fundamentally strengthens the institution for the decades to come."
Video: In conversation with Richard Florizone
Diverse interests


Casual but professional, insightful but conversational, Dr. Florizone appears well suited to connect with the various groups and individuals that make up the Dal community.

"Hopefully they'll find that I'm a very open person — some might say I wear my heart on my sleeve a bit," he says. He says his personality brings together a global perspective with his down-to-earth roots growing up in Saskatchewan.

"I generally feel as comfortable in a boardroom as I do in a small-town coffee shop, and I relish the diversity of those experiences."

He also cherishes time with his family: his wife, Mona Holmlund, is an art history professor, and together they have two young daughters: Zoe (8) and Elinor (5). The family are avid outdoors people: camping, sailing and, in Dr. Florizone's case, his latest passion of kiteboarding.

"I'm not very good, but I'm learning," he laughs. "I guess I have a commitment to learning, which is probably a good thing for a president."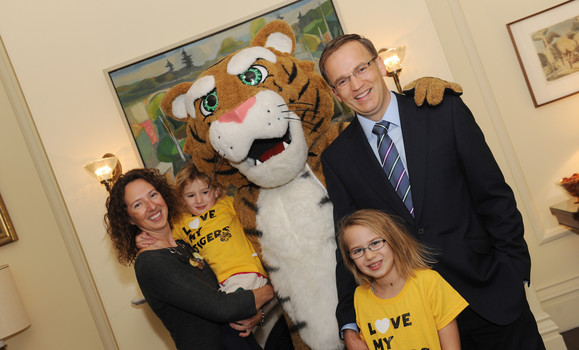 Dr. Florizone with his wife Mona, daughters Elinor (left) and Zoe - and, of course, the Dal Tiger.
He's also an avid, diverse reader. He has a "bottomless" appetite for newspapers — the Globe and Mail and the New York Times are always primed on his iPad — and tries to mix fiction and non-fiction, as well as classic and pop literature. He says he has a Jack Reacher novel on his night table while, at the same time, his quest to catch up on the classics has him tackling The Divine Comedy.

Dr. Florizone and his family are only in Halifax for a short visit this week — he flies back to Washington on Friday — but his packed schedule included meetings with the Senate, the Board of Governors, key Dal leaders, the DSU president, as well as the mayor and premier.

It's merely the start of what he hopes is a long, fulfilling introduction to the Dal community.

"I'm just incredibly excited and so looking forward to meeting everyone."
More on Dal's new president