It was a morning that participants won't soon forget.

On October 14, volunteers from the Dalhousie Tigers track and field, cross country and soccer teams spent their morning not in competition, but leading a series of sporting events with children living with intellectual disabilities.

The event marked the first of what is hoped to be many such collaborations.

Rebecca Haworth, of Dalhousie's women's track and field team, was inspired by the SMILE (Sensory Motor Instructional Leadership Experience) program in Wolfville, deciding that Halifax special needs children deserved something similar. Partnering with the Special Olympics provincial and regional offices, Haworth set out to create a fun and inclusive event where children with intellectual disabilities could feel at ease with joining in and playing at their own pace.

The event was tailor-made for children like Xavier Tyler, age 9, who has autism and is often overwhelmed with traditional sports environments. Xavier's mother, Jenny Tyler, was able to watch her son from the sidelines on Sunday and see him talk and smile while playing basketball with the volunteers.

"It's really important for big places like Dal to put on things like this for our children so that they can feel like they belong and actually get an experience that they otherwise wouldn't," said Ms. Tyler.
Being role models in the community


Haworth grew up around children with special needs: both her mother and grandfather have been involved in programs dedicated to supporting communities of kids and adults with intellectual disabilities. Many of the volunteers on Sunday had past experience working with special needs children and had been looking for a way to get involved in the community again.

Rieka Santilli, captain of Dalhousie's women's soccer team, has been an assistant coach for the Special Olympics soccer team for five years.

"These athletes see us and they look up to us," she said. "To me its just really fun and I think that for them, it's someone else that they see who enjoys it and then they want to continue doing it themselves."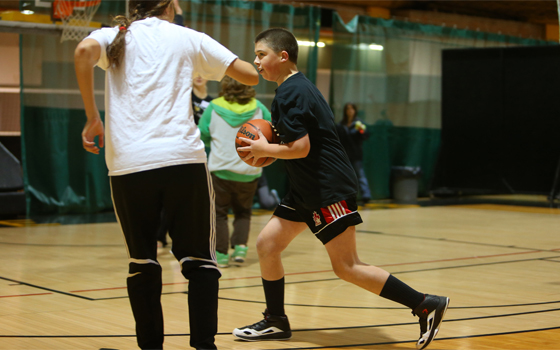 Participant Jacob Cherry takes it to the hoop. (Nick Pearce photo)
Haworth says that some of the hurdles she faces with this new program include getting the word out and trying to find space, given the demand for recreation space.

"The toughest thing was to get space so that's definitely going to be one thing that I battle for in the future" say Haworth, "but everyone [from Dal] was great. We got the track coach to donate a bunch of t-shirts for the kids, Live Well @ Dal donated water bottles, Athletics donated thundersticks, tattoos – so that was really nice that they were able to help out."
Growing the program


Working with the Special Olympics offices has helped Haworth to reach out to organizations like Fundamentals and Active Start, two Special Olympics programs for younger kids ages 2-9, helping to spread the word amongst the special needs communities about the new program at Dal.

Although the group on Sunday was relatively small, Haworth is hoping that as time goes by the program will grow in size.

"The SMILE program started with seven kids 30 years ago and now it has over 200 . . . Halifax definitely has the facilities and the volunteer manpower for [this new program to grow as well]" says Haworth.