In 1999, scientists Mark Gibson and Susanne Craig were both stationed on the west coast of Scotland. They came from different fields – he's an air quality scientist, she's an oceanographer — but quickly realized that the best way to understand the relationship between the ocean and air quality was by combining expertise.
 
"I suddenly realised there are a lot of substances that come from the ocean that react in the atmosphere and affect climate and health" says Dr. Gibson, who has been researching the source attribution of fine atmospheric particles and trace gases in the atmosphere for 18 years.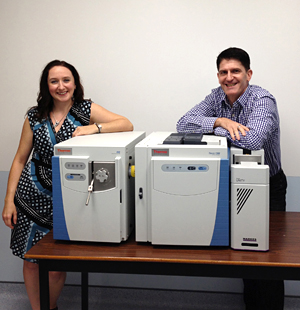 Now, more than a decade later, Dr. Gibson (assistant professor, Department of Process Engineering and Applied Science) and Dr. Craig (research associate, Department of Oceanography) and their team of students and research scientists in the Atmospheric Forensics Research Group have been awarded a $448,000 research contract from the Environmental Studies Research Funds (ESRF) to combine their expertise once again, this time on a three-year study of the factors affecting air quality on Nova Scotia's Sable Island.

The Environmental Studies Research Funds (ESRF) is a research program which sponsors environmental and social studies. It is designed to assist in the decision-making process related to oil and gas exploration and development on Canada's frontier lands. The funding for the ESRF is provided through levies paid by oil and gas companies that hold leases on Canada's frontier land.
 
"They [the ESRF Management Board, comprised of industry, government and public members] want to know the source contribution from local and upwind natural and man-made sources of gases and particles that are affecting the air mass around Sable Island and around the Nova Scotian shelf."
Supporting environmental regulations

 
Sable Island, a small strip of beach and grassland just 175 kilometres off the southeast coast of Nova Scotia, has been an important center for air quality and meteorological research since 1871. The island was recently granted National Park Reserve status from the Canadian Government.
 
"It's truly a marine influenced site, yet it is still logistically close enough to land to allow researchers to go out there and install instrumentation and run their experiments," says Dr. Craig.
 
Sable Island's atmosphere is affected by both land and ocean air masses, which means the island can provide important insight into man-made pollution from North America, chemicals from terrestrial and marine plants, forest fires, emissions from shipping as well as oil and gas activities that are nearby.
 
The study will utilize receptor modelling, meaning the researchers will be conducting the source apportionment of fine airborne particles and trace gases on Sable Island (the receptor) in real time. They'll be using sophisticated instruments to measure unique chemical markers to first identify the source of particles and gases and then using a statistical "sieve" to determine their contribution to air quality on Sable Island.
Think of it as like sorting change, but for the atmosphere.
 
"[The study] is regulatory driven, and also, part of the study is that we have to create an interactive database of the live data, [which] is fed from the island to us here at Dalhousie, and then if any of those pollutant concentrations goes beyond a threshold, alerts will be sent to act as early warning of potential equipment malfunctions," says Dr. Gibson.
He also recently completed another project investigating the impact of nitrogen dioxide and sulfur dioxide (common emissions from local vehicles and upwind electrical power generation stations respectively) on ecosystems in Cape Breton Highlands National Park in collaboration with Parks Canada.
 
The pollutant monitoring system on Sable Island would provide oil and gas companies with an additional check on their activities offshore, as well as improving overall understanding of the mixtures, sources and contributions of gases and chemicals on the Scotian shelf.

In addition, as shipping fuel for large ocean-going vessels becomes cleaner and more efficient, the researchers hope to also be able to monitor improvements in air quality and ocean quality around Nova Scotia.
Understanding climate change, phytoplankton blooms and more


Those aren't the only parallel questions that may be answered from the research: the scientists hope to not only improve our understanding of the chemicals on the Scotian shelf but also the inventories of data used for global climate models.
     
"It is important that we are able to quantify and understand the [earth science] processes to give us a better idea of how the ocean will respond to the scenarios predicted by climate change models" says Dr. Craig.
 
For Dr. Craig, this study is also an opportunity to further her understanding of the phenomenon of the North Atlantic phytoplankton spring bloom and how it contributes to global cycles and climate. Her role in the study is to provide an insight into how marine phenomena like the bloom contribute to air quality on the island.
 
"There are so many questions we are going to hopefully answer," she says. "We're using state of the art instruments, we are collaborating with some of the top researchers in the world and it is truly multidisciplinary."
 
The study has attracted the attention of the Ocean University, College of Environmental Science and Engineering in China (a Dalhousie strategic research partner), as well as the School of GeoSciences at the University of Edinburgh in Scotland.
 
Both Dr. Gibson and Dr. Craig feel they are fortunate to be working with such a multidisciplinary team, on a project that can contribute to global science and engineering broadly.
 
"Just seeing how your specific research focus fits into the bigger picture. For example, I had not realised at the outset of the study that this research could eventually be used by climate modellers" says Dr. Gibson.
 
"The real reward at the end of the day" says Dr. Craig, "is to sit down and synthesize your work in a larger context".