When German Chancellor Angela Merkel made a special visit to Dalhousie this summer, it symbolized the value of collaborative research and strategic international partnerships.
Along those lines, this week Dalhousie signed an agreement with a group of 23 universities in the Brittany region of France that opens the door for a new model of graduate education. 
The "Cotutelles" model started between France and French-speaking universities in Quebec but is beginning to catch on around the world. The agreement will allow PhD students to divide their time between France and Canada, co-supervised by faculty at Dalhousie and the participating university in France. It's an opportunity for graduate students to learn from the best academic minds in the world while supervisors build stronger relationships with international colleagues at other academic institutions. Travel funding is provided by the French government and students receive degrees from both universities.

"This form of graduate education is quite new to English-speaking universities in Canada," says Alain Boutet, Dalhousie's executive director, international relations. "It shows how Dal is being both innovative and international in its education of students."
Enhancing research excellence


The partnership on graduate education is a step toward a larger multilateral agreement between Canada, Germany and France concerning study of the North Atlantic. The French government, in particular, has started grouping universities in the Brittany region of northwest France to specialize in oceans science.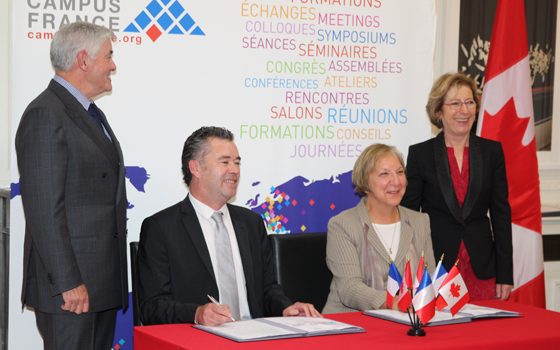 Left to right: The Honourable Lawrence Cannon (Ambassador of Canada to France); Pascal Olivard (president, The European University of Brittany); Martha Crago; Genevieve Fiorasio (France's Minister of Higher Education and Research).

"Dal is asserting a strong international presence in global ocean research," says Martha Crago, Dalhousie's vice-president research. "We are now working with a second powerful transatlantic partner, creating the potential for coordinated multilateral work on important oceans science and tech and environmental issues. Looking ahead, we would like to be the hub of multilateral agreements concerning the Atlantic."
Beyond the sea


Dal's recent international activities extend beyond oceans science. Last month, a delegation returned from Kiel University in Germany where parties discussed possibilities for future collaboration in the areas of life sciences and university management and administration.

"The Joint Kiel-Dalhousie Workshop on management and administration was very successful and really exceeded our expectations," said Carolyn Watters, Dalhousie's vice-president academic and provost. "This collaboration on administrative issues is, I believe, unique in university partnerships. Our next step will be to focus on three or four of these areas at a second workshop at Dalhousie in the spring."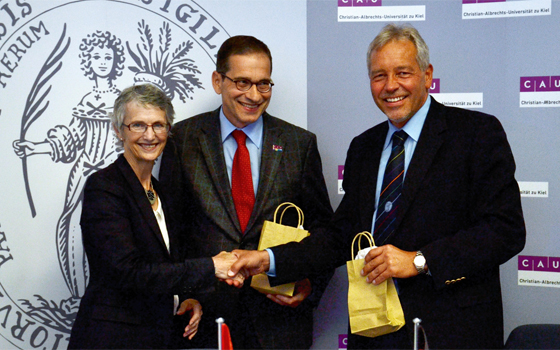 Left to right: Carolyn Watters; Gerhard Fouquet (president, Kiel University); Thomas Bosch (vice-president, Kiel University). Boris Pawlowski photo.

The Kiel workshops provided an opportunity for Dalhousie to show its leadership in other areas, like sustainability education. Steve Mannell, director of Dalhousie's College of Sustainability, says the Germans were keen to hear about the innovative way Dalhousie is teaching sustainability across the academic spectrum.

"In the sustainability education area, we are seen as a leader," says Prof. Mannell, who was invited to deliver his public lecture about Dal's approach to sustainability education by Kiel's vice-rector, Thomas Bosch. "We received many positive comments, before the talk, after the talk, and at the closing dinner."

It's activities like these that will continue to grow Dalhousie's reputation on the world stage, creating opportunities for new research collaborations and helping Dalhousie supply the next generation of skilled graduates. It's knowledge without borders.
Want to learn more about Dal's international partnerships? Read about how programs like Science Without Borders and the CALDO initiative are attracting some of Brazil's best and brightest students to Dal.