Each year, Dalhousie proudly celebrates its outstanding alumni with the Dalhousie Alumni Association Awards, honouring notable achievements and recognizing the diverse ways that alumni contribute to the university and to society.

This year's recipients include a former Dalhousie president, a long-serving member of Dalhousie's Board, and a law alumnus making a difference in the lives of military families.

In addition to the three awards for alumni, Political Science's Frank Harvey will also be receiving the Dalhousie Alumni Association Award for Excellence in Teaching. Dal News profiled Dr. Harvey and his award back in May.

The four awards will be presented at the 2012 Alumni Dinner, taking place on September 27 as part of Homecoming 2012.

Andrew MacKay
Alumnus Achievement Award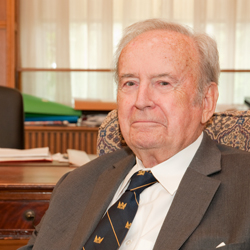 It was 1941 and 12-year-old Andrew MacKay (BA'50, LLB'53, LLM'54, LLD'03) told his father that he and his friends were joining the army cadets. But he says after a day of marching with broomsticks on their shoulders he and his buddies decided to quit.

His father Robert, who later would serve as the Eric Dennis Memorial Professor of Government and Political Science at Dalhousie, had other ideas. "He said, 'All of them can quit, but not you,'" Andrew recalls. "He said, 'You made up your mind, you made a commitment, you finish that commitment.'"  

The influence and example of his father is apparent when discussing Andrew's own dedication to serve his university, province and country, and all three have benefited greatly from his commitment.

Andrew, who served as president of Dalhousie from 1980-86, is the 2012 recipient of the Dalhousie Alumni Association Alumnus Achievement Award, which recognizes alumni for outstanding accomplishments in career and community service.

Andrew began his studies at a time when many of his classmates were veterans. He was an award-winning athlete in both football and basketball — he was inducted into the Dalhousie Sport Hall of Fame in 2008 — and met his wife, Alexa, on a blind date at Shirreff Hall. This year they marked their 58th wedding anniversary

Following his completion of the Master of Laws degree from Dalhousie, Andrew became a foreign service officer. His family was slated to move to London when their plans were changed by a phone call from the dean of Dalhousie's law school offering him a teaching position. Andrew would eventually become the dean of law and then vice-president, and president and vice-chancellor of Dalhousie. In all of these roles he "tried to keep an open mind about things and to listen to people."
While serving Dalhousie, Andrew was also working with others to improve human rights and health in Nova Scotia. He was the first chair of the Nova Scotia Human Rights Commission, a position he held from 1967-1986. He also chaired the Nova Scotia Task Force on AIDS in the late 1980s.

His roles after Dalhousie included provincial ombudsman and federal court judge. When asked to describe his career, Andrew replies with characteristic modesty: "Sort of a Jack of many trades, but a master of none."

"I think of it as a great honour," he says of the Alumni Achievement Award, "not one that reflects on me particularly but on the nature of the university, because I think the university had a significant impact on my evolution in being a thinking — I hope thoughtful  — Canadian trying to do something in this world."
Senator Jim Cowan
A. Gordon Archibald Alumnus of the Year Award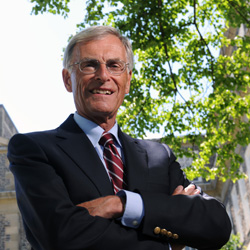 "Dalhousie isn't a place you attend for a few years, get a degree, and then leave behind. This place gets in your blood."

Senator Jim Cowan (BA'62, LLB'65, LLD'09) was speaking from the heart when he   said these words in his 2009 convocation address to graduates. For 36 years, he served on Dalhousie's Board of Governors, eight of them as chair.

Becoming an ambassador for Dal came naturally to Jim with four generations of his family having attended the university. "Dalhousie's a real jewel and all of us have an interest in making sure that more people know about it," he says.  

Jim is the 2012 recipient of the Dalhousie Alumni Association A. Gordon Archibald Alumnus of the Year Award in recognition of his outstanding volunteer contributions to the university. But don't look to him to list his accomplishments. Rather, he speaks to what the university has granted him.   

"It's given me an opportunity to be exposed to so many talented people doing so many interesting things.  I don't know where else I would have gotten that experience," he says.

He has drawn on this experience in his legal career as a senior partner at Stewart McKelvey, in volunteer boards he has served on and in his current role as leader of the opposition in the Senate. His Dalhousie contributions have touched every corner of the university, and he's served on countless high-level committees including two presidential searches.

Jim has shared his talents with a number of organizations in the health, education and business sectors. He held leadership roles with the Abbie J. Lane Memorial Hospital and the Metropolitan Mental Health Planning Board.

For his many contributions, Jim was a recipient of the 125th Anniversary of the Confederation of Canada Medal, Queen Elizabeth II Golden Jubilee Medal and Queen Elizabeth II Diamond Jubilee Medal. He says he is honoured to receive the alumni award named for a man he admired and served with on the Board of Governors, and that it's special to be in the company of Andrew MacKay, recipient of the 2012 Alumnus Achievement Award.  

Through his more than three decades of service to Dalhousie, Jim has lived the words with which he concluded his remarks to graduates. "Wherever you decide to make your home, remember where you come from, and the importance of Dalhousie in your life. Make some space for it. This place will benefit – and so will you."
Erin O'Toole
Christopher J. Coulter Young Alumnus Award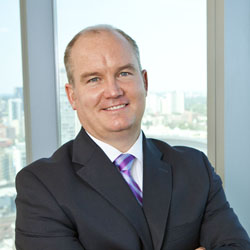 "Don't wait until you feel you've established your career 10 years before you start getting involved in causes and things you enjoy. Get rolling right away."

That's the advice Erin O'Toole (LLB'03) offers recent graduates. The 2012 recipient of the Christopher J. Coulter Young Alumnus Award — recognizing recent graduates for innovative accomplishments and notable contributions to society, the community or Dalhousie — speaks from experience.

A corporate lawyer with the national law firm of Heenan Blaikie in Toronto, O'Toole is also a founder and a director of the True Patriot Love Foundation, an organization launched in 2009 to support the military and their families. The foundation, which focuses its charitable giving on mental, physical and family wellness, has raised more than $10 million to date.

"Speaking with some of the families makes it all worth it because they really know that people care," says O'Toole. "That's more important in a lot of cases than the money or the assistance. It's really knowing that people care and are trying to understand their circumstances."

A graduate of the Royal Military College of Canada, O'Toole was an Air Force navigator on the Sea King helicopter and sailed with the navy. He spent nine years in the regular forces and was in the reserves for three years while studying law at Dalhousie. In recognition of his 12 years of service, he received the Canadian Forces Decoration and is also the recipient of a Sikorsky Helicopter Rescue Award.

Recently, his commitment to community service has taken on another dimension as the federal Conservative candidate for Durham — the riding formerly held by Bev Oda.

"I grew up in a family that was very much about being active in your community," Erin says. "My dad's favourite expression was, 'To whom much is given, much is expected.' Anybody that can attend a school like Dalhousie in any of the faculties has the ability to do a lot."