It was a whirlwind two hours, but German Chancellor Angela Merkel made the most of her time in Halifax Thursday, discussing the future of oceans research with some of Dalhousie's top minds in the field.

Following a two-day meeting in Ottawa with Prime Minister Stephen Harper, Chancellor Merkel made Dalhousie's Studley Campus her next and final stop. It was the only other destination on her first bilateral visit to Canada.

Her official order of business on the trip was witnessing the signing of a memorandum of understanding (MOU) between the Halifax Marine Research Institute (HMRI) and Germany's Helmholtz Association. But the heart of the visit was the opportunity to meet and discuss research priorities and opportunities with Dalhousie oceans scientists and researchers. 

Sharing science


Arriving shortly after 5:30 p.m. in a motorcade from the Stanfield International Airport, Chancellor Merkel didn't waste time. Moments after her arrival, she was discussing changes in marine biodiversity with Dalhousie's Boris Worm, beginning her tour of the scientific exhibition organized in her honour.

"She's a very approachable, very natural human being," said Dr. Worm, assistant professor in the Department of Biology who also helped translate for Chancellor Merkel while she was on campus. "She's a scientist, so I think she's naturally comfortable speaking with other scientists. She's not self-conscious… she actually enjoys it and that was very visible."

For Sara Iverson, professor of marine biology at Dalhousie, the opportunity to meet and speak with Chancellor Merkel was well worth interrupting her vacation for. After learning of the Chancellor's visit, Dr. Iverson arrived back in Nova Scotia on Tuesday of this week, and spent Wednesday condensing her extensive research into a three-minute presentation.

She told Dal News that the chance to meet and share her research with Chancellor Merkel was wonderful. That said, "I wished I'd kept up on my German," she noted with a smile.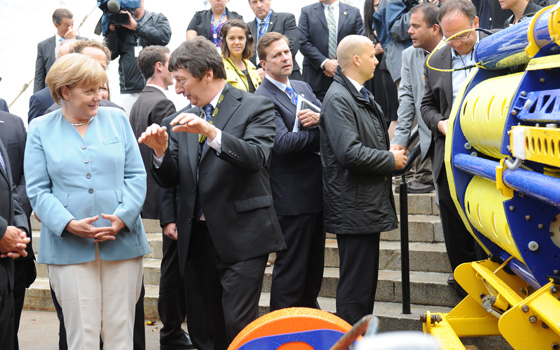 Doug Wallace, the Canada Excellence Research Chair in Oceans Science and Technology, holds court with Chancellor Merkel.
After her tour of the scientific exhibits, Chancellor Merkel made her way to the Life Sciences Centre to tour Dalhousie's Aquatron Laboratory. This was followed by a private meeting in the Lord Dalhousie room with faculty and students to discuss global challenges and research priorities in marine sciences and the importance of collaboration – both between scientists and politicians, as well as at the international level.

Read also: Dal profs and students talk oceans research with Chancellor Merkel

After that meeting, Chancellor Merkel headed to a packed University Hall to witness the signing of the memorandum of understanding between Canada's HMRI and Germany's Helmholtz Association, the country's largest scientific organization.

During her address to attendees, Chancellor Merkel explained that many of the challenges facing the world today—whether political, environmental or scientific—can only be tackled through international collaboration. The German Chancellor went on to say that she's "very happy to help move that process along, particularly in ocean science," and that in the future, she will be even more vigilant in ensuring that Canadian-German joint research and development is supported. Chancellor Merkel also noted the enthusiasm and passion she felt when speaking with the Dal scientists and students.

Spirit of collaboration


Joined by Canadian Minister of State for Science and Technology Gary Goodyear and Nova Scotia Premier Darrell Dexter, Chancellor Merkel looked on as representatives signed the joint agreement, which will support powerful research into ocean changes, risks and resources.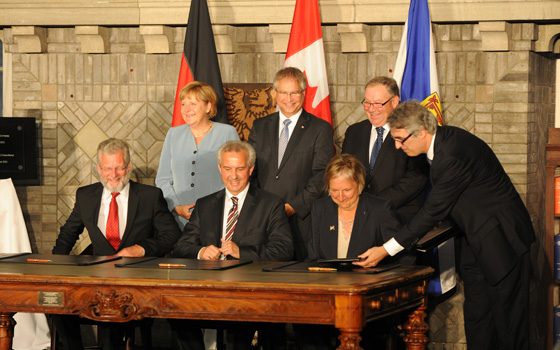 Witnessing the signing of the memorandum of understanding.

The Memorandum of Understanding enables HMRI and the Helmholtz Association to use existing resources where possible, and to jointly search for additional resources that will enhance, develop and further the working relationship between the organizations, identifying areas where the parties can collaborate to develop, and implement research and programs.

In recognition of Chancellor Merkel's visit, Dr. Traves presented Her Excellency with a plaque to commemorate the visit, which will be placed in Dalhousie's Oceans Excellence Centre, currently under construction. Dal scientists will deliver a replica of this memento to Chancellor Merkel in Germany on an upcoming visit.
Read: Chancellor Merkel's remarks (translated to English)
Watch: Chancellor Merkel's remarks (in German)
Read also: Dal profs and students talk oceans research with Chancellor Merkel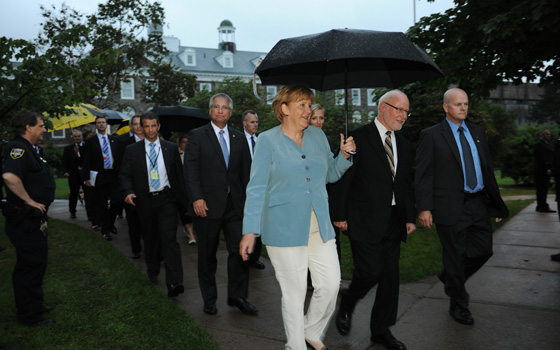 President Tom Traves leads Chancellor Merkel to her motorcade at the conclusion of her Dalhousie visit.