Many athletes have Olympic dreams, but for paddler Jason McCoombs, those dreams seemed at least another four years away.

"Initially I was thinking 2016," says Mr. McCoombs, 19, who is starting studies at Dal this fall as a science transfer student.

Not that his resumé didn't show extensive promise: he won three gold medals and two silvers at the 2010 Junior Pan American Canoe Championships, is a 10-time national champion and took home three golds at the 2009 Canada Games.

But the competition for a spot on the Olympic team is intense, especially for a young paddler in a sport where athletes compete well into their late 20s and beyond. But given the chance to train with the national team in Florida earlier this year, he found his stride.

"I didn't know what to expect going into Florida; my big goal was just trying to be on the senior team this year. Then I started to do some really good times in time controls down there, so I figured I might have a little bit of a shot."

Seizing the moment


In the end, it came down to a race this May at a canoe and kayak World Cup. In a close showdown, Mr. McCoombs, who trains out of the Banook Canoe Club, finished sixth in the C-1 200m final, earning a berth on the team.

"I always do better when there's something on the line," says the paddler, acknowledging that while the Olympic field is tough, his results at the World Cup tournaments show that he should be able to stay in the hunt.

"I just need to have my best race. If I can have my best race, my time can be and should be competitive," adding, "Any time you can race at an international competition, the Olympics being the biggest, it's a huge learning experience. And I just try to do my best at it."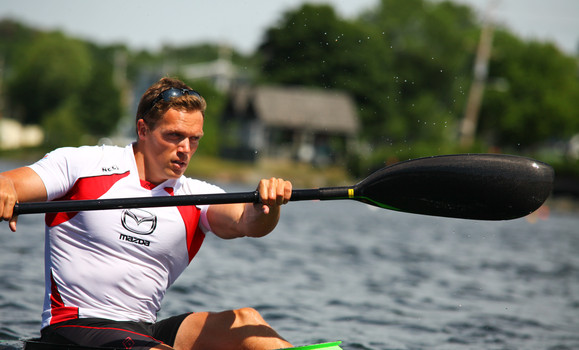 Mark de Jonge (Bruce Bottomley photo)
He won't be the only Dalhousie paddler in London: engineering alumnus Mark de Jonge will also be on the team, competing in the K1 200. He clinched his spot this June with a win at Canadian Team Trials.

Due to a finger injury, Mr. de Jonge, who works with the Maskwa Aquatic Club, did not compete at World Cups. But he put his engineering career on hold to train full time, and now finds himself in an extremely good position to compete in London: his time at trials (33.804 seconds) was the fastest ever recorded by the International Canoe Federation, and a strong indicator of his chances at the Games.

Though he worked hard to make the team for the previous two Olympics, it was the addition of the 200m event this year that helped make the difference, given that he's a natural sprinter.

"I was really excited to see the 200m event come into the Olympics. It was something I could train for… that was the big motivation, just knowing that opportunity was there."

You can follow Jason and Mark on Twitter at @JasonMcCoombs and @markadejonge respectively. They join three other Dalhousie Olympians this year: student swimmer David Sharpe, and two more alumni, Danielle Dube (sailing) and Geoff Harris (track and field).