Cuba is in the midst of some of its most significant economic change in decades: a series of 'lineamientos,' or directives, that call for the creation of a small, non-state private sector in several areas.

One of these areas is food production, where the status quo may surprise you: despite an ideal climate for many crops, Cuba presently imports 80 per cent of its food. Export products like tobacco and sugar dominate the country's farms — vestiges of a Cold War-era, Warsaw Pact production model that doesn't come close to meeting Cuba's modern food needs.

So how do you revolutionize Cuba's food production system, using economic models that are new to the country? You call on a trusted partner.

In this case, Dalhousie's School of Public Administration, which has been working on projects with the Government of Cuba through the Canadian International Development Agency (CIDA) for almost 15 years.

"We've been involved in the kind of discussions over the years that you'd only have with trusted partners," explains Martine Durier-Copp, director for the Centre for Advanced Management Education in the Faculty of Management. "We have the track record, the credibility, the longevity and the continuity that they like to see in a partner."

Integrated support for Cuban farmers


On Wednesday, the Honourable Peter MacKay announced close to $10 million in CIDA funding for two separate food security projects: one at the Coady International Institute at St.FX, and the other at Dalhousie.  

The Dal project will bring together the Faculty of Management's four schools—Public Administration, Resource and Environmental Studies, Business Administration, and Information Management—to support the Cuban government in building capacity for local economic development and enhancing food security in four provinces: Las Tunas, Granma, Guantanamo and Santiago de Cuba.

"This project will help to contribute to food security and greater economic activity, which will result in people having greater access to food that they can buy locally," says Dr. Durier-Copp, who will be leading the project as its director. "It's about moving Cuba to a more self-sustaining economy that can produce the food needed to feed its own people."

Each school in the Faculty of Management will be called upon to offer its specialized expertise. For example, the School of Public Administration will be working with government ministries to develop an enabling environment for small business: proper regulation, citizen involvement, consumer protection and so-forth. The Schools of Business Administration and Information Management will be supporting entrepreneurship among farmers and information/communications needs, respectively.

And one of the most exciting components will be the work of the School for Resource and Environmental Studies, helping build a sustainable food ecosystem in Cuba based on "industrial symbiosis": using waste from one industry to fuel another.

Leveraging university expertise


Minister MacKay, at an event in Antigonish announcing the CIDA funding, explained how bringing university expertise to the front lines of Canada's international assistance is a key strategy for helping those in need around the world.

"Our Government will work with Canadian universities to deliver tangible results for people in developing countries," said Minister MacKay. "By tapping into their expertise, Canada will help provide support to people in need, giving them the economic tools they need to become self-sufficient over the long term."

For Dr. Durier-Copp, the strong relationship between Dalhousie researchers and the Cuban government makes the project an ideal opportunity.

"Cuba is an extremely resourceful, talented and energetic partner," she says, "This is ideal development work, where you work from a confident relationship. I have to commend CIDA for allowing us to have this sort of longevity and continuity in our relationship with Cuba."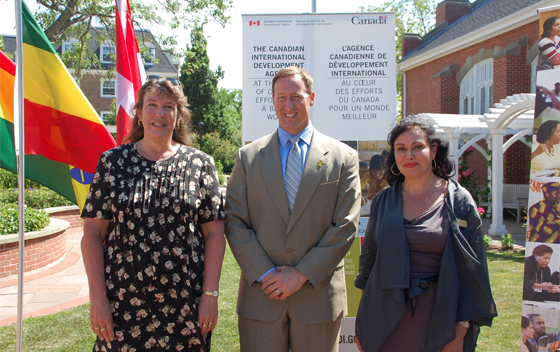 Minister MacKay with Dr. Durier-Copp (right) and Pat Rodee, director of international research and development at Dalhousie, at the announcement event at St. FX. (provided photo)