Canada is a coastal nation, and our coastline is an incredible asset to our economy, culture, transportation, sustenance and way-of-life.

It's also a vulnerability.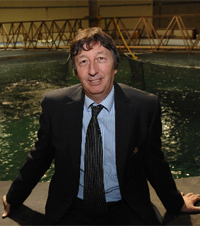 "We are particularly vulnerable to extremes and emergencies because of our long coastline, rapidly changing environment and growing economic dependence on oceans," explains Doug Wallace (left), Dal's Canada Excellence Research Chair in Ocean Science and Technology. "Canada needs to be a world leader in ocean research."

MEOPAR is poised to lead that charge. MEOPAR, which stands for Marine Environmental Observation Prediction and Response, is a research network headquartered at Dal that will mobilize the talent to perform the science necessary to anticipate hazards and improve response to marine emergencies: hurricanes, tsunamis, coastal flooding, oil spills and more.

Today, Gary Goodyear, federal minister of state for science and technology, announced $73.8 million in funding for three new Networks of Centres of Excellence (NCE). As one of those networks, MEOPAR will receive $25 million over five years, a significant investment that reinforces Dal's reputation as Canada's leading university in oceans research.

The network, which Dr. Wallace will lead as its scientific director, will bring together natural scientists, social scientists, policy makers, industry representatives, non-profits and coastal communities to connect excellent research with industrial know-how and strategic investment.

These connections will place Canada at the forefront of marine research and hazard management, laying the basis for risk reduction now and more effective adaption to climate change over the coming decades.

Managing and responding to risk


MEOPAR's three major goals are to:
Develop and test new technologies and strategies to guide response to existing marine hazards
Develop new tools to anticipate, plan and adapt to changing patterns of marine emergencies and extremes of the future
Train qualified personnel with skills in the range of disciplines relevant to risk in the marine environment
This third component is particularly important to the program's long-term success, explains Martha Crago, Dalhousie's vice-president research.

"Diverse training programs will prepare a group of young researchers to become champions of ocean responsibility and sought after experts to address complex oceans issues in the years to come," she says.

On the front lines of marine prediction and assessment


Part of MEOPAR's mandate is prediction and protection: considering economic, safety, planning, regularly and policy issues around assessing when, and how, marine emergencies may strike. The network will also consider how long-term oceanic change may impact coastal communities, ecosystems and economic interests, alongside short-term changes such as storms, coastal flooding and wave patterns.

MEOPAR will also tackle ambitious projects including developing and testing new tools for rapid environmental assessment and marine environment forecasting during emergencies. The network will additionally establish the first nodes of a pan-Canadian network of integrated observation and prediction systems for strategic or sensitive locations.

At its core, MEOPAR is a group of outstanding Canadian researchers dedicated to addressing critical issues related to human activity in the marine environment and the impact of marine hazards on human activities in coastal regions.

"This joint effort of universities, industries and federal laboratories from one Canadian coast to another brings our country's great strength in oceans-related research to bear on a leading problem with potentially disastrous human and environmental outcomes," says Dr. Crago.