It was a celebration of barriers broken, discoveries made, and the thrill that comes from experiencing the power of science.

For eight years now, the Imhotep Legacy Academy after-school program has been showing young African Nova Scotians in junior high that there's a bright future for them in the sciences. The program offers weekly activities during the school year in the fields of science, technology, engineering and mathematics (STEM).

"The Imhotep program begins in Grade 7 and we continue to interact with the students until they graduate from university," explained Kevin Hewitt of Dalhousie's Department of Physics and Atmospheric Science at the program's yearly wrap-up event in Truro last weekend.

"If you just count up the hours, it's not a drop in the bucket. It's 360 contact hours over that pre-university time."

Increasing opportunity


In addition to showing off some of the program's activities—including a crowd-pleasing sound cannon demonstration—this year's event was particularly celebratory, as it involved the awarding of the first ever TD Bank Opportunity Scholarships for Imhotep Legacy Academy Graduates.

"We wanted a scholarship to help encourage and support the young students in the Imhotep Academy program to keep coming back and participating every year, to work their hardest and their best, and to know that the work was going to have a concrete result for them when they come to Dalhousie for a university education," explained Bonnie Neuman, Dalhousie vice-president Student Services.

TD Bank shared that vision, and has funded the scholarship at $1 million. That means that recipients of the award, if selected through their junior and high school years, could be funded to study towards a STEM-field degree at Dalhousie for up to $5,000 each year.

"By providing these scholarships, we're helping to reduce the financial barriers that African Nova Scotian students encounter while pursuing a university education," said Kirk Milligan from TD Bank, who presented the awards.

Scientific potential


The first three recipients of the scholarships were Jesse Goodman, Tamara Phee and Latisha Reynolds. Mr. Goodman and Ms. Reynolds are now Grade 10 students who took part in the Imhotep program throughout their junior high years, while Tamara is in Grade 8 at St. Andrew Jr. High in Antigonish. Ms. Phee and Ms. Reynolds were at the ceremony to accept their awards. (Mr. Goodman now attends high school in Alberta.)

"I just heard about it in school," said Ms. Phee, when asked what drew her to the program. "I thought, sure, why not give it a try? And it's lots of fun. I think you learn more when it's presented in the most fun way possible."

While Ms. Phee is still considering what to take when she gets to university, Ms. Reynolds has her heart set on biology at Dalhousie; eventually, she wants to be a doctor. She says that the Imhotep Legacy Academy has really improved her science skills.

"It's all about the experiments," she said. "You learn so much that way, hands-on."

Also at the ceremony, four Dalhousie students received summer research scholarships from the Imhotep Legacy Academy: Rufus Alubankudi (Medicine), Ifunanya Kammelu (chemical engineering), Ibimina Koko (electrical engineering) and Nathan Musoke (science, physics).

Breaking the limits


The young students in attendance were privy to a passionate speech about pride and African heritage from Abdullah Kirumira, president and CEO of BioMedica Diagnostics Inc. in Windsor, N.S.

They also heard from two Dalhousie graduates: Shalyn Williams, who completed her electrical engineering degree two years ago and is now an electrical/hardware engineer with Lockheed Martin, and Tesia Rolle, who will graduate from dentistry later this month.

"I can't remember one particular person who told me I should take science but, more importantly, I was very lucky because I can't remember anyone telling me I couldn't," explained Ms. Rolle, a former mentor in the Imhotep program.  "My experience as a mentor showed me that how far you can go depends on how much you decide to limit yourself."

Ms. Williams reinforced that message.

"Believe in yourself," she told the students. "Don't settle. Stay in school. And ignore all the haters."

The Imhotep Legacy Academy is a university-community partnership between Dal's Faculty of Science, the Department of Physics and Atmospheric Science, the Black Student Advising Centre, and two government departments: the African Canadian Services Division of the Nova Scotia Department of Education, and the Office of African Nova Scotian Affairs.
On Thursday, the program was also awarded a $50,000 grant from the Natural Sciences and Engineering Research Council of Canada's PromoScience Program Competition, offering financial support for organizations workign with young Canadians to promote an understanding of science and engineering.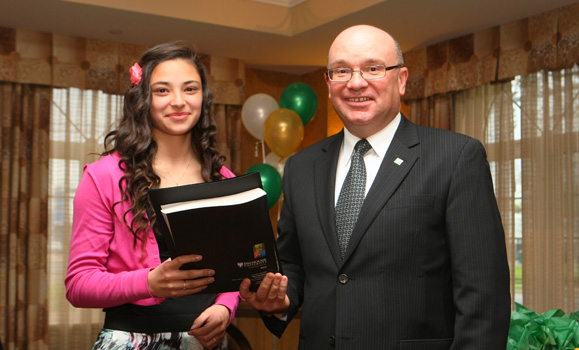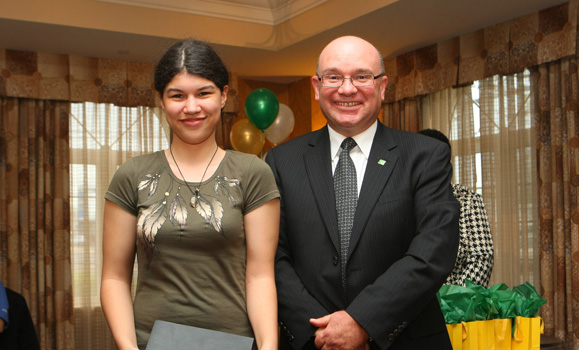 TD Bank scholarship recipients Latisha Reynolds (above) and Tamara Phee with Kirk Milligan from TD Bank. (Nick Pearce photos)