Nine Dalhousie student teams representing three faculties competed on March 28 for $1,500 in prizes at the first annual Dal App Challenge.

The Goldberg Computer Science Building was temporarily transformed into a Dragon's Den-style reveal event, with students pitching their apps in five minute turns to judges Ken Burt, vice-president finance and administration, and Carolyn Watters, vice-president academic and provost.  

After an intense 90 minutes of presentations, questions, and appeals to a crowd of students, staff and faculty, the judges deliberated and votes were cast.

Winning entries


The first-place winner was computer science student Nathan Lapierre, taking home $750 for his application to help students find books and articles at Dalhousie Libraries with the touch of a finger. The app provides the same amount of information as desktop searches but enables students to saves search results and retrieve exact stack locations.

"Dal Online", the brainchild of CS students Mark Lewicki and Stu Penner, won second prize at $500.  This app was built to enchance current Dal Online class scheduling using automated features and GPS capabilities.
The contest also included a People's Choice winner, voted by faculty, staff and students who attended the event. The winners were Mohamad Saliman, Tomasz Niewlarowski, Xiaoyu Yu and Marek Lipzac for "Mobile App for Dalplex Users," an app designed to capture "all things Dalplex" from news to scheduling to registration, location and space availability in classes.

The judges also decided to give an honourable mention prize, with $250 attached, to computer science student Connor Bell's "Dalpha," designed to support an interactive, social network for note sharing and chatting amongst peers in the same faculty or class.

Impressive output


Dr. Watters was impressed with both the quality and functionality of all apps presented, especially given the competition's one-month time frame.
"Ask Dalhousie students to come up with apps for Dalhousie students and give them a month during term when they are already busy and what do you get? Incredible ideas that work," she said after the reveal event. "I was totally impressed at the imagination, innovation, and compelling presentations of ideas from these students."

Other apps in the competition were for managing monthly budgets, project schedules, and student societies. The goal of the competition was to showcase student creativity, though the organizers hope that some of the proposals will inspire further app development and use on campus.

Asked what advice she had coming away from the event, Dr. Watter's response was simple.

"Don't miss the Dal Apps Challenge next year"!

To see all of the great ideas submitted, visit the CS website.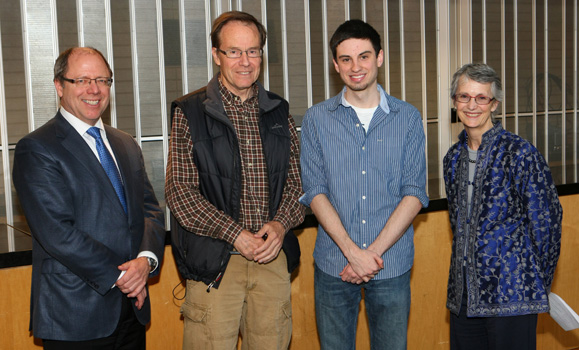 Competition winner Nathan Lapierre (second from right) with (from left): Ken Burt, Associate Dean of Computer Science Dennis Riordan and Carolyn Watters. (Nick Pearce photo)