We may not have those fantastical flying vehicles we were promised in science fiction, but the technology that will drive the cars of the future is being developed at Dalhousie.

This week, the Automobile Partnership Canada (APC) initiative announced funding for two major research projects at Dal, each seeking to develop materials that will make tomorrow's vehicles more efficient, effective and environmentally-friendly.    

The first, led by Jeff Dahn in the Department of Physics and Atmospheric Science, is receiving $4.1 million to advance the performance of lithium-ion batteries—the sort in your cell phone or iPod—so they can be effectively used in vehicles as well as medical devices and energy grid storage. The second, led by Stephen Corbin of the Faculty of Engineering, has been granted $2.2 million to develop less expensive titanium parts for vehicles and, in the process, reducing vehicle weight and improving fuel economy.

A better battery


Dr. Dahn is one of the world's foremost experts in lithium-ion batteries. The challenge in adapting the technology for vehicles, though, is that the standards are much more stringent than in portable electronics: they must last for 10 years, sustain over 3,000 charge/discharge cycles and withstand extreme temperatures.

Other industries looking to increase the use of lithium-ion batteries, such as grid energy storage and medical devices, have similar standards. That's why Dr. Dahn's project involves cross-sector collaboration with several industry partners: 3M, Manga, Medtronic, GM and NS Power.

The funding will add a suite of advanced diagnostic equipment to Dal's existing battery R&D capacity, including the world's first Ultra High Precision Battery Charger capable of measuring the difference between the charge stored and delivered by lithium-ion batteries of any size to a precision of 10 parts per million. This sort of accuracy will lead the way to batteries that last not years, but decades.

"The equipment we're putting in place builds on work we've been doing over the last three years that shows it is possible in a three-week timeframe, with the right measurements, to make statements about about battery lifetime," explains Dr. Dahn, the NSERC-3M Canada Industrial Research Chair in Materials for Advanced Batteries.

Lighter vehicles, better fuel economy


The other project involves Dr. Corbin's research into making Titanium (Ti) more cost-effective for vehicle use. It's as strong as many steels, but 45 per cent lighter, meaning that using it for exhaust systems, engine valves and other automotive parts can reduce vehicle weight and improve fuel economy. The challenge, though, is producing it cheaply.

A team of researchers from Dalhousie, Queen's and the University of Waterloo, in partnership with two Ontario companies—Wescast Industries of Brantford and Kingston Process Metallurgy (KPM)—will develop made-in-Canada technologies capable of producing Ti parts at a reduced cost.

"It's a very exciting venture because now parts for exhausts and engines will last the lifetime of a car," says Dr. Corbin. "This will allow manufacturers to produce a more sustainable product, material waste is less, and cars will have better fuel economy because they will carry less weight."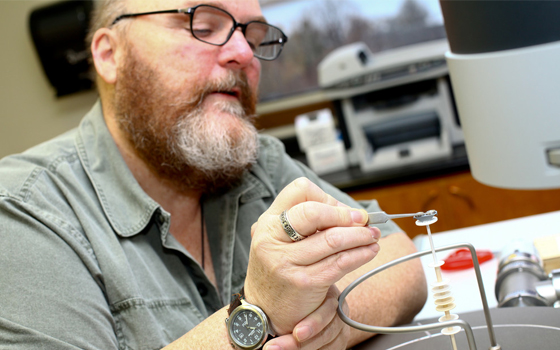 Stephen Corbin. (Nick Pearce photo)

The Automobile Partnership Canada (APC) initiative is a five-year $145 million federal initiative launched in 2009 that supports collaborative research and development (R&D) activities of benefit to the entire Canadian automotive industry. Its projects are driven by industry needs and must have active industrial participation and collaboration.

The Dal projects will be supported by the Natural Sciences and Engineering Research Council of Canada (NSERC), the Canada Foundation for Innovation (CFI) and the National Research Council of Canada (NRC). In addition, the Nova Scotia Research and Innovation Trust (NSRIT) will be providing $1,825,526 funding for Dr. Dahn's project.